When you've had enough of Madrid and Barcelona, head down to party-hungry Valencia for a flaming good time.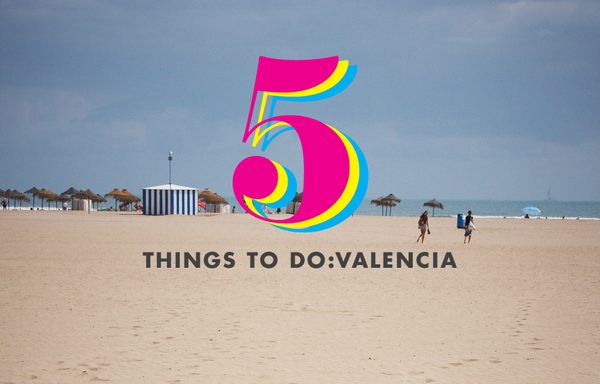 Design/Photo Editing: Nick Ross
The third largest city in Spain, Valencia is often overlooked for big brother Madrid and Barcelona. But this fast-talking city is full of spectacular sights, eats and events. Home of paella, Valencia, we promise, will feed you proper and surprise you around every corner.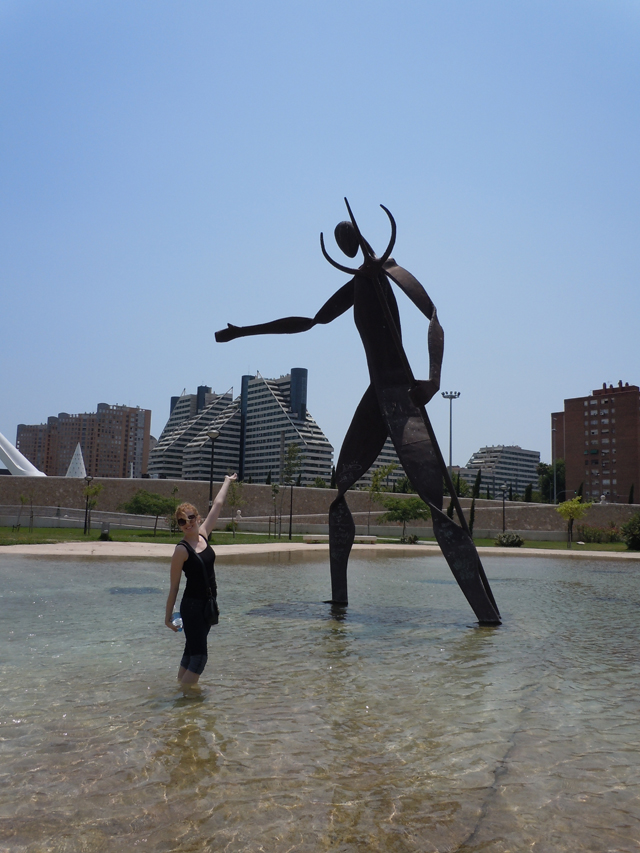 Photo from Michelle Kowalski
When you first set foot in Valencia and make your way to its interior, you'll notice a long stretch of park following you wherever you go. Jardins Del Turia is a unique park that runs along the bed of a dried-up old river and is littered with cool shit to see along the way. Get a bike, slow pedal it down from the zoo toward the water, and keep your eyes peeled for impressive water sculptures, bridges, turtle and big fish ponds, and buskers performing ridiculous acts. Park the bike when you get to the stream and lay around for a while to breathe in the surrounding scenery. When you're ready to roll again, aim toward the Calatrava Bridge, a sophisticated all-white suspension bridge designed by big shot Spanish architect, Santiago Calatrava Valls.
OTP Tip: Along your path, The City of Arts and Sciences building will b*tch slap you out of traditional Spanish architecture and pull you into the modern era. The thing looks like an alien aircraft, with dancing water features, winding domed terraces, cascading waterfalls and indoor/outdoor trees. Unless you stumble upon a free entry ticket to an event, keep your visit free and stick to gawking at the impressive exterior.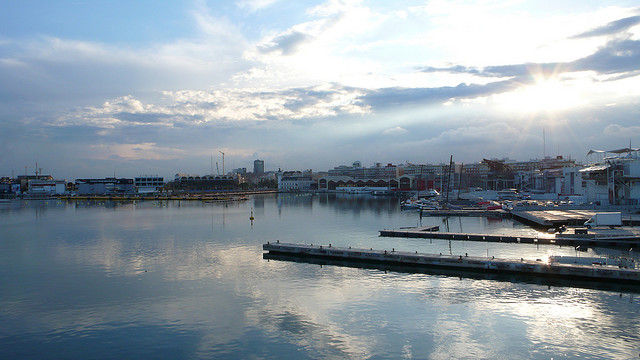 Photo from Toni Rodrigo
Valencia's location on the Mediterranean side of Spain makes it the perfect parking lot for sailboats and this town houses some of the most famous competitive boats around. Home to several America's Cup Competitions of the recent past, the port waters of Valencia are often dotted with sailboats drifting around during off season, outfitted in their respective country's flags. Feel like a five-year-old by jumping into the playground on the boardwalk across from the garages and watch the ships roll in as you hang from the monkey bars.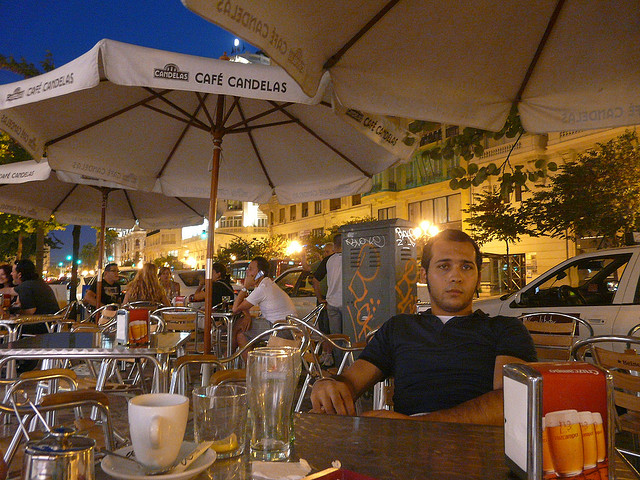 Photo from Isacar Marín
Spaniards are known to take several breaks throughout the day. While the later breaks involve beers, the earlier morning ones are all about little cups of strong espresso with a touch of frothy milk. Take your cafe con leche break at Cafe el Principito, a small cafe across the street from the central market. Their outside tables are perfect for parking your ass for a lounge until the caffeine springs you back into action.
OTP Tip: A pepto-bismol pink cafe lives somewhere higher up along the winding streets of the city. If you see it, pop in for a cafe con leche and you'll be treated to a visual assault of painted sperm all over its walls; the lady-sperm are the ones with eyelashes.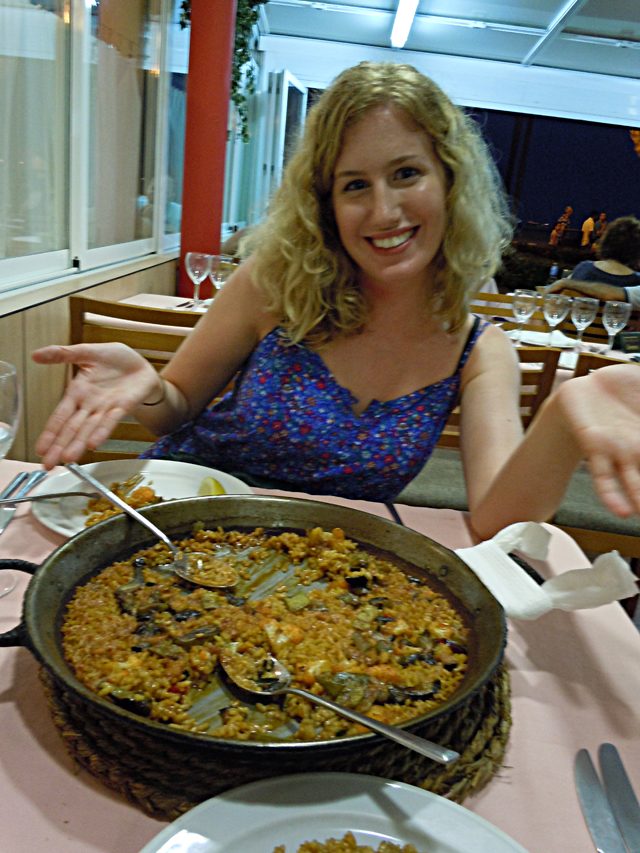 Photo from Michelle Kowalski
Along with jamon serrano and manchego, paella makes up a big part of Spain's culinary pride and it was born deep in the loins of Valencia. The traditional dish is made kind of like risotto and includes an array of meat, seafood, and veggies that intermingle in a fluffy bed of saffron-spiced, slow-simmered rice. Since it takes a few hours to pull together all of the flavors, paella is normally made in huge, family-feeding portions that require specialty pans the size of a trash can lid. Since the dish was born here, many restaurants compete for your appetite. Browse the specials around town and try several varieties of the signature dish before skipping town.
OTP Tip: Had enough saucy rice? 100 Montaditos is a worldwide franchise that serves adorable sandwiches for one euro on Wednesdays and is consistently packed elbow-to-elbow with backpackers looking for a little slider-like fix.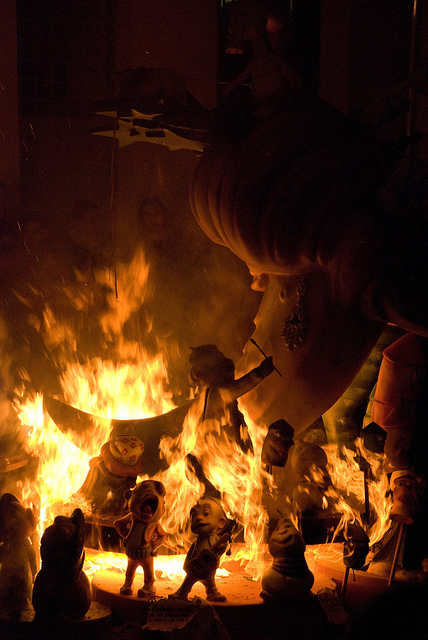 Photo from Alessandro Loss
If watching sh*t burn is your idea of a good time, plan your visit around this fiery festival. The entire city goes up in flames every March. Starting March 15th, people in Valencia dedicate a full five days to pay homage to the saint of carpenters, St. Joseph, by eating, drinking, partying and constructing gigantic elaborate figurines (fallas). You will be blasted by fireworks every day of the event but on March 19th, prepare to really feel the heat when the huge fallas (we're talking several stories high) are completely torched during the fire parade. Bring some fire-retardant underwear; sh*t's gonna get hot as hell.
Valencia may not be the first city you visit in Spain, but it will definitely leave a lasting impression. With mountains of paella to bust your gut and enough fire to burn your beard straight off, this city is well-versed in showing you a damn good time.