Valentina Ryabova is a self-taught tattoo artist from St. Petersburg, Russia. She tends to ink familiar designs -- images that involve faces of loved ones, elaborate animal homages and decadent floral arrangements. The subjects of her tattoos are not what sets Ryabova apart though.
One look at her work and it's easy to see that she has a unique grasp on hyperrealism, a mastery so intense that her inked imaginings often look like paintings or strangely saturated photographs. If Gustav Courbet's self-portraits mixed and matched with the erotic inklings of, say, Richard Prince, and somehow the beautiful hybrids ended up as tattoos, this might be the bizarrely beautiful result:
As you might have gleaned from her precise lines and impressive shading, Ryabova studied fine art. But after attending university she realized she did not want to pursue the conventional path of becoming a designer or studio artist. Instead, she bought her own tattooing equipment and embarked on a self-made career. It might be hard to believe, but Ryabova has only been tattooing since late 2012.
"I don't like to make many sketches for one work," she explained in a past interview. "I prefer improvisation, but I use photos as a base." Her talent will be on display at the Lisbon Tattoo & Rock Festival later this month, but in the meantime, we've got a preview of the Instagram-savvy tattoo artist's works below. For more on her style, check out this collection of her designs here.
Related
Before You Go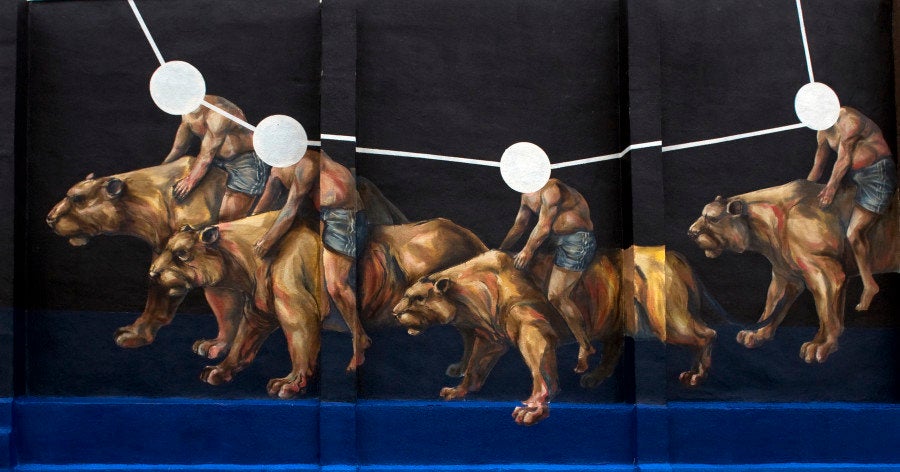 25 Street Artists' Works From Around The World
Popular in the Community