Your heartbreak could be someone else's happiness.
Still mad at your ex? Want to do something that helps others this Valentine's Day -- while also conveniently satisfying your need for vengeance? Donate their stuff to Goodwill.
Next week, Goodwill stores across the country are launching their annual anti-Valentine's Day campaign: "Donate Your Ex's Stuff."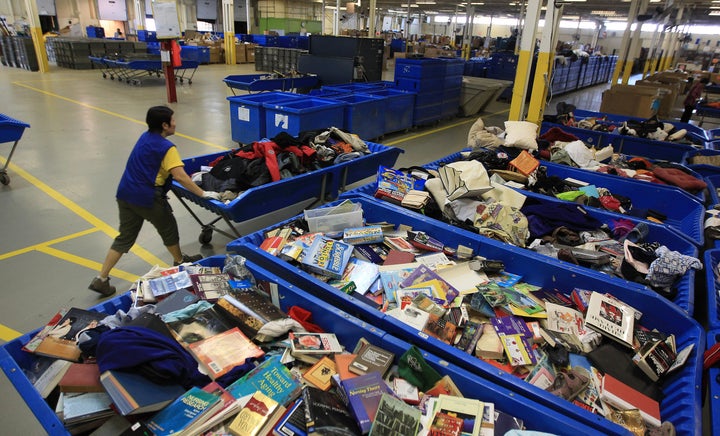 Starting February 15th, (the day after your Valentine's Day breakup -- or their Valentine's Day gift f*** up) you can drop off items at your local Goodwill, getting rid of old memories while also helping to support Goodwill's employment, job training and community programs.
"When someone donates to Goodwill, they aren't just cleansing the hurt of a failed relationship – these [items] will be sold in Goodwill's retail stores, and support our programs to help those with barriers to employment to receive training and mentorship, and find jobs," said Goodwill Manasota Foundation vice president Veronica Brandon Miller in a press release.
Last year, more than 9.8 million people were served by Goodwill, according to its website. These are people like Shay, a single mother who got job training from Goodwill to start a new career in construction; or Jim, a man with multiple disabilities who developed his job skills by working in the Goodwill stores. Did we mention Jim met his girlfriend at Goodwill? How's that for a Valentine's Day touch. 
This year, only a couple locations are officially participating in the "Donate Your Ex's Stuff" campaign: Sarasota, Florida, and Southern Nevada. There, donors will receive an "I Dumped My X's Stuff" sticker, according to ABC News. Don't live in Vegas? Don't worry: you can still donate your ex's items to any Goodwill store and get a receipt and tax write-off in exchange. It's a win-win. 
The best part is: if you're too lazy (or emotional) to go drop it off in person, you can use the Give Back Box. This new initiative allows you to ship your items -- for free -- to Goodwill. Just take an old cardboard box, fill it with stuff, print a shipping label off GiveBackBox.com, and drop it at your local UPS.
Fair warning: Goodwill isn't liable for stuff that doesn't belong to the donor. So if you left your leather jacket at your ex's, now would be a good time to get it back. 
Calling all HuffPost superfans!
Sign up for membership to become a founding member and help shape HuffPost's next chapter