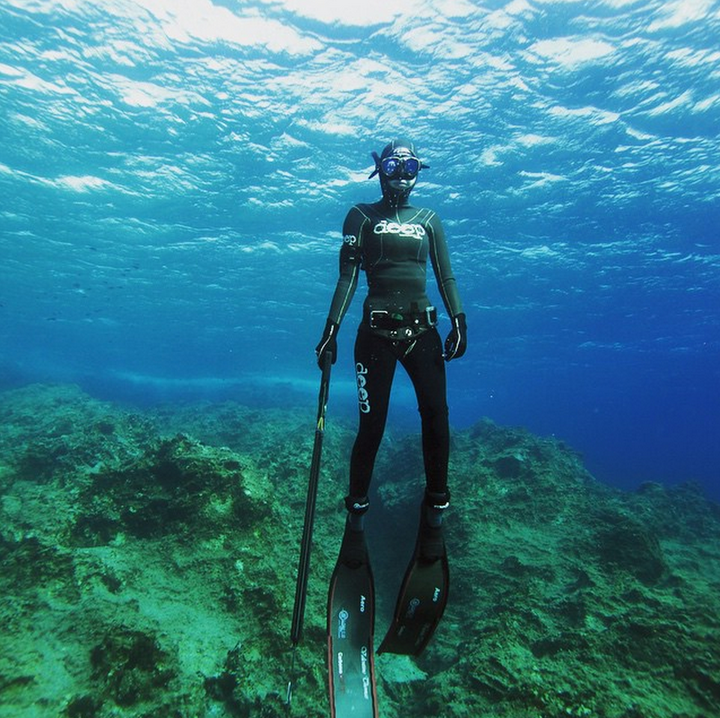 Photos of Valentine Thomas, a freediver who travels the world spearfishing in exotic places, went viral this summer.
In June, shortly after Thomas had quit her finance job in London to spearfish full-time, an Instagram account known as Spear Sluts posted a picture of the 28-year-old French Canadian. Like other ocean fishing photos featured by the account, the post of Thomas was lifted from her own, public account and showed her standing on a beach in a bikini, posing with her gun as she prepared it for a dive.
Soon thereafter, her name and photos were all over the Internet.
All the attention made Thomas a little nervous. "As soon as I saw the [Daily Mail] article, I thought, 'Oh my God,'" Thomas told The Huffington Post. "I didn't want to read the comments because I knew there would be people ranting and saying bad stuff about me and calling me names."
Online critics began questioning her spearfishing credentials, despite the many photos of Thomas actively hunting. People claimed that she only wanted attention and that all the photos that showed her in a bikini were proof of it.
"Let's be real here," one commenter wrote on a BuzzFeed story about Thomas. "95% of her fame is because she's a hot chick posting pictures in a small bikini... if she was only in it to represent spear fishing, we'd see a whole lot more of THAT and a whole lot less of what she actually posts."
These are the types of comments that hurt Thomas the most.
In a majority of the articles that feature her, Thomas says, "the journalists picked the bikini pictures" off her Instagram account. While she's not ashamed to wear a bikini, Thomas says that in her actual profile, "you're going to see that I'm pretty much always in a wetsuit."
"If I just wanted attention," Thomas said, "I would be naked. I wouldn't even bother with a bathing suit."
While Internet trolls try to focus on her looks, Thomas is hoping to steer the conversation to sustainable ways of eating, which, she says, is what made her get into spearfishing in the first place.
"What made me fall in love with spearfishing was the fact that I was picking my own food [with] no collateral damage," Thomas said. "Spearfishing really made me look into where my food was coming from and I realized that everywhere you buy food in London, it comes from slaughter houses."
While the connection between hunter and conservationist may not be obvious, many spearfishing lovers feel the same way as Thomas.
Kimi Werner, a spearfishing national champion in Hawaii who Thomas greatly admires, says that by hunting her own food, she naturally comes to understand and care more about the ecosystem.
"In order to hunt the animal," Kimi explained to Freesurf Magazine, "I have to first know that animal; what it eats, where it lives… and through this I fall in love with this prey. Today, people are so disconnected to their food source, they don't even know what it means to be conservative."
Thomas says some of her critics confuse her love of spearfishing with taking joy in killing. Not so, she told BuzzFeed earlier this summer, noting that it wasn't long ago that "if you couldn't kill your own food, you wouldn't eat."
"I don't do this because I enjoy killing things and because I enjoy fish suffering. I am just realistic about where food comes from."
Looking back on her whirlwind summer, Thomas told HuffPost that all the attention has been "a double-edged sword." Despite the Internet's efforts to sexualize and sensationalize her, the publicity has led to various projects and offers, including TV shows. While she wouldn't share any specifics, she says she's hoping to parlay these offers into raising awareness about sustainable consumption habits.
"I've never claimed to be the best one," Thomas says of her spearfishing career so far. "I've never claimed to be the prettiest one. I've never claimed to be anything. [Spearfishing] is just a sport I love."
Below, proof that Valentine Thomas is a badass huntress, with or without the bikini.
Related