Research firm NetBase delves into the popularity of everyone's favorite Valentine's Day confection -- chocolate -- in its most recent analysis of online consumer conversations, which looks at big brands including Hershey's, Godiva, Ghirardelli, Ferrero Rocher, Neuhaus, Cadbury, Lindt and Dove.
It found that Hershey's casts a wide net. The highest number of consumers chatted about the firm's wide range of products with 30 percent of the overall conversation, but not all of it was positive. Many consumers complained about the products' smell and the overly sweet taste of Hershey's chocolate.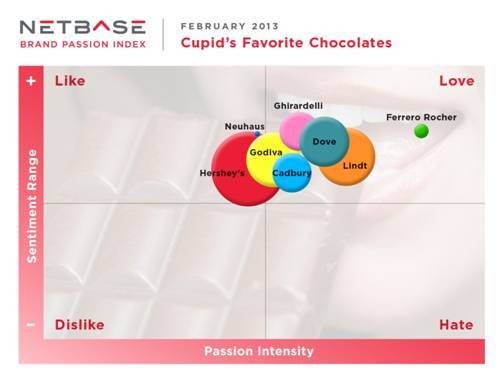 Despite the magnitude of chatter, Hershey's was awarded the second lowest score for Net Sentiment, which measures how positively consumers perceive the brand. Hershey's was also given a relatively low score for Passion Intensity, which tells how emotionally charged those feelings are.
On the other hand, consumers expressed the most love for Ferrero Rocher's chocolates, followed closely by Ghirardelli. They liked Ferrero Rocher's gold wrappers and Ghiradelli's sea salt and caramel chocolates, as well as its peppermint flavored treats.
It's worth noting that Ferrero Rocher earned a perfect Passion Intensity score of 100 and the highest Net Setiment score of 87 -- yet it represented only 1.3 percent of the overall chocolate buzz.
Both Hershey's and Ferrero Rocher have been in the news recently, and not always for positive things. In late 2012, Hershey's was accused of buying from cocoa suppliers that used child labor, and in April, Ferrero Rocher settled a $3 million lawsuit after a judge ruled that it had misled consumers with trumped up health claims about its chocolate hazel spread, Nutella. It's unclear if either of these incidents affected the companies' standings with consumers.
REAL LIFE. REAL NEWS. REAL VOICES.
Help us tell more of the stories that matter from voices that too often remain unheard.
BEFORE YOU GO
PHOTO GALLERY
Best Chocolate Bars