Although I am beginning to assimilate more into the hipster lifestyle of Williamsburg by virtue of living here since early Fall, I was a bit intimidated to walk into a small local theater for fear that I would immediately be spotted as an intruder and inherent lover of the main land, Manhattan.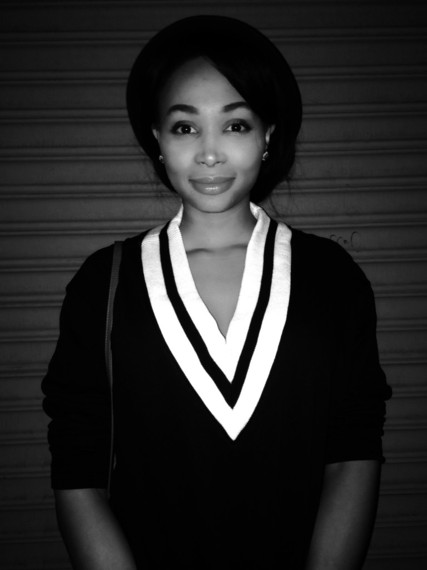 Nevertheless, I decided to catch up on viewing all the most talked about films of the 2014-2015 awards season on Tuesday night by going to see A Most Violent Year starring Jessica Chastain at Nighthawk Cinema in Williamsburg, Brooklyn.
It may too have been the table-side wine that made me feel all warm and fuzzy, but visiting this local independent movie theater made me feel as benevolent as supporting the farmer's market.
Nighthawk is self proclaimed the first movie theater in New York State to serve cocktails seat-side after Governor Andrew Cuomo in 2011 signed into law the overturn of the prohibition-era for motion picture theaters. Not only do they serve local wine, beers and liquor seat-side atop a comfortable table for two, but this neighborhood gem also serves full-on meals, often tailored to the theme of the movie playing.
The seating is luxurious, the setting romantic. I was thrilled to have the option of cornmeal crusted calamari served with a smoked paprika aioli versus a slimy box of overly buttered popcorn. Even while the movie is playing you can order more food or refills and an actual human being services your table via a nifty non-computerized, ticket system.
Ladies, I highly recommend this for first dates when you suspect your suitor a bit sketchy. You will get a delicious meal without having to talk and pretend to be interested in someone because 'shhhh, the movie is on'....
Couples, this really is a beautiful setting. Visiting Nighthawk is perfect for weeknights when work early in the morning looms in your thoughts. You can combine grabbing a bite and seeing a flick all in one without planning for a long drawn out night.
City Lately Tip: Arrive early! A line to enter the movie theater usually starts forming 10-15 minutes prior to the posted start time. Seating is first come first serve so get there early and enjoy a cold one while you wait.
I can't wait to visit again. Next time it will be for dinner, a movie and the live entertainment and movie trivia night Nighthawk sometimes hosts in their downstairs cafe.
REAL LIFE. REAL NEWS. REAL VOICES.
Help us tell more of the stories that matter from voices that too often remain unheard.