Happy Valentine's Day, my friends. Let's make a toast to everyone and everything that we love. I've been looking for something joyful and inspirational to share with you on a day like this. And look what I found. The just-released documentary "Mr. Gaga" has nothing to do with the Lady of the same name. 'Gaga' is a particular style of dance invented by Israeli choreographer Ohad Naharin, leader of the Batsheva Dance Company based in Tel Aviv.
A charismatic and complicated man, Naharin began to study dance unusually late, at the age of 22, after finishing mandatory military service in Israel. He studied with Martha Graham and then joined the Alvin Ailey American Dance Theater for a single unhappy year. This documentary shows Ohad Naharin slowly developing his unique, psychologically complex dance vocabulary that is miles away from the refinement of classical ballet or modern dance. Like a poet who is not satisfied with the confines of the mere 26 letters in the alphabet and invents dozens of new letters, Naharin invents an incredible amount of never before seen body movements. These movements are not beautiful in a traditional sense, but they are absolutely magical and transcendent. The documentary "Mr. Gaga" is currently playing at select Laemmle Theaters.
Are you ready for more drama and more passion? Then let's jump on the freeway and make our way to Long Beach, to the Museum of Latin American Art. That's where you will find a sprawling retrospective of legendary L.A. artist Frank Romero, encompassing 50 years of his career. With a unique sense of humor, Romero depicts freeway jams and drive-by shootings; singing cowboys and singing skeletons. Everything in his art is a spectacle of the highest order.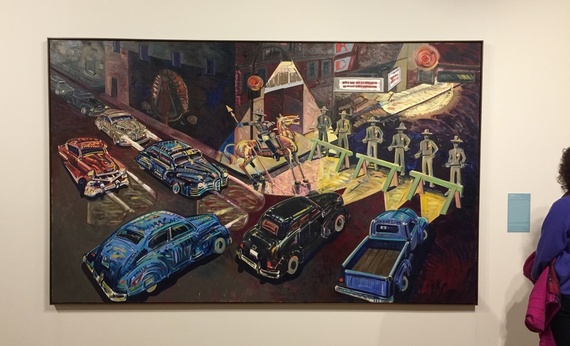 Frank Romero, The Closing of Whittier Blvd., 1984. Oil on canvas | Courtesy of Cástulo de la Rocha and Zoila D. Escobar
When I arrived in L.A. in the late 70s, I had never driven a car before. I was horrified and, at the same time, mesmerized by being on the freeway. At night, during the traffic, red lights of thousands of cars in front of me looked like a stream of rubies, while the headlights of oncoming traffic came across as a flow of diamonds. Looking at the monumental paintings by Frank Romero always reminds me of my initial response to the dramatic scale and theatrical spirit of our City of Angels.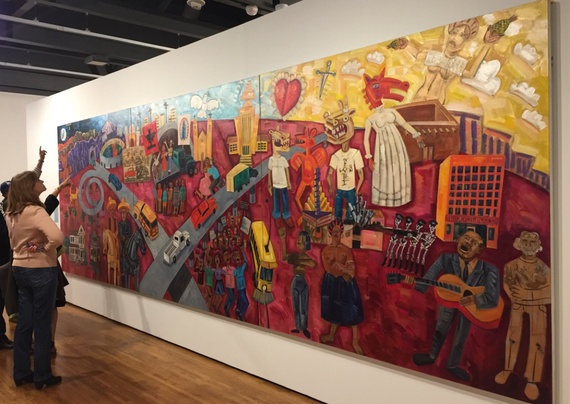 Frank Romero, History of the Chicano Movimiento , 1984. Acrylic & graphite on canvas | Courtesy of Carnegie Art Museum, Oxnard
As a young artist in the late 1970s, Romero became known as a member of the celebrated Chicano artist collective Los Four, along with Carlos Almaraz, Gilbert Lujan, Roberto de la Rocha, and Judithe Hernández. Later this Summer, the Los Angeles County Museum of Art will present a major retrospective of paintings by the late Carlos Almaraz. It seems like it took a few decades for our museums to recognize the unique and important contributions of these Chicano artists to the American, and specifically to the Los Angeles thriving art scene.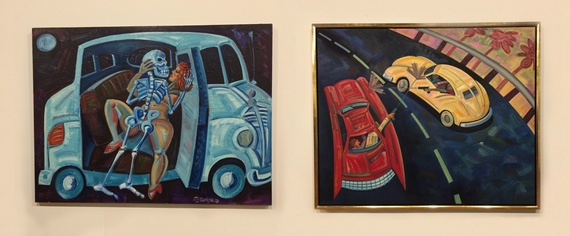 Left: Homage to Kienholz, Back Seat Dodge, 1991. Oil on canvas | Courtesy of Cheech Marin
Right: Freeway Wars, 1987. Oil on canvas | Courtesy of LACMA
In one of his paintings, Romero pays homage to the famously infamous sculpture by Ed Kienholz, Back Seat Dodge (1964). When Kienholz's sculpture was initially shown at LACMA in 1966, police shut down the exhibition on charges of obscenity. The reason was its blatant depiction of sex between a life-size sculpture of a man, made out of chicken wire, and a woman -- legs splayed open -- whose body was cast in plaster. Frank Romero's painting of the same scene is not so much trying to shock the viewer as it is attempting to infuse the scene with absurdity and dark humor. It's difficult not to giggle while looking at this painting. However, my advice would be to not to have your grandma at your side while you're standing in front of this painting, which happens to be on loan from the extensive collection of Chicano art owned by comedian Cheech Marin.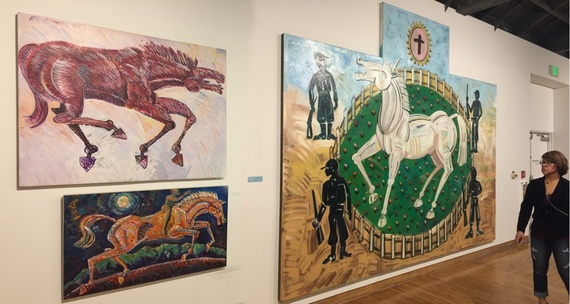 Installation view, "Dreamland: a Frank Romero Retrospective" at the Latin American Museum of Art, Long Beach

Edward Goldman is an art critic and the host of Art Talk, a program on art and culture for NPR affiliate KCRW 89.9 FM. To listen to the complete show and hear Edward's charming Russian accent, click here.
To learn about Edward's Fine Art of Art Collecting Classes, please visit his website. You can also read more about his classes in the New York Times here, and in Artillery Magazine.
Calling all HuffPost superfans!
Sign up for membership to become a founding member and help shape HuffPost's next chapter