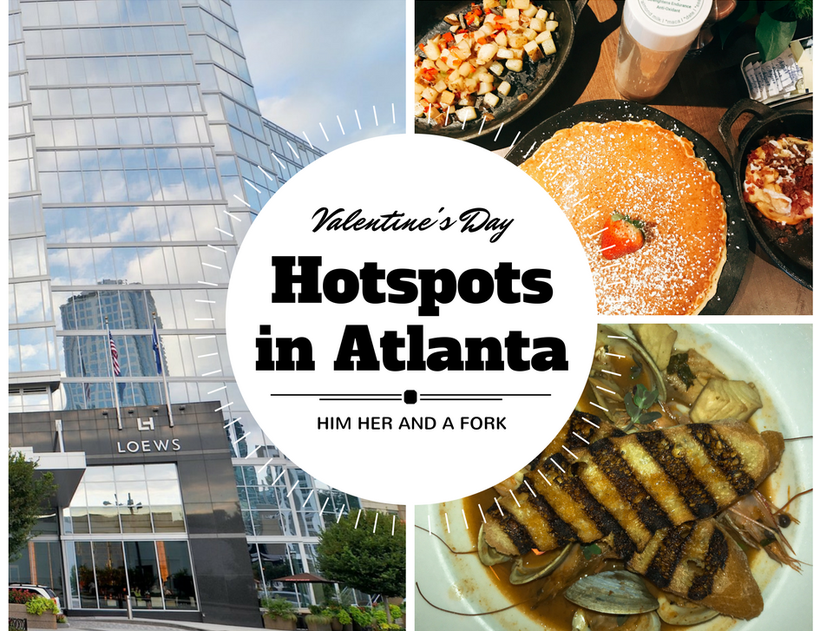 Happy Valentine's Day lovers. Valentine's Day happens to be one of our favorite holidays. Each year we take turns being in charge of Valentine's Day and that duty involves the planning and execution of what is normally a couple of days worth of events. Being in the city of Atlanta has certainly made it easier to plan the perfect Valentine's Day as Atlanta has so much to offer to couples looking to spend some quality time together doing these that they each enjoy. With that in mind, we wanted to share with you all some Valentine's Day Hotspots that we have discovered here in Atlanta. This guide will walk you through the perfect V-Day itinerary, whether you are living in Atlanta, or visiting the city for a quick getaway. So pull up your notes app and be sure to jot these places down. You won't be disappointed.
Hotspot Number 1: Saltwood Charcuterie and Bar
Now, we don't know about you, but in our opinion, the perfect Valentine's Day starts with brunch. Heck, in our opinion the perfect start to any day is food, but just trust us on this one, you want to start your V-Day with brunch. The perfect spot for brunch in Atlanta just so happens to be tucked away inside one of the best hotels in Atlanta, Loews Atlanta Hotel (we will talk about this place later). This hidden jewel is better known as Saltwood Charcuterie and Bar. Saltwood is widely known in Atlanta for its high-quality yet casual dining concept which pairs perfectly with the rustic charcuterie plates that are built using house-made and locally sourced goods. While most people visit for their tasty smoked meats and fine cheeses, foodies like us know that Saltwood bangs out one of the best brunch menus that the city has to offer, and with the number of restaurants that Atlanta has to offer, that's saying a lot.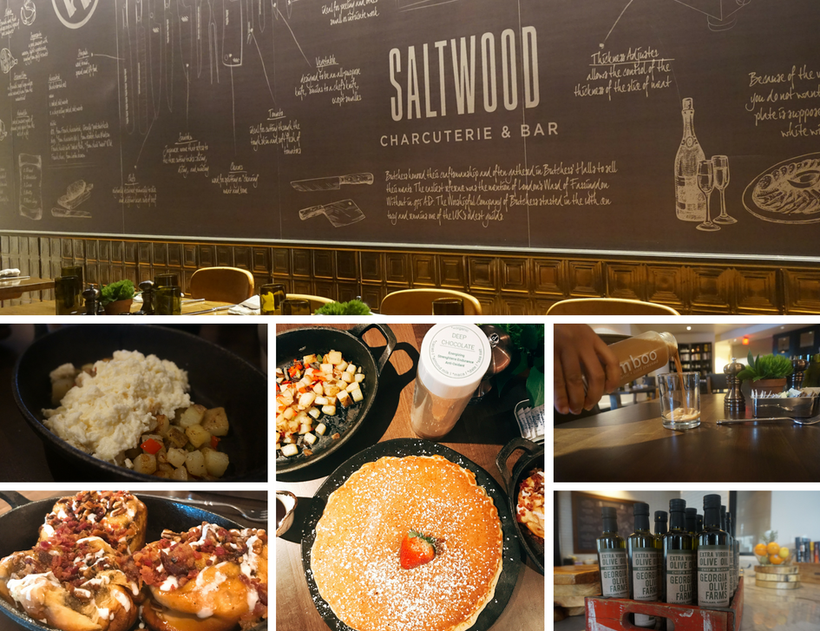 We recommend kicking off your Valentine's Day brunch with the Mini Cinnamon Rolls. We aren't quite sure in what world these bacon covered, buttermilk glazed, cast iron baked cinnamon rolls are mini, but we sure aren't ones to complain about that. Pair with a cup of coffee, which can be served with steamed almond or coconut milk for my non-dairy friends, or with a bottle of local-to-Atlanta Bamboo Juices Almond Milk. Our favorite, the Deep Chocolate, is pretty much a healthy glass of chocolate milk, made from dates, almonds, cacao, maca, and sea salt. After your starter, be sure to order some of the pancakes, which come as a short stack of two pancakes that are each the size of medium pizzas and served with your choice of 100% Maple Syrup, Salted Butter, Cinnamon Butter, Vanilla Butter, or our favorite, Bourbon Pecan Butter. Egg lovers should try the Farmers Hash, which is made with two local farm-fresh eggs any style, corned beef, bacon, onions, and peppers. These are just some of our favorites, but the menu is jam-packed with some excellent creations for you and your date to enjoy.
Hotspot Number 2: Loews Atlanta Hotel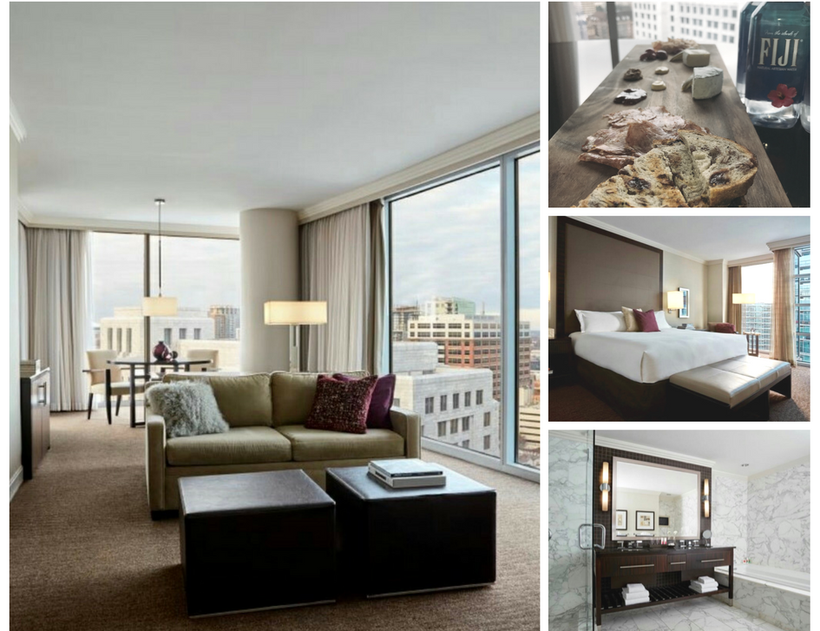 After brunch, make sure you spend the rest of your day relaxing in the luxury accommodations of the Loews Atlanta Hotel, our next Atlanta V-Day hotspot. Loews is located right in the middle of Midtown, Atlanta's vibrant epicenter of all things art, cultural, and happening. Upon check-in, you and your Valentine will be greeted by the friendly staff with a warmth that is only rivaled by the sun shining through the floor to ceiling windows that encompass the lobby. Those looking to really take in the experience should choose a stay in one of the Grand Luxury King Suites. This room is fit for a king and a queen and makes for the perfect V-Day escape. Floor to ceiling windows with breathtaking views of the Atlanta skyline awaits you as you step into the spacious seating area that is equipped with a wall-mounted flat screen TV and a multimedia charging station for all of your devices. If you are as lucky as we were, the dining area will have a tray of charcuterie from Saltwood waiting for you. Enter the master bedroom and a sprawling king bed is there for you to fall right into and the luxurious master bath will make you feel like you've stepped foot inside a spa.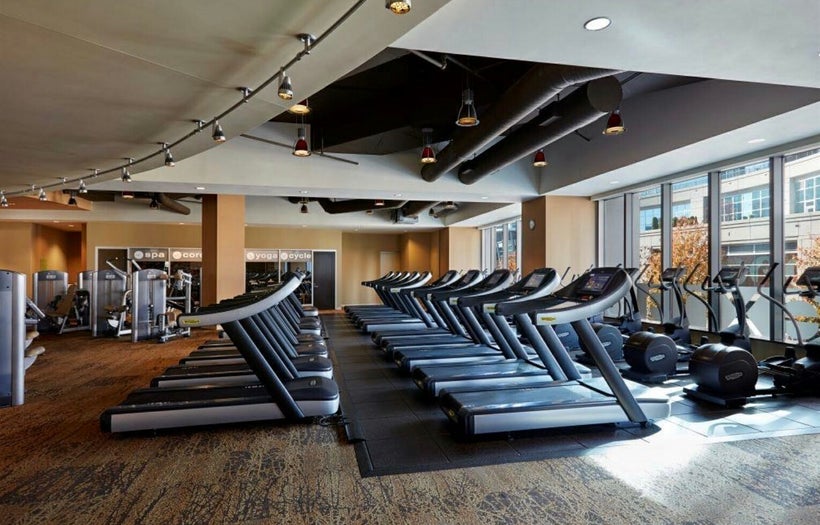 Speaking of spas, be sure to check out Exhale, Loews state of the art fitness center and spa that is located on the 7th floor of the hotel. Exhale is the perfect place for you and your boo to spend time together getting sweaty in the gym or participating in one of the barre, cardio, or cycling classes. After you work up a sweat, be sure to relax in the healing spa, where both of you can choose from a number of different services including our favorite, the sports massage. This massage is customized for those with an active lifestyle as it kicks overused and stressed muscles into gear using quick, stimulating strokes and dynamic stretching. You can expect the experienced staff to provide a restful yet thorough massage that repairs your fatigued muscles. Whatever your needs, this massage is built to improve flexibility, help prevent injuries, and prepare your mind and body for optimal performance.
Hotspot Number 3: Lure - Fifth Group Restaurants
Aphrodisiacs also help your mind and body prepare for optimal performance, and one of the best-known aphrodisiacs are oysters. With that in mind, our last Valentine's Day hotspot is Lure. Lure, another one of the Fifth Group restaurants here in Atlanta, is perfect for those looking to get hooked on some tasty seafood. Lovebirds can experience a sophisticated, yet casual and intimate vibe that is carried out by the design which replicates a weathered seaside fish house turned into a fine-dining coastal restaurant.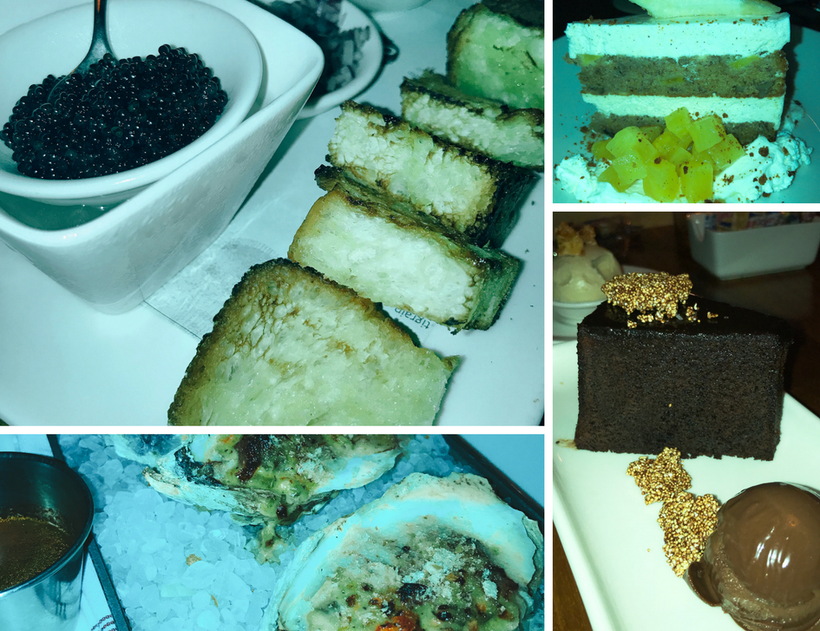 To get things started and to help set the mood for later, we highly recommend the Oysters on the Half-Shell. Their selection of oysters changes daily and it is the featured raw selection for Valentine's Day. If raw oysters aren't your thing, maybe you will enjoy the broiled variety, which is topped with bacon, crawfish, parmesan breadcrumbs, and a cider hot sauce. Those looking to be adventurous and outgoing with their better half should try the black caviar, which is served with buttered brioche toast points.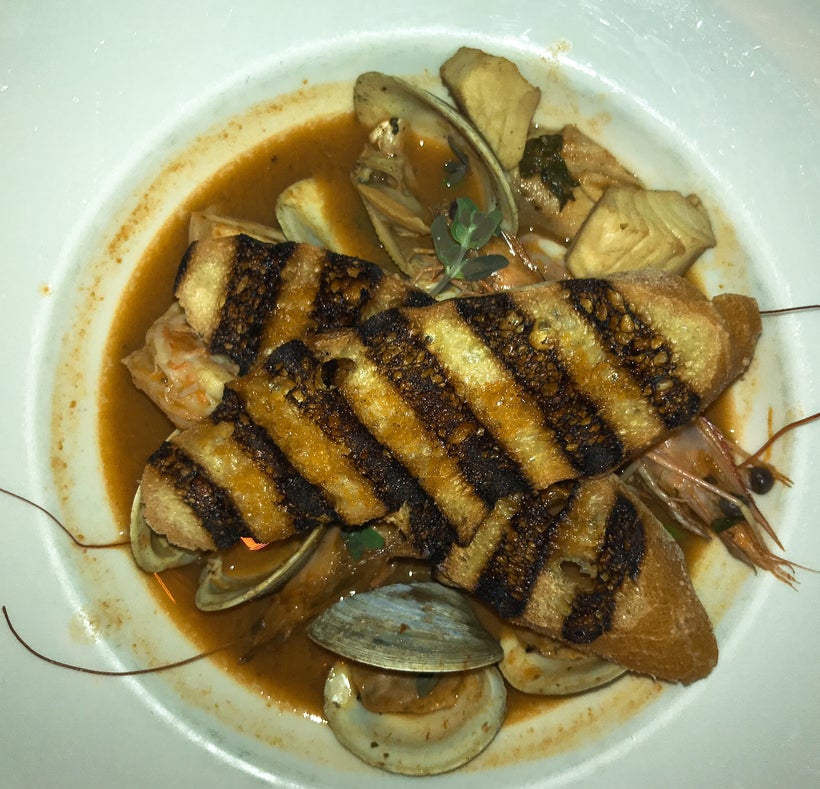 Her - The Cacciucco, or seafood stew, was Her's dish of choice. This stew, which was a recommendation by the amazing waitress Barry, (go see her) has Georgia white shrimp, swordfish, clams, all in a spicy tomato broth. It' served with grilled bread for dipping.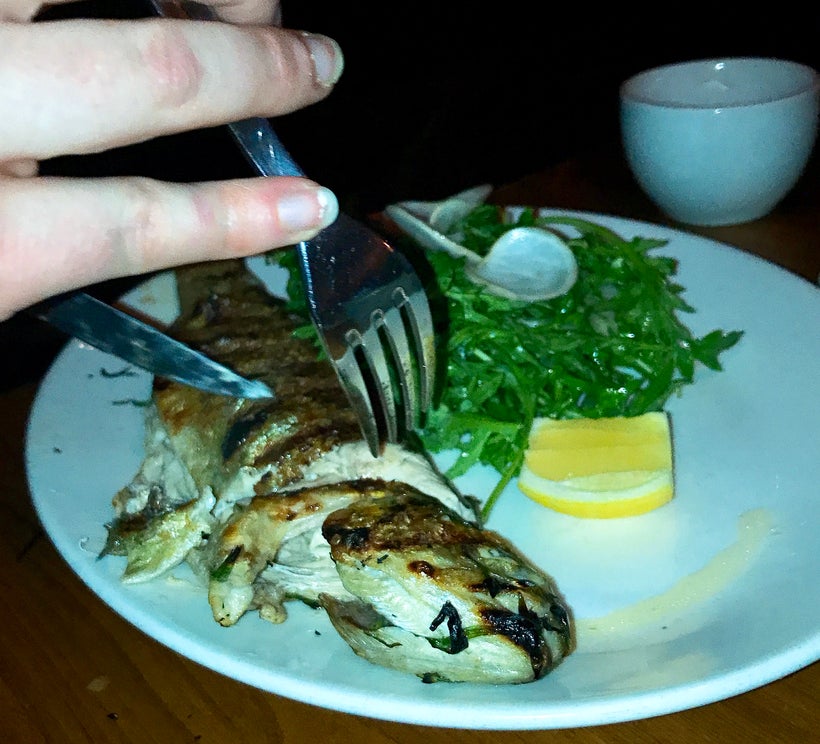 Him - Back at it again with the fish skin. The Fifth Group chefs really know their way around fish and the oven roasted Bramlett Farms Whole Trout is just another example. The whole trout is roasted with lemon and herbs then filleted tableside for your enjoyment. The fish is paired with an arugula and radish salad that contrasts well with the fish. Best of all the skin of the fish is crispy, so it's actually enjoyable.
Lure is located just steps from Woodruff Arts Center, High Museum, and Piedmont Park, and walking distance from your stay at Loews, making your after dinner plans that much easier.
So there you have it! The perfect Valentine's Day Hotspots for those looking to do V-Day in Atlanta. Be sure to visit himherandafork.com for more restaurant reviews, and for fitness tips to help you work off that meal.
REAL LIFE. REAL NEWS. REAL VOICES.
Help us tell more of the stories that matter from voices that too often remain unheard.
This post was published on the now-closed HuffPost Contributor platform. Contributors control their own work and posted freely to our site. If you need to flag this entry as abusive,
send us an email
.