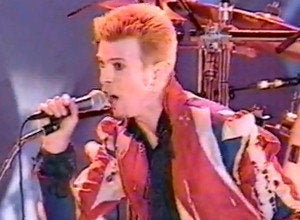 On Thursday, September 28, 1972, David Bowie was finally playing New York. 
Yes, Ziggy Stardust was performing at Carnegie Hall with his Spider From Mars.
It was only his third gig in America and wow, the hype was heavy!
My gang of fellow Brooklyn Anglophile Import Album music freaks had been hip to Bowie since "The Man Who Sold The World" (yes, the UK version with him in the dress!) and "Hunky Dory."
Bowie's new album, "Ziggy Stardust and the Spiders From Mars", complete with a new persona and new wild drastically anti-hippie look, had taken David from the "Hey, this guy's pretty good"-category to the rarified realm of "Oh my God, our new hero!"
Anyway, about 8 weeks earlier I'd had my brain ripped to shreds by The New York Dolls. Thanks to that band, my British satin'n'tat/Granny Takes A Trip patchwork boots look had now been augmented with a generous schmeer of transvestitism. Still, something special was required for this Carnegie Occasion.

How to honor Ziggy's inaugural New York gig?
Hopelessly addicted to the need to feel cutting-edge-cool every waking moment of my life, this issue consumed me for weeks.
Ah ha!  The day of the show I was finally struck with an inspiration. I jumped on the subway and went to this old jewelry store on Lexington Ave. that was famous for painlessly piercing young New York City girls' ears for decades. Guys with an earring was already a growing trend. So, naturally, I got BOTH ears pierced. I capitalize 'both' because in 1972, this was akin to getting a tattoo on your damn face nowadays.
The little old bald piercing guy at the jewelry shop didn't even want to do it!  I had to cajole him into it.
About 4 hours later, I debuted my newly-dangerous ears in Carnegie Hall's lounge/bar to my friends' openly jealous outrage as we stood at the bar next to Andy Warhol and Truman Capote's entourage.
Bowie and his band were great that night. They did the entire "Ziggy" album and few earlier tunes. David had on an outfit that was very close to the odd space-suit he's wearing on the album cover. All three Spiders were pretty dolled-up too... although, truth be told, they sort of gave off the vibe of guys in Deep Purple dressing up because they were paid to. Overall, it was, to my mild surprise and disappointment, a very straightforward four-piece band rock show. Excellent, but much less gaudy and outrageous than The Dolls, and nowhere near as volatile and vicious as The Who. Nonetheless, we all left that Carnegie Hall show jazzed about Mr. Bowie.
For those who can't get enough, here's a cool link to more tidbits about this concert...
It's early evening on Valentine's Day 1973, and I'm in my kitchen, stoned on strong weed, regaling my dear pal, David, about the Bowie show I'd seen the night before at Radio City Music Hall. It was only Bowie's second time in New York and it was everything that the Carnegie Hall show hadn't been. An extravaganza!
Bowie, in a mere four months, had become a STAR!
The show was sold out! The buzz was deafening!
Playing Radio City, Bowie was clearly prepared and determined to take advantage of every stage gimmick the venerable venue had at its disposal. Hydraulic stage risers, smoke machines, scrims, absolutely incredible lights, an augmented band of at least 7, foxy female techs, 5 or 6 costume changes... And what costumes, fashion-forward into the next century! Something "Oooo, ahhhh!" cool was happening during almost every song. And Bowie himself was much further out... bigger redder hair, blatantly obvious make up, almost anorexic-thin, and utterly androgynous (we all loved the fact that, in an age when virtually any gay celebrity was still in the closet, David Bowie was a straight guy pretending to be gay).
The show ended with Bowie suddenly and shockingly collapsing toward the end of the encore, "Five Years" just as he got to the line "Give me your hands...". A bodyguard, dressed all in black rushed out of the wings and picked Bowie up like a limp broken doll and carrying him off stage with the lights going black... What the... Did he faint? Had he been shot?! The audience's reaction was in disarray. A minute later, I realized I'd just witnessed one of the great Rock'n'Roll exits of all time.
As my pal, Jake, was walking out of the show that night, he looked down and spotted a roll of bills on the floor of the aisle. He stooped down and scooped it up, got outside and counted... 13 one hundred dollar bills! Obviously, a drug dealer had lost his haul. (Jake wound up buying a new stereo, a used Honda motorcycle, and pound of reefer... that's what $1300 got you back in 1973!)
Anyway, I'd loved every minute of the show. Pal David, a big Bowie fan, was sitting there in my kitchen, intolerably envious. "Oh man, I should've gone with you, dammit, dammit dammit, Binky!"
Suddenly, at the same moment, we both realized...
Fuck, Bowie's playing Radio City again tonight... and the show starts in 35 minutes.
Hey, what the hell... We each had about $30 on us... Let's go and try to scalp tickets... NOW!
Without letting ourselves even think about it, we dashed out of my house, into the snowy night, caught a cab, and drove out of Brooklyn Heights, and up the FDR Drive to Rockefeller Center at 49th St and 6th Ave.
But, while we were en route, our madness was subsiding and reality started to set in. What the heck were we doing?! The show was totally sold out! Oh well... no turning back now.
Our cab pulled up directly in front of the Music Hall and we could see that the line of kids waiting to get in numbered in the many hundreds (the orchestra seats were general admission) and snaked way the hell down 49th St. all the way east to the famous ice skating rink in Rockefeller Center. Shit! This was a stupid idea.
As we were getting out of the taxi, from out of nowhere, a young Radio City doorman in a police-type cap and heavy coat sidled up to us, gave us a quick "Come here!" jerk of his head. Puzzled, we followed him as he walked to the little info kiosk by the front doors. Then, he turned to us and said, "You guys need tickets, don't you." 
He rapped on the glass of the kiosk and another young Radio City dude inside slid two tickets out and said "Pay me the price on the ticket." Both Radio City guys were acting like they were do a drug deal. What the fuck? We handed him our money, got our tickets, and the Radio City guy who first approached us then walked us right up to the front door, nodded to the ticket taker, who immediately let us in... ahead of all the other kids waiting in the cold and snow.
 
David and I walked down the aisle, mind blown, and spotted two empty seats in the 3rd row, dead center. We sat down and looked at each other...
"What just happened?" asked David.
Coda: 15 years later, to the day, Valentine's Day, 1988, my wife (then girlfriend) and I went to see Ella Fitzgerald play Radio City, backed by a world class (of course!) six piece jazz ensemble. The guitarist, Joe Pass, was Jazz Royalty. Ella was in her late 70s, barely able to walk, almost blind, and yet sang like she was in her late 30s. A voice from Heaven! Probably the finest vocalist I have ever heard on stage in my life, of any genre. And, in my entire life, I have never experienced a performer who turned a sold out 5000+ seater into an intimate little club. A performance of jaw-dropping excellence and emotional connection. It was just about the most romantic Valentine's Day I ever had...  I know, it wasn't Rock'n'Roll... but, I loved it, loved it, yes I did.

Calling all HuffPost superfans!
Sign up for membership to become a founding member and help shape HuffPost's next chapter