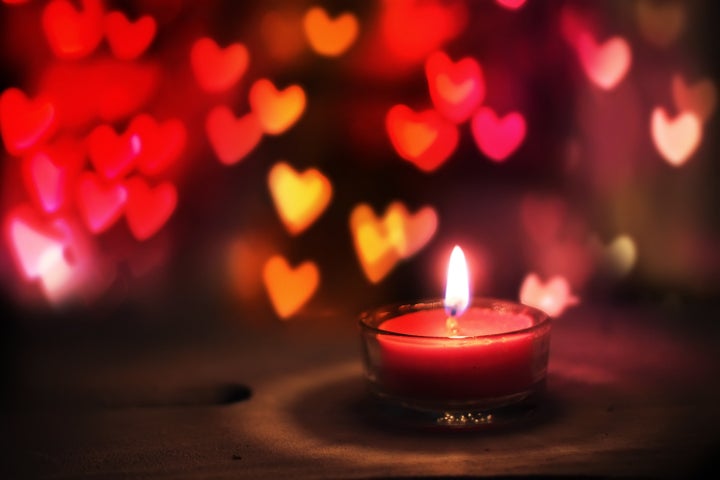 A friend recently shared that for his upcoming birthday, he's asked his wife to put him into a medically-induced coma. I just didn't see our thirties having quite so much in-ten-si-ty, to quote Lost in Translation, the film featuring a girl with too much time on her hands. Remember that feeling? Jet-lagged from childhood, drowning in fear we wouldn't find our place? My slate was as overwhelmingly open as it's now full.
Between finishing emails, loading the fridge, unloading the dishwasher, getting our son to eat his chicken nuggets and my dog to swallow her pill, it takes approximately 32 days for my husband and I to complete a discussion and 46 to wrap up a fight. Now, having pulled off the seasonal hat trick of hosting Thanksgiving, getting the tree up, decorated and down, staying conscious and, pine needles still in our socks, kiss worthy at midnight -- we get Valentine's Day.
Valentine's Day: Rubbing singles' noses in their lack of a mate and the noses of couples in their lack of time. I once ran this heart-festooned gauntlet with White Russians and Mary J. Blige, but success as a married eludes me -- and not for lack of trying.
In the beginning, I'd rush from work to squeeze on the prix-fix conveyor with those who'd made their reservation a month earlier to BE ROMANTIC -- GO! But after chewing one too many chicken breasts with a frigid draft blasting my ambitious garters, a ban was declared. As one observant friend put it, "My husband does not find me attractive when I'm cold."
Next, I did what a good wife is supposed to: cook a chic meal and serve it on the living room floor. He even attempted the Good Husband version to the same unfortunate end. Rich, sexy food does not lead to the romance, it leads to the toilet. I'm sorry, but anyone who tells you otherwise is a functional alcoholic. Which brings us to the bubble bath. Fresh from a harrowing you-have-to-eat-at-least-two-bites throw down (see 'chicken nuggets' above), not smarting like the candidate who got her ass handed to her requires mind alteration. And parenting hungover just feels disgusting.

The marketplace astutely ensures anything remotely pink and involving two is quadruple the price, ruling out getaways, spas and hot air balloon rides. Flowers are so jacked I could eat them and still not enjoy them enough. A Hallmark card with paragraphs about my beauty written by a stranger is vaguely depressing.

So here's what: We've finally said FU to V-day.
I've been with my husband for seventeen years. And regardless of what the greeting card Lords ordain, I still have a crush on him- - maybe not 365 days a year -- but most. In the moments we catch eyes across a playground, I still swoon. His skin against mine is still a hot shock of luck. And when he finds my hand under the covers, I still feel a piece of myself click forever into place. We steal our moments where we can and if we are so blessed, I'm told before I know it everything slows way down. God willing, we'll have the luxury of rattling around together and it can be V-day every day.
In the meantime we're really hoping somebody takes on this medically induced coma thing--couple-style. They figured out Karaoke club rooms and Heattech thigh highs... a girl can dream.
Calling all HuffPost superfans!
Sign up for membership to become a founding member and help shape HuffPost's next chapter