Say what you will about Valentine's Day -- we'll take any excuse to pick up some flowers and pretend like it's spring, even if it is still snowing outside.
But in trying to master an Instagram-worthy, DIY-version of those pricey holiday blooms, we keep running into one problem: selecting the right vase. It never fails that the vessels we have on hand end up being too big or too small or too awkwardly shaped to let our flowers truly shine.
So we called on an expert to help us stay the course -- Ellie Hsu, co-founder at Flower Muse, who shared her best advice on what to do with the three types of flowers you're most likely to get this Valentine's Day.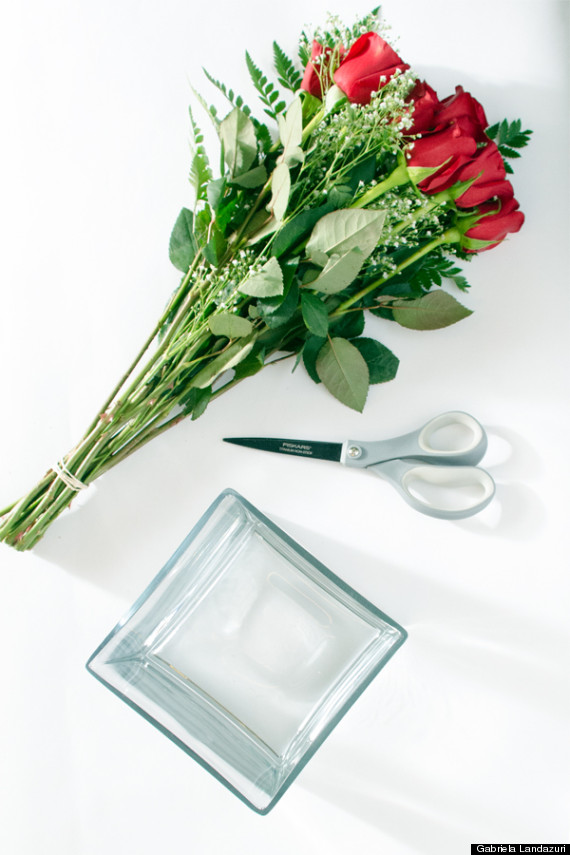 The short, wide cube-style vase works best for flowers with sturdy stems. "Otherwise, you'll need to tape off a grid or use a floral frog to help support blooms," Hsu says. For standard roses (not the long-stemmed kind), Hsu suggests cutting down the stems and criss-crossing them, starting with the corners or edges of the vase, to create a natural grid that will hold additional stems without tape. In this arrangement, we put the rose buds to work to keep the boxy arrangement in place, swapping out the traditional baby's breath for wax flowers to fill in the spaces in between.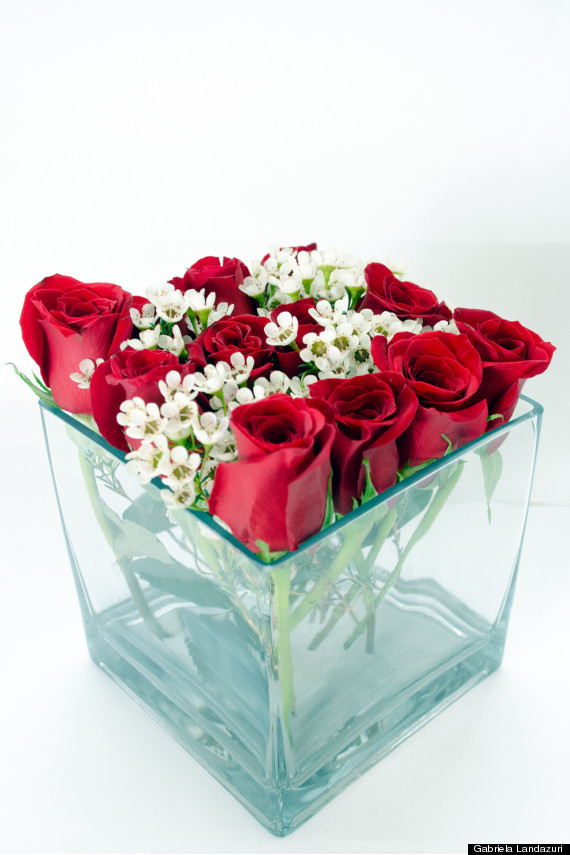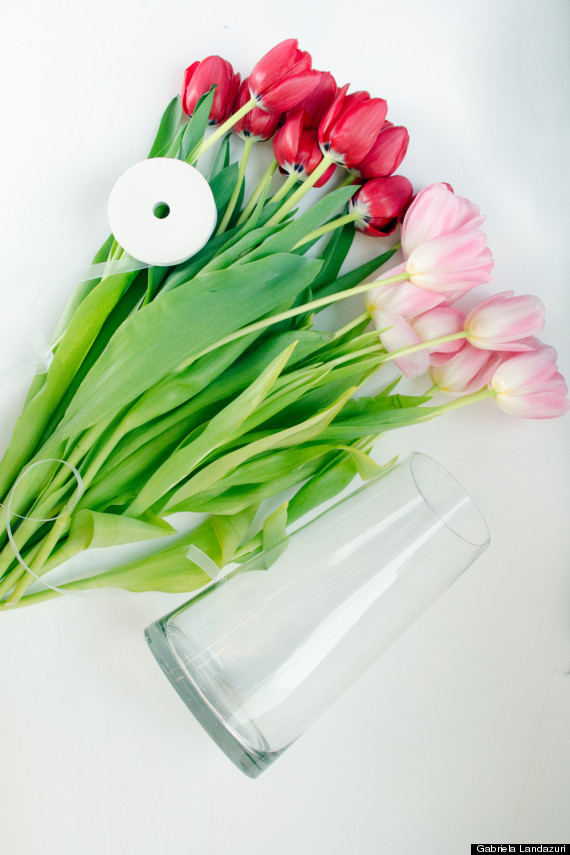 Tulips are phototropic, meaning that they move towards light, and geotropic, naturally bending downwards with gravity, Hsu explains. That means you'll want to use a tall vase to support at least two-thirds of the stems. Think: Tall cylindrical or rectangular vessels, which might even include a glass pitcher or tall jar. To give the base of our arrangement a little more heft, we tied the stems together with ribbon before placing them in the vase. This also helped corral some of the leaves which tend to take up a lot of space. Hsu suggests trimming a few of the leaves if need be, or keeping this rule of thumb in mind: For 10 stems, use a vase with an opening at least three inches wide; for 20 stems, make sure the opening is at least four inches wide.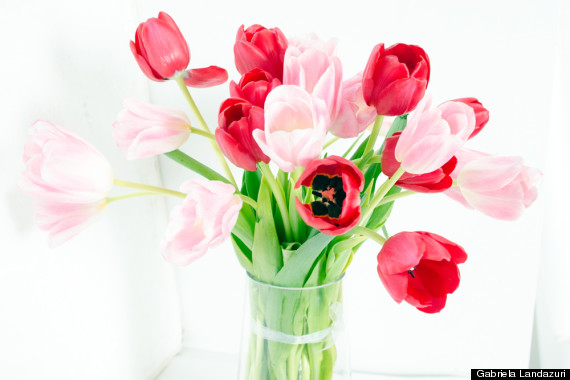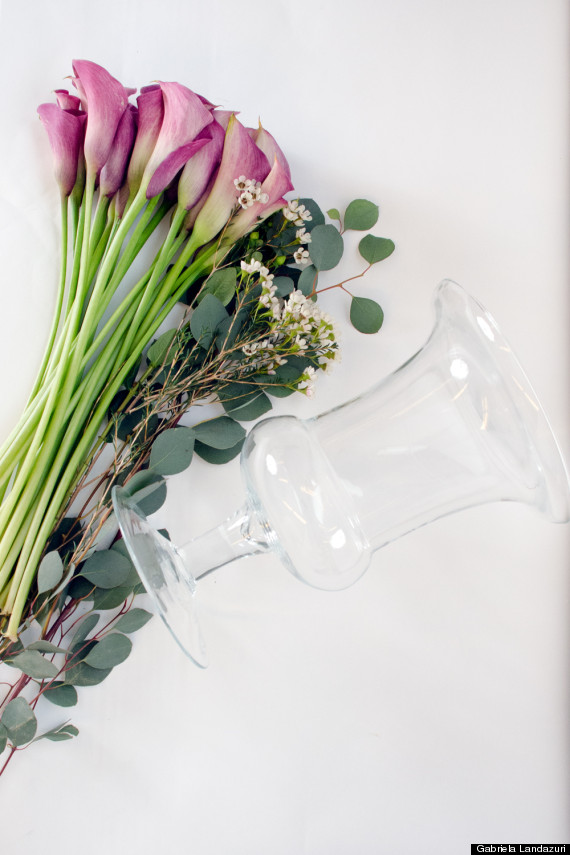 These "bullet proof" flowers, as Hsu calls them, can last for a few weeks (sometimes as long as a month), and are super easy to arrange. "Callas can look great in any vase type," Hsu adds, which might be a good time to try the trickier-to-use urn shape. (Traditional lilies also work especially well in an urn-style vase since the flared neck allows the stems to fan out and give the blooms room to open.) We filled out our arrangement with some equally hardy eucalyptus leaves and a few wax flower stems.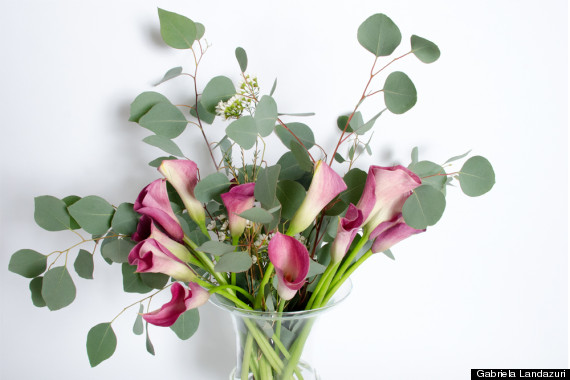 Some other things to keep in mind...
The easiest way to arrange flowers is by keeping the blooms monobotanical (one kind of flower) or monochromatic (one color), Hsu says.
It's best to arrange flowers that are fully hydrated. That means, "if you've bought farm-direct flowers, you'll want to set them in water for at least 6 hours (or up to a day) to give the blooms time to drink up water," Hsu says. "If you've picked up a bunch from the local grocery store or farmer's market, these usually are ready to arrange, but they'll certainly benefit from a fresh cut and a couple hours in clean water."
And remember, floral food is great to use, but that doesn't mean you can just leave the flowers alone. "You'll get the most vase life if you re-cut and change the water every 2 to 3 days," Hsu says.
Are you an architect, designer or blogger and would like to get your work seen on HuffPost Home? Reach out to us at homesubmissions@huffingtonpost.com with the subject line "Project submission." (All PR pitches sent to this address will be ignored.)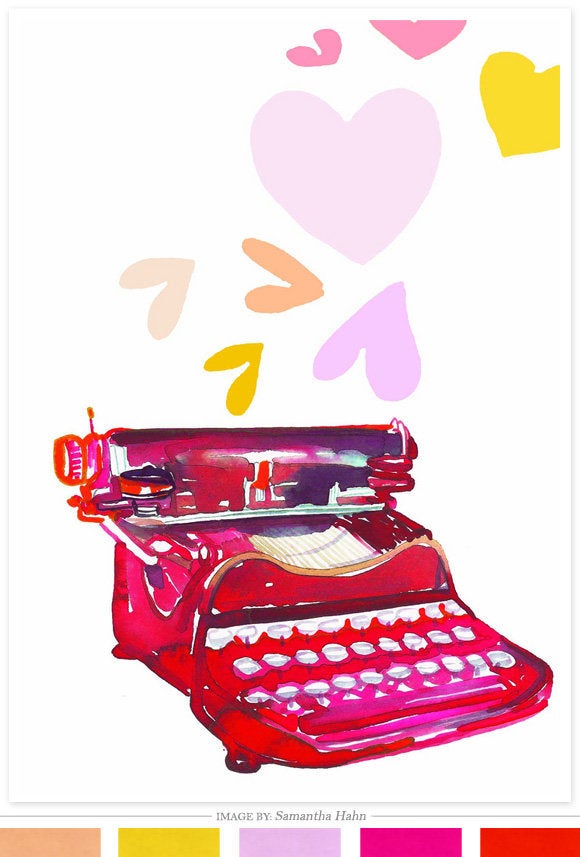 20 Valentine's Day Card Printables