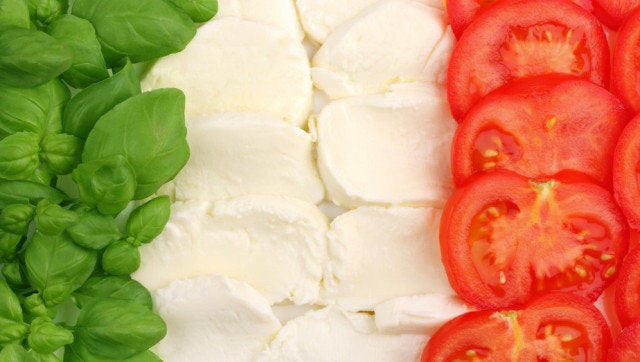 Piero Selvaggio and his Valentino Restaurant (3115 Pico Blvd, Santa Monica (310) 829-4313) celebrated their 40th anniversary with one of the most unusual and exciting dinners I have ever attended. On a Wednesday evening this week he assembled several star chefs and a host of passionate diners for an extraordinary evening celebrating Italian culture, cuisine and the legacy of his iconic restaurant... by serving the food of Sardinia and Sicily (where he was born) in a 40 course dinner.
Yes, small tastes, and the 40 wines were poured in 2 ounce servings, but nevertheless it was a challenge to remain enthusiastic 'til the end of the meal when a plethora of desserts were served...but I managed. I was present because of all the people there, apart from host Piero, I was the only one who could say that I was at the restaurant on its opening night!
Yes, on a rainy night in late 1972 my agent took me and my wife to a tiny storefront Italian restaurant which was opening on an unimpressive strip of Pico Boulevard in Santa Monica. It was named after the famous Italian movie star, Rudolph Valentino. Red-checkered tablecloths and a simple wine list (which my agent fixed the next day with some Italian bottles from his own collection), but the food was superb Southern Italian dishes from a talented chef (who left a year later to start his own place)... but the charm and friendliness of the owner/host Piero Selvaggio had us coming back night after night to show our support.
I wrote the first favorable review of the eatery, and over the ensuing years Piero and Valentino have made a significant contribution to the Los Angeles (and national) restaurant scene, introducing authentic Italian products (radicchio, sun-dried tomatoes, aceto balsamico), wines and regional cuisine to the public. He nurtured many of our most influential chefs and restaurateurs, who went on to enhance the dining scene. And over the years he grew the restaurant into an elegant monument to fine dining.
Eventually he expanded to a fine-dining spot in Las Vegas. Ruth Reichl, when she was the influential restaurant critic of the New York Times, said that Valentino may well be the best Italian restaurant in the country. Piero has moved forward with the times, now offering a more casual dining area and menu in part of the restaurant, and it remains a favored destination for sophisticated diners.
Which explains why I was here 40 years later... still showing my support for this fabulous, charming and extraordinary host. The art of personally greeting every guest and observing every minute detail of service is almost a lost art these days, but not here. The restaurant's executive chef, Nico Chessa, and its pastry chef, Alessandro Stroppa, collaborated with guest chefs Celestino Drago (Drago just opened on Sunset), Steve Samson (Sotto) and Pastry Chef Davide Giova (Urth Café) to turn out the multi-course repast inspired by the cuisine of Sicily's most revered chef, Ciccio Sultano. Guest Host was the legendary Darrell Corti, owner of the renowned Corti Brothers family grocery store in Sacramento, who spoke to the guests about the evolution and traditions of Southern Italian cooking. His famed grocery store is the source of almost every exciting food product in the world, and his monumental knowledge of Italian food and wine is inspiring. The dinner was dedicated to an old friend of many present, the legendary restaurateur Mauro Vincenti of Rex il Ristorante downtown. (His widow, Maureen, has the wonderful Vincenti Restaurant in Westwood.)

...and lovely actress Nancy Stelle told me of her disappointment in shooting a scene with Ben Affleck for his new movie, only to have it end up the cutting room floor.
I cannot recount in detail all of the 40 courses, but I can highlight some ....and note that many of the dishes reflected the history of the region in the middle of the Mediterranean Sea, with touches of Spanish, Greek and Arab cuisine contributing to the culinary mix. Piero also presented a sampling of never-before-seen wines to be discovered, including biodynamic varietals from Southern Italy. One, the Rosso del Contadino, especially intrigued me.
To begin the stupefying dinner for the 150 guests (who paid $125 for the multi-course feast or $200 with matched drinks), they passed a dozen 'stuzzichini' appetizers from Sicily and an equal number from Sardinia. I knew I had to pace myself... but my weakness for uni (sea urchin) was my undoing, with a spoonful of sea urchin, followed by some octopus and a Spanish frittata (omelette).
This was followed by the sumptuous antipasti. Plates were passed with several offerings, and we all indulged to excess. One of the pastas was prepared by 86-year old 'Pasta Mama," Elvira Cavallo, who came out of retirement to make the dish. Some were exotic (calf brain fritters with roasted mushrooms) and some were just memorable. Darrell Corti told us that the Panelle, chickpea fritters, were the measure of a chef's skill in Sicily. I loved the Seppe, grilled cuttlefish, and a tiny cup of the Fava Bean Soup thrilled me. Lamb belly with Modica's spicy chocolate sauce was a bit much, but the braised lamb and the oven-roasted suckling pig were superb. Of the several smoked meats, the Guanciale, cured pork cheek, was my favorite. A cheese course feature several interesting offerings, accompanied with organic honey and mandarin jam. And the desserts plates were a revelation, especially the mini-cannoli filled with ricotta cream.
As I told Piero when I left, I look forward to the fifth decade of his exquisite Valentino and to attending his 50th event in 10 years.
To subscribe to Jay Weston's Restaurant Newsletter ($70 for 12 monthly issues) email him at jayweston@sbcglobal.net.
Calling all HuffPost superfans!
Sign up for membership to become a founding member and help shape HuffPost's next chapter