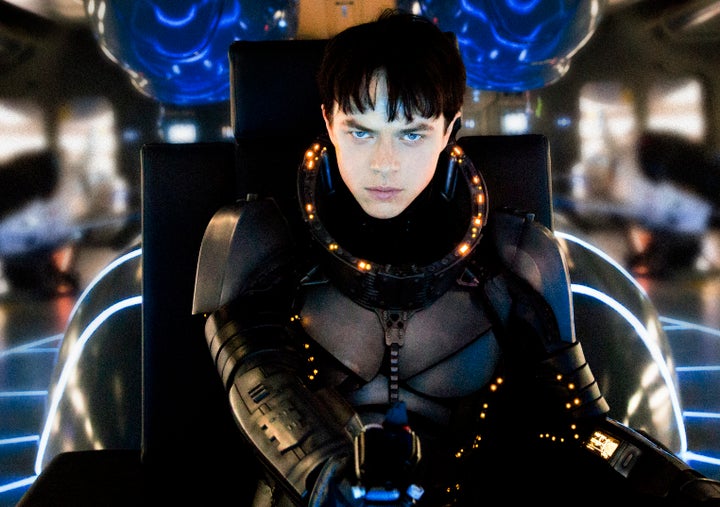 In Hollywood, buff men with bulging self-esteem are often the ones who save the day. A blockbuster hero needs Arnold Schwarzenegger's threatening biceps, Bruce Willis' impenetrable confidence, John Wayne's grizzled gunslinging, Will Smith's bellowing charm and/or Chris Hemsworth's rigid eyes. Even characters meant to look like everyday folks ― say, Tom Holland's nerdy Peter Parker in "Spider-Man: Homecoming" ― sport chiseled abs and clear complexions. You couldn't doubt their fortitude if you tried. 
Besson, a Frenchman whose eye-popping aesthetics won him American success, had sought to adapt "Valérian and Laureline" ― the comics series he loved as a child ― since making the 1997 oddity "The Fifth Element." A futuristic space opera set in the outer reaches of the galaxy, "Valerian and the City of a Thousand Planets" evolved throughout its development, getting an entire rewrite after Besson saw "Avatar" and decided his initial script "wasn't good enough." But one thing never changed: Besson always wanted a leading man without typical leading-man attributes. 
Enter Dane DeHaan, the 31-year-old actor who resembles a young Leonardo DiCaprio, back when Leo could be described as slender and boyish.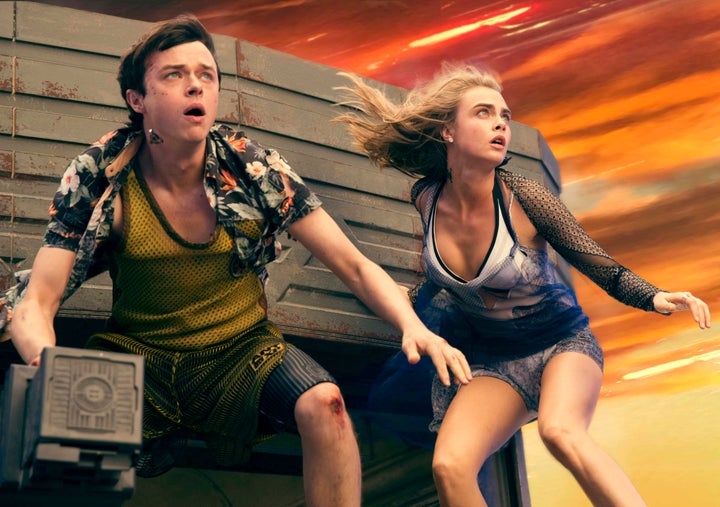 "I'm interested by the strong sex, which is the man," Besson told me by phone last month. "I'm interested by the weakness of the strong sex, and I'm interested by the strength of the weak sex. Achilles without his heel has no interest."
As the criminal-chasing agent Valerian, DeHaan joins Cara Delevingne, portraying the smirking Laureline, on a mission to protect the metropolis Alpha from a vague threat that has them hopping through time, space and a Rihanna burlesque show. But instead of a macho superhero type with a vigilante complex, our protagonist is a romantic who looks more frail than he does fierce. 
In some ways, "Valerian and the City of a Thousand Planets" builds on a key aspect of "The Fifth Element," which revolved around a gun-wielding maverick with a surprising sentimental core, portrayed by Bruce Willis. The difference? "Die Hard," "The Last Boy Scout," "Pulp Fiction" and "12 Monkeys" had lent Willis an unrestrainable machismo, maintained in "Element." DeHaan, less of a household name than Willis was in 1997, has a more malleable reputation and a more gaunt countenance, as evidenced earlier this year in "A Cure for Wellness." Put differently, Willis was a brand; DeHaan is not.
The gulf between a star like Willis and one like DeHaan is emblematic of the Hollywood machinery's changing tides. Willis' fame was more closely aligned with the Old Hollywood studio system, which lasted from the 1930s to roughly the mid-'60s. Then, professionals would mold attractive newcomers into packages, with recurring traits that could be invoked from role to role, à la the debonair Cary Grant. Now, many actors ― including blockbuster headliners ― are shape-shifters less preoccupied by "brand" hangups (Michael Fassbender, Joaquin Phoenix, Andrew Garfield, Mahershala Ali, even Daniel Radcliffe). And yet, when it comes to potential franchises with ballooning budgets, aspirational physiques remain focal.
Make no mistake: DeHaan is handsome and fit. But he hardly looks like he bulked up for "Valerian." Gaining and losing weight for roles in prestige films that could net Oscars is seen as a Serious Actor move; gaining and losing weight for blockbusters is a prerequisite. In keeping, DeHaan's spiritless line delivery will make some wonder if he was the right choice for a $180 million passion project. But he did work to prepare for the role physically ― within Besson's confines, of course.
"He did a lot, because when I met him, he looked like a shrimp," Besson said, chuckling. "Even if I don't want him to become like Schwarzenegger, I at least need to believe that he can fight. He was on a super diet and did [two hours of exercise] a day for six months. He's taken in a bit of muscle because he's very deep in his work, very intellectual. He was really not made to fight, but what I discovered when we started to talk is that when he was young, he learned sword when he was at school, which helped a lot."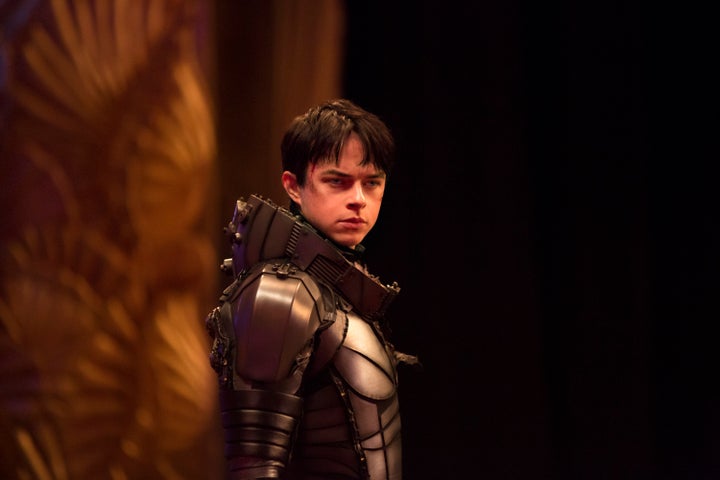 Having a scrawnier protagonist like Valerian minimizes the wish-fulfillment perfection that graces most male action stars, many of whom play characters with limited emotional scope. Besson again cited Schwarzenegger, saying he loves "The Terminator" but would be must more interested if the T-800 "suddenly starts to cry because he misses his mom." He prefers the Han Solo school of heroism.
"I love Harrison Ford in 'Star Wars' because he doesn't want to deal with anything — he's very selfish," Besson said. "Even in 'Indiana Jones,' he's lying, he's selfish. I love these kind of heroes, but not superheroes. Honestly, just to see these superheroes full of muscles and pink tights wondering if they should save the world or not — they're totally depressing for me. [...] You're a fucking superhero! Go!" 
Even if most of the ongoing chatter about representation in popular culture rightfully concerns the second-tier treatment of women and people of color, Besson's objective speaks to the evolution of male vulnerability on the big screen. No longer does the lead have to be a muscle stud or a rolling stone conflicted by his oppressive masculinity. While not unskilled, Valerian's victories often seem like a fluke. He's more exotic as a result. 
"For me, it's the reflection of the modernity of today," Besson said. "When you watch the men today, they're always a little bit overpaid, they're a little bit more pretentious, and the women are underpaid and they're running the house. That's exactly what I want to explore. [Valerian] is a bit pretentious, he gets lucky most of the time, he's lying, and he's not specifically a heavy guy who can kick butt, but if suddenly he has to save Laureline, he's able to take two swords and win the fight. That's what I like about the character. The real hero is her."
"Varlerian and the City of a Thousand Planets" opens in theaters July 21.
Calling all HuffPost superfans!
Sign up for membership to become a founding member and help shape HuffPost's next chapter
BEFORE YOU GO