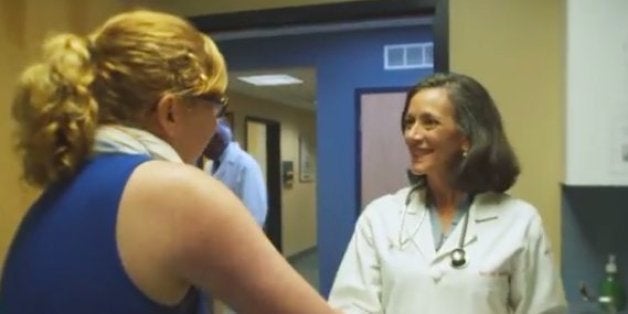 Dr. Valerie Arkoosh readily discusses the merits of the Affordable Care Act -- an uncommon stance for a political outsider running for a House seat in this year's elections.
Arkoosh, a Philadelphia obstetric anesthesiologist who lives in suburban Montgomery County, comes off as deeply informed, if not slightly wonkish, talking about how the law improves outcomes for patients while lowering health care spending.
As the Pennsylvania Medical Political Action Committee and the American Medical Political Action Committee announced support for Arkoosh in her race to represent Pennsylvania's 13th Congressional District -- shared first with The Huffington Post on Monday -- the candidate faces a delicate balancing act.
In interviews with HuffPost, Arkoosh touted the value of a physician's perspective in Congress. She also, perhaps to avoid being labeled the doctor candidate, argued that her professional experiences have given her real-world insight into how non-medical policy issues affect the day-to-day lives of people she hopes to represent.
"I bring a very different background and perspective," Arkoosh told HuffPost. "My perspective comes from practicing medicine for 25 years and seeing the impact of political decisions in Washington on patients and their families. I also bring policy expertise, as I worked in D.C. as president of a nonprofit on the legislation that became the Affordable Care Act."
Arkoosh faces a competitive Democratic primary in a district that cuts a swath through northeast Philadelphia and the city's northern suburbs. The current congresswoman, Rep. Allyson Schwartz (D), is stepping down to run for governor.
State Sen. Daylin Leach is generally considered the most progressive in the race, having championed the legalization of marijuana as well as same-sex marriage in the state legislature. Former Rep. Marjorie Margolies -- Chelsea Clinton's mother-in-law -- is running to reclaim the seat she lost in 1994. State Rep. Brendan Boyle fashions himself as the favorite of organized labor.
Yet Arkoosh, who proudly said she is "not a career politician," leads the field in fundraising and has the most cash on hand. Those funds will be critical to her ability to gain name recognition.
Support from the Pennsylvania Medical Political Action Committee and the American Medical Political Action Committee complements Arkoosh's other endorsements, including the National Committee to Preserve Social Security and Medicare, the Women's Campaign Fund and a collection of physician groups.
Arkoosh said one of the main benefits of the Affordable Care Act is the coverage of preventative health care. She linked her work with women in labor to reproductive rights issues protected by the law.
"One of the really important things in the Affordable Care Act is coverage of contraception with no co-pays," Arkoosh said. "We know that the healthiest pregnancies are planned pregnancies. What is frustrating me so much is that we've now seen the GOP in Congress go after contraceptive coverage. We need serious and credible voices standing up for women's health in the House."
Pennsylvania's 13th District leans Democratic and no strong Republican has entered the GOP primary. As a result, the Affordable Care Act hasn't been a wedge issue in the Democratic primary.
"There's no question that in my district, people are looking for their congresswoman to protect and strengthen the ACA," Arkoosh said.
Because there aren't many issues that split the Democratic contenders, the primary rests on questions of identity and personality.
"I am running against three people that are qualified but largely career politicians," Arkoosh said. "My perspective as a member of Congress, and the way that I approach solving problems, will be different from all of them. My call to public service has been driven by a passion for the people I serve in this community, seeing some of them fall through the cracks. This isn't my next step, I haven't spent my whole career in politics. This is about a citizen stepping up."
Arkoosh pointed to experiences with patients as catalysts for the political positions she now holds on funding for the National Institutes of Health, gun control and women's rights.
As a medical student at the University of Nebraska in the 1980s, Arkoosh was assigned to care for the first patient with HIV/AIDS admitted to the university's medical center.
"We didn't understand the disease at the time, didn't understand how it was transmitted," Arkoosh explained. "The patient was treated like someone with a very contagious disease. I remember the fact that he had no human touch for the three weeks before he passed away. I think about that story when we talk about NIH funding and other critical federal funding for research -- it was because of that funding that we were able to find a way to manage [HIV/AIDS] so its more of a long-term condition, we figured out how its transmitted and that putting a patient in isolation like that isn't necessary. That was an early window into the importance of research funding."
Arkoosh cited another example of how her experiences in medicine have influenced another policy area -- women's health care. As a first-year resident in anesthesiology, she treated a young patient in labor, who was only 11 or 12 years old, asking for a shot of pain medicine.
"My supervising doctor answered the phone and he said, 'Well we shouldn't give her one, she should feel every labor pain. Maybe she'll make a different choice next time,'" according to Arkoosh.
That interaction made Arkoosh realize "the importance of being an advocate for patients. Patients need their doctor to stand up for them."
On her support for gun control, Arkoosh cited patients caught in the crossfire of gun violence, simply "people in the wrong place at the wrong time."
Arkoosh said she became an advocate for the Affordable Care Act as opposition to the health care law increased in 2009. She recalled a 19-year-old women who went into pre-term labor at just over seven months. The patient, who had been born with a serious heart condition, was too old to be covered under her parents' health insurance, had difficulty affording birth control pills and had been unable to buy her own coverage because of her pre-existing condition.
Her situation would have been different under Obamacare, Arkoosh argued.
"Today it would be a very different situation. She would not have aged-off her parents plan, she would get contraceptives with no co-pay, she would be able to get insurance through the [insurance] marketplace, she wouldn't be discriminated against," Arkoosh said.
"Working on this law makes such an incredible difference in people's lives," Arkoosh continued. "That's the single biggest story that encapsulates why I'm running for Congress."
Calling all HuffPost superfans!
Sign up for membership to become a founding member and help shape HuffPost's next chapter
BEFORE YOU GO
PHOTO GALLERY
New House Members Of The 113th Congress