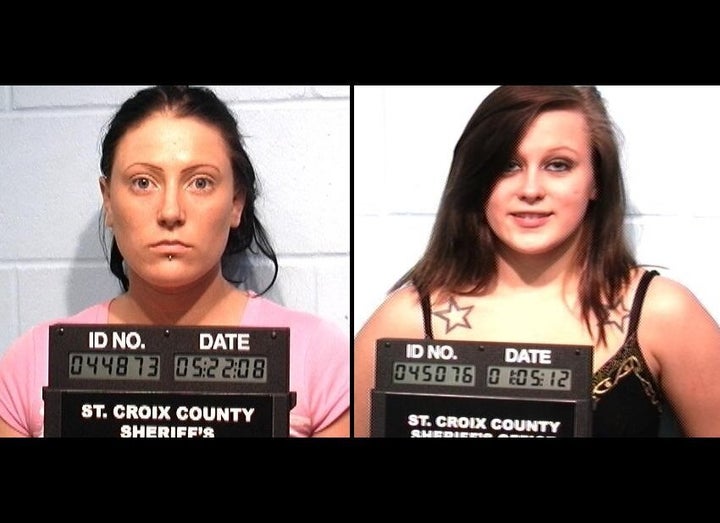 Two Wisconsin sisters have been charged in connection with the brutal sexual assault of a high school student. The women allegedly forced him to drink urine and twisted his penis with pliers when he refused to have sex with one of them, police said.
Valerie Bartkey, 24, and her sister, Amanda Johnson, 17, of Somerset, have each been charged with a felony count of second-degree assault by force, criminal damage to property and misdemeanor counts of battery.
"This young man has some vulnerabilities and, beside taking advantage of him, I don't think there was any other motive to it than making fun [of him]," Borgschatz continued. Police would not discuss the victim's medical or psychological condition further, citing his right to privacy.
While the arrest in the case is recent, the crimes actually occurred in October, according to a copy of the arrest affidavit provided to The Huffington Post. Borgschatz described the document as "sickening to read."
On Oct. 6, sheriff's investigator Brandie Hart went to Somerset High School and met with an 18-year-old man named "Joseph" [Full Name Withheld] in regard to an assault that occurred on Oct. 1. Joseph told Hart he was sitting at home playing video games when he received a call from Johnson inviting him to come over to her house and "hang out."
Joseph arrived at Johnson's home at about 5:30 p.m. Once there, another person, identified in court documents as "JMK" arrived and took Joseph, Johnson, Bartkey and Bartkey's 4-year-old daughter to the home of an individual identified only as "AJK." The girls' brother, Avery Johnson, and another person, "KJB," were already at the residence when they arrived.
After sitting around for a while, some of the individuals in the group allegedly began smoking marijuana. Joseph said he declined to smoke with them and went outside. He began playing around outside with Avery Johnson. Joseph said he joked about punching Avery in the stomach. It was at that point the evening took a frightening turn.
"Joseph said that the next thing he knew, Amanda came up behind him and pushed him," reads the police report. "Joseph said that after Amanda pushed him, he started running and while he did so, KJB came over and tripped him and he fell on his face. Joseph told Investigator Hart that as he tried to get up on all fours, KJB kicked him in the rib cage and Valerie kicked him in the leg. ... Joseph said that Valerie then put her foot on the back of his neck and stepped down on it. Joseph said he also saw Amanda stomp on his left arm with her foot."
Joseph was eventually able to break free from the group and ran off. When he returned to the home, he found one of his shoes in the toilet and another in the bathroom sink. He grabbed his shoes and sat on the porch, where he told investigators that he thought to himself, "I cannot do this anymore."
Bartkey allegedly approached Joseph and gave him a glass of liquid that she told him was lemonade. Joseph said he drank the substance, which he said tasted "kinda like beer." It was not until afterward that one of the people informed Joseph that the liquid was actually urine from both girls, police said.
After Joseph was tricked into drinking the urine, Bartkey allegedly told him to go downstairs into a bedroom. Joseph told police he did what she said because he was scared. Bartkey allegedly joined him in the room and told him to take his clothes off. Joseph told police she threatened him, saying, "You better take your clothes off or I'm goanna take a pair of scissors to your pants." Joseph said Johnson eventually came into the room as well.
A witness would later tell police they saw Joseph naked in the room and "heard the girls tell him to show them his penis and to bend over and show them his asshole." The witness also said that while this was going on, Bartkey's young daughter was awake and crying in the next room.
Bartkey allegedly took her own clothes off at one point and told Joseph she wanted him to have sex with her.
"Joseph said that Valerie told him she was pregnant and wanted to have twins," the police report reads. "Joseph said that Valerie wanted him to 'do the other part' and have sex with her so she could have two babies. Joseph said that Amanda was present while Valerie took her clothes off."
Joseph said that, when he refused to have sex with Bartkey, she threatened him and grabbed a pair of pliers.
The police report reads, "Joseph said that ... Valerie took the pliers, grabbed his penis with them and started pulling on it." The report continues, "Joseph said that he didn't have an erection but Valerie wanted him to have one so she pulled on and twisted his penis with the pliers. Joseph told Investigator Hart that Amanda was there as well and kept calling him a 'bitch.'"
When asked by police to describe the pain on a scale of 1 to 10, with 10 being the worst pain he had ever felt, Joseph said the pain caused by the pliers on his penis was a 10.
It was during the alleged penis torture that AJK walked into the room and ordered Bartkey and Johnson to leave. Joseph then got dressed and left. He ended up calling a friend, who in turn notified Joseph's grandmother and the police and paramedics were called.
While the police were working on making a case against the two women, Joseph called the officers on Nov. 1 and informed them of a phone call he had allegedly received on Oct. 27. He said Johnson called him and said, "You better drop these fucking charges or else I'm going to tell [the police] that you did weed on Oct. 1." Joseph said she was lying and said he did not do drugs.
Court records do not list an attorney for either of the girls. They are scheduled to appear in court on April 12. If convicted on all counts, they could each face up to 40 years in prison.
Calling all HuffPost superfans!
Sign up for membership to become a founding member and help shape HuffPost's next chapter
BEFORE YOU GO