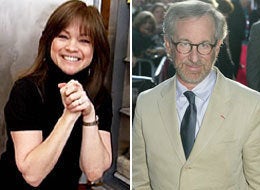 Valerie Bertinelli is dishing about drugs, marriage to and divorce from Eddie Van Halen and dating Oscar-winning director Steven Spielberg in her new book "Losing It: And Gaining My Life Back One Pound at a Time."
Bertinelli taped a segment for Oprah that airs Monday and says this:
"He's a handsome young man, qsn't he? I went up to read for Raiders of the Lost Ark, which I was so wrong for, way too young for... And the next day I got a call and some flowers ... [Spielberg] asked me out. We went out a few times, um, and did more."
"Even though the tabloids reported that Steven and I had a 'special love,' and 'we were talking about marriage,' we knew it was a fling," writes Bertinelli. "We had too many differences, including age, career status and religion. I met his mother, and I knew he wasn't going to marry someone who wasn't Jewish. And there was the stuff that really matters to me - food. One night, as we made pasta for dinner, I started to chop up garlic and Steven said, 'No. Stop. No garlic.' I stopped all right, but it wasn't because I took direction from him. I thought, 'Are you kidding me? I can't date a guy who won't eat garlic.' "
"I cheated," she confessed. "[Ex-husband Eddie Van Halen] claims to this day that I cheated first, but I don't know. I don't know about the timing."

Bertinelli, 47, also admitted to using cocaine during her marriage to Eddie, 53.

"Got to do another bump," she explained to Oprah.

"Another bump?" Oprah asked.

"Of cocaine," Bertinelli clarified.
Valerie is now the spokesperson for Jenny Craig.
Calling all HuffPost superfans!
Sign up for membership to become a founding member and help shape HuffPost's next chapter