NEW YORK -- Years ago, Valerie Jarrett was at a meeting with her then-boss, Chicago Mayor Richard M. Daley, and all she could think about was getting to a Halloween parade to see her daughter. When Daley asked Jarrett, who is now a White House senior adviser, what she was thinking, she copped to her distractions.
Daley told her, "Just go," Jarrett recounted to a packed audience at Arianna Huffington and Mika Brzezinski 's Third Metric conference on Thursday.
Two important lessons flow from that moment in Jarrett's re-telling. First, "find a boss that accepts your life," said Jarrett, 56, who also chairs the White House Council on Women and Girls.
Workers shouldn't have to sneak their families behind their bosses' back. No one should have to skulk out of work at 5 p.m. because they're embarrassed to leave early to watch a kid's soccer game, and workers shouldn't have to lie about why they're working from home if an elderly parent is sick.
The second and very related lesson: Make time for your family. That's a message Jarrett gets from her present-day boss. President Barack Obama famously goes home every night at at 6:30 to have dinner with his wife and daughters. "That sends a message to everyone that you do need to make time for your family," Jarrett said.
To be sure, Jarrett acknowledged, not all workers have the luxury of deciding when they can be at work. "We're lucky we're not working a low-wage job," with circumscribed hours, she acknowledged to a packed audience of highly polished professional women (and some men).
What Jarrett said isn't particularly revolutionary, but politicians and senior executives do a service in repeatedly sending a message to workers that making time for their personal lives is important. Working parents can't be told enough that it's OK to carve out time for family. It took me a few months at my current job before I felt fully comfortable leaving at the same time each day -- no matter what -- to get home in time to have dinner with my husband and kids, or at least have the opportunity to spend time with my son and daughter, reading books, brushing teeth and tucking them in for the night.
Making sure that happens means workers need to learn how to focus on the task at hand and compartmentalize their days. "When my daughter was young I would wake up in the morning and when I left the house I was thinking about how I could get back home before bed," Jarrett said. To do that, she said, "you have to be extraordinarly efficient with your time."
But just carving out the time isn't enough. As Jarrett and other conference panelists noted, it's important to be present in the moment. If you're going to spend time with your family -- or in a meeting with your boss -- keep your mind on what's going on in front of you. That leads to success in all aspects of life, both personal and professional.
If you're with your family, put your phone away. If you're at a meeting, don't check your Twitter feed.
At Thursday's conference, both Huffington and Brzezinski remarked on just how present and in the moment Jarrett always seemed to be. After graciously accepting their compliments and noting that she had set aside her BlackBerry before stepping up to the podium, Jarrett put her advice quite simply: "Focus on whatever you're doing."
Before You Go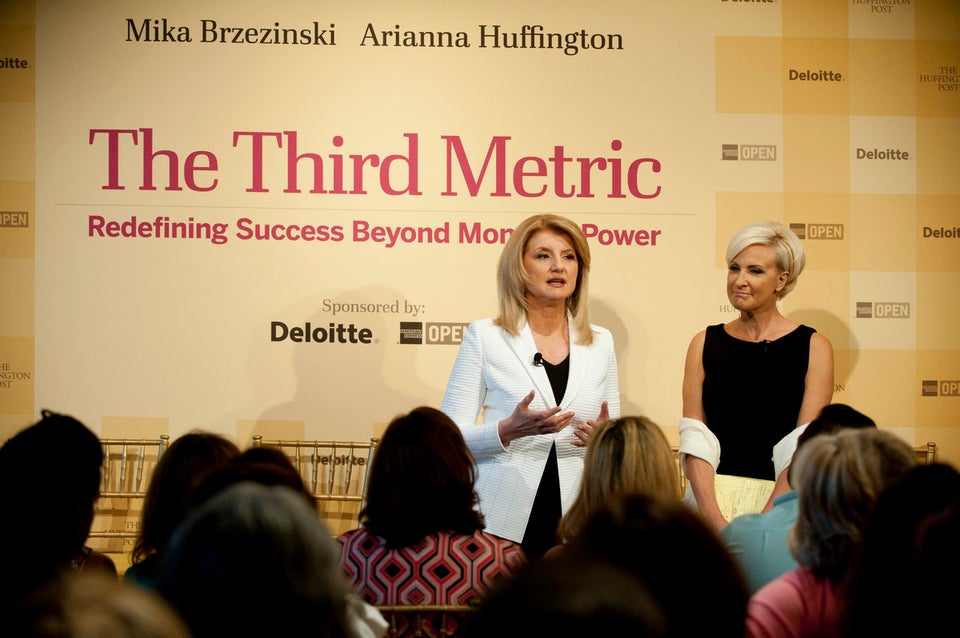 The Third Metric: Redefining Success Beyond Money & Power
Popular in the Community