Valerie Jarrett, who served as a senior adviser to former President Barack Obama for the duration of his presidency, endorsed former Rep. Tom Perriello in Virginia's hotly contested Democratic gubernatorial primary race.
Jarrett made the announcement on Twitter Saturday, praising Perriello's vote for the Affordable Care Act as a freshman congressman from a conservative district in central Virginia. Perriello went on to lose his reelection bid amid a backlash to the law that fueled a Republican takeover of the House of Representatives.
The Perriello campaign confirmed that the tweet represented an official endorsement of his candidacy.
Perriello thanked her for the endorsement.
As a member of Congress, Perriello distinguished himself for his support of Obama's agenda despite living in a district that was increasingly hostile to the then-president. He went on to head the Democratic-aligned Center for American Progress action fund and serve in the Obama administration State Department. 
Jarrett's use of the phrase "political courage" appears to be a reference to Obama's speech last week upon accepting the Profile in Courage award at the John F. Kennedy Library on Sunday. He dedicated the award to the Democrats in Congress who lost their elections after voting for the ACA, commonly known as Obamacare.
"These men and women did the right thing," Obama said. "They did the hard thing. Theirs was a profile in courage."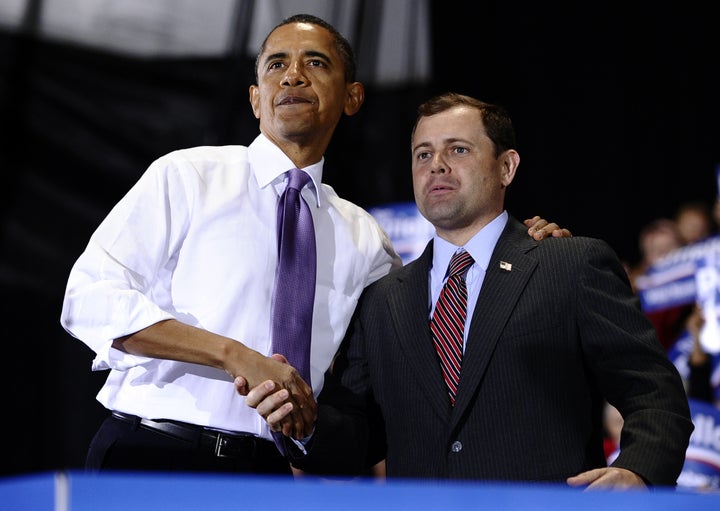 Perriello, 42, is campaigning as a defender of the law in the wake of the recent House vote to repeal the ACA.
In an advertisement released moments after the House passed the repeal legislation, Perriello stands in front of an ambulance being crushed in a compactor symbolizing GOP attempts to overturn health reform. Speaking over the loud noise of the compactor, he touts his vote for Obamacare as a congressman and promises to prevent a figurative ambulance-crushing scenario in Virginia.
But Perriello's vote for Obamacare is fraught with controversy as well. He was one of 64 House Democrats to support the Stupak-Pitts Amendment, a measure that would have prohibited Obamacare subsidies from being available for insurance plans that cover abortion. The amendment temporarily held up the landmark law before an alternative compromise replaced it.
Since launching his gubernatorial campaign, Perriello has expressed "regret" for the decision to back Stupak-Pitts, claiming it was based on a promise to constituents to oppose federal funding for abortions. He now supports repealing the Hyde Amendment, the law barring federal funding for abortions.
The more uniformly pro-abortion rights record of Perriello's opponent, sitting Lt. Gov. Ralph Northam, 57, earned the endorsement of NARAL Pro-Choice America. Northam, a pediatric neurologist and Army veteran, helped lead the fight against a Republican-led trans-vaginal ultrasound proposal in the Virginia legislature.
He has also fought to implement the ACA in Virginia, advocating for the expansion of Medicaid and the creation of a state-run Obamacare insurance exchange.
Jarrett's endorsement is a significant pickup for Perriello, who has cast himself as the progressive favorite in the contentious primary.
The lieutenant governor is not without his own controversial health policy record, however. He twice voted for former President George W. Bush, a staunchly anti-abortion Republican who appointed two Roe v. Wade opponents to the Supreme Court. (He has said he was not following politics closely at the time.)
And as a state senator in 2011, he called health care a "privilege" in a debate with an opponent, even as he defended measures to make it more affordable. (He has since said he believes "affordable health care" is a "right.")
Notwithstanding these complexities, Jarrett's endorsement is a significant pickup for Perriello, who has cast himself as the progressive favorite in the contentious primary. Northam has the support of virtually the entire Democratic establishment in Virginia, including Gov. Terry Mcauliffe, and Sens. Mark Warner and Tim Kaine.
This article has been updated throughout.
Calling all HuffPost superfans!
Sign up for membership to become a founding member and help shape HuffPost's next chapter
BEFORE YOU GO
PHOTO GALLERY
2017 Scenes From Congress & Capitol Hill