WASHINGTON -- A Supreme Court ruling on marriage equality is still months away, but there was an air of celebration Monday among the advocates, attorneys and couples who have been fighting for decades.
On Tuesday morning, the court's nine justices will hear arguments in Obergefell v. Hodges, a case expected to settle the question of whether same-sex couples have a constitutional right to marriage.
The dozens of plaintiffs hail from Kentucky, Michigan, Ohio and Tennessee. Some are fighting to marry their loved ones in their home state. Others want their state to recognize their legal marriage that was performed elsewhere.
On Monday evening, they gathered together in Washington, joined by plaintiffs from cases in other states over the year, to celebrate how far the fight for equality has come.
"Tonight here, we bring together plaintiffs and attorneys from more than 33 states, representing more than 55 different cases, spanning more than 40 years of our movement's battles in the courts of law and in the court of public opinion, to win the freedom to marry," said Freedom to Marry founder and president Evan Wolfson, a key architect of the same-sex marriage movement, at a reception his organization hosted for the group.
"We've made our case to the country and to the courts, and tonight is for savoring the moment and looking forward in great hope," Wolfson added.
Watch the plaintiffs get ready for the Supreme Court case above.
White House senior adviser Valerie Jarrett, a strong advocate of lesbian, gay, bisexual and transgender equality, attended the event to celebrate and toast the plaintiffs. President Barack Obama's administration filed a brief last month with the Supreme Court, making the government's legal case for striking down same-sex marriage bans nationwide.
"Our true north in the administration is no matter who you are, no matter what zip code you grew up in, no matter what your parents did, no matter what your faith, no matter what your race, no matter what your gender identity, no matter what you believe in or who you love, you ought to be able to have equal opportunity in this country. That's what we're fighting for," said Jarrett, who added that she will be in the courtroom Tuesday for the arguments, to attendees.
"We feel very strongly the law is on our side, and so we're hopeful that the court will follow the law," she told The Huffington Post after her speech.
White House Senior Adviser Valerie Jarrett and Freedom to Marry Founder Evan Wolfson at the plaintiff reception.
The plaintiffs from the four states in Obergefell will be in the courtroom Tuesday morning to hear the oral arguments, joining the crowd on the steps of the Supreme Court afterward. Many of the plaintiffs used the words "excited" and "overwhelmed" and "whirlwind" when talking about their experience in Washington, D.C. thus far.
Kentucky plaintiffs Michael DeLeon and Greg Bourke, with their children Isaiah and Bella.
"It's nice to come and see the city, but to come here and actually be part of trying to change the world...and make it a better place is what's so exciting to us," said Kentucky resident Tim Love, who has been with his partner, Lawrence Ysunza, for nearly 35 years and is fighting to get married in their home state.
"We're nervous with all the excitement, but it's a good, positive nervousness. Mainly we're excited," said Kim Franklin, another Kentucky plaintiff who wants the state to recognize her marriage to Tammy Boyd, the woman she married in 2010 in Connecticut.
"Our kids and grandkids kind of brought it home to us because they made the comment that when the next history books come out, you guys are going to be in them," she added. "And that was an amazing thing, because from our child and our grandchildren's standpoint, they don't think about it anything other than we love each other. ... But the fact that they knew it was such a big deal that it was going to be in the history books, we started saying, 'It's true. It's going to be a big deal.'"
Kim Franklin showing off the shirt the Kentucky plaintiffs wore Monday.
Kentucky plaintiffs Kim Franklin and Tammy Boyd.
Another highlight for the plaintiffs Monday was going to the Supreme Court and meeting with the supporters who have been camped out for days, braving the rain and sleeping on the cold concrete, in order to secure tickets to see the oral arguments.
"People have been great. Just the fact that they're staying out there, and they're still out there right now -- gosh, I could not do it," said Tevin Johnson-Campion, 20, whose dads are two of the Kentucky plaintiffs. He's been blogging about his trip to Washington with his family.
When the families then gathered together for a photo on the steps of the Supreme Court Monday, getting the group situated and facing the camera took some time. The strong emotions of the week came to the forefront when photographers implored everyone to smile for the camera.
"It's hard to smile," said Kentucky plaintiff Luke Barlowe, "when you're crying."
Kentucky plaintiffs Jimmy Meade and Luke Barlowe, who met in 1968 and have been married since 2009.
The plaintiffs in Obergefell v. Hodges.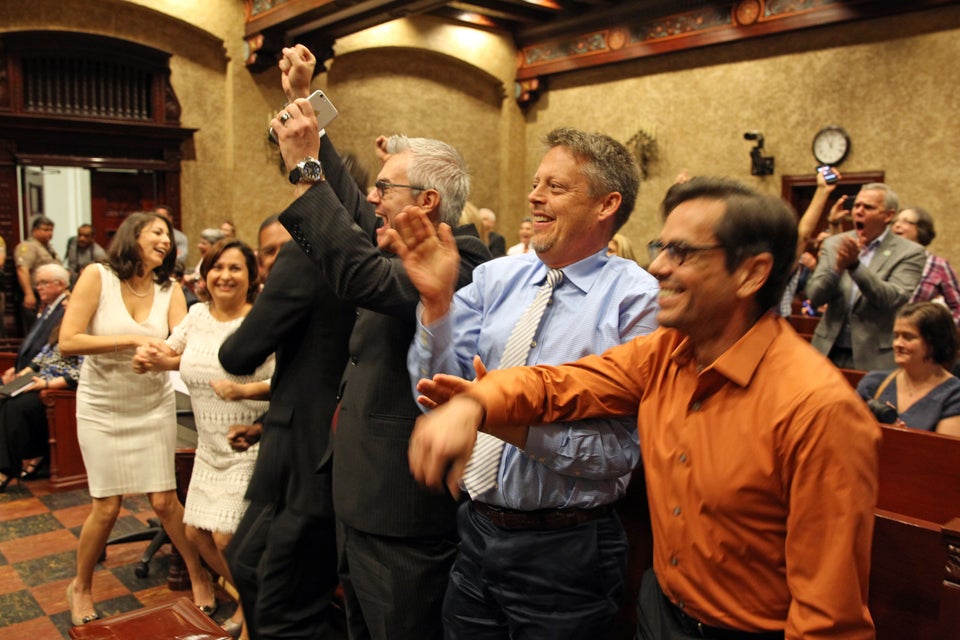 Walter Michot-Pool/The Miami Herald/Getty Images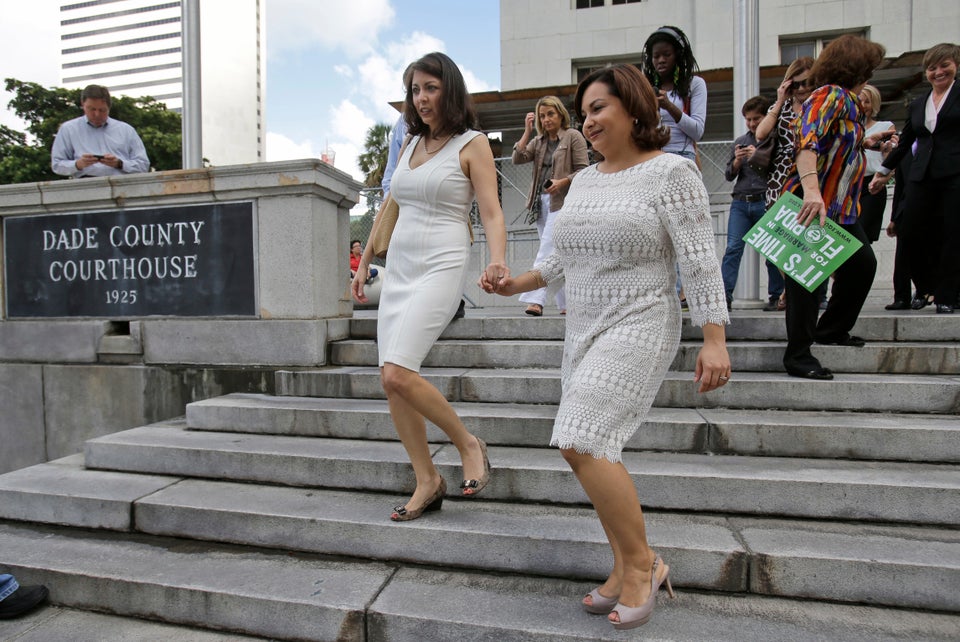 Wilfredo Lee/ASSOCIATED PRESS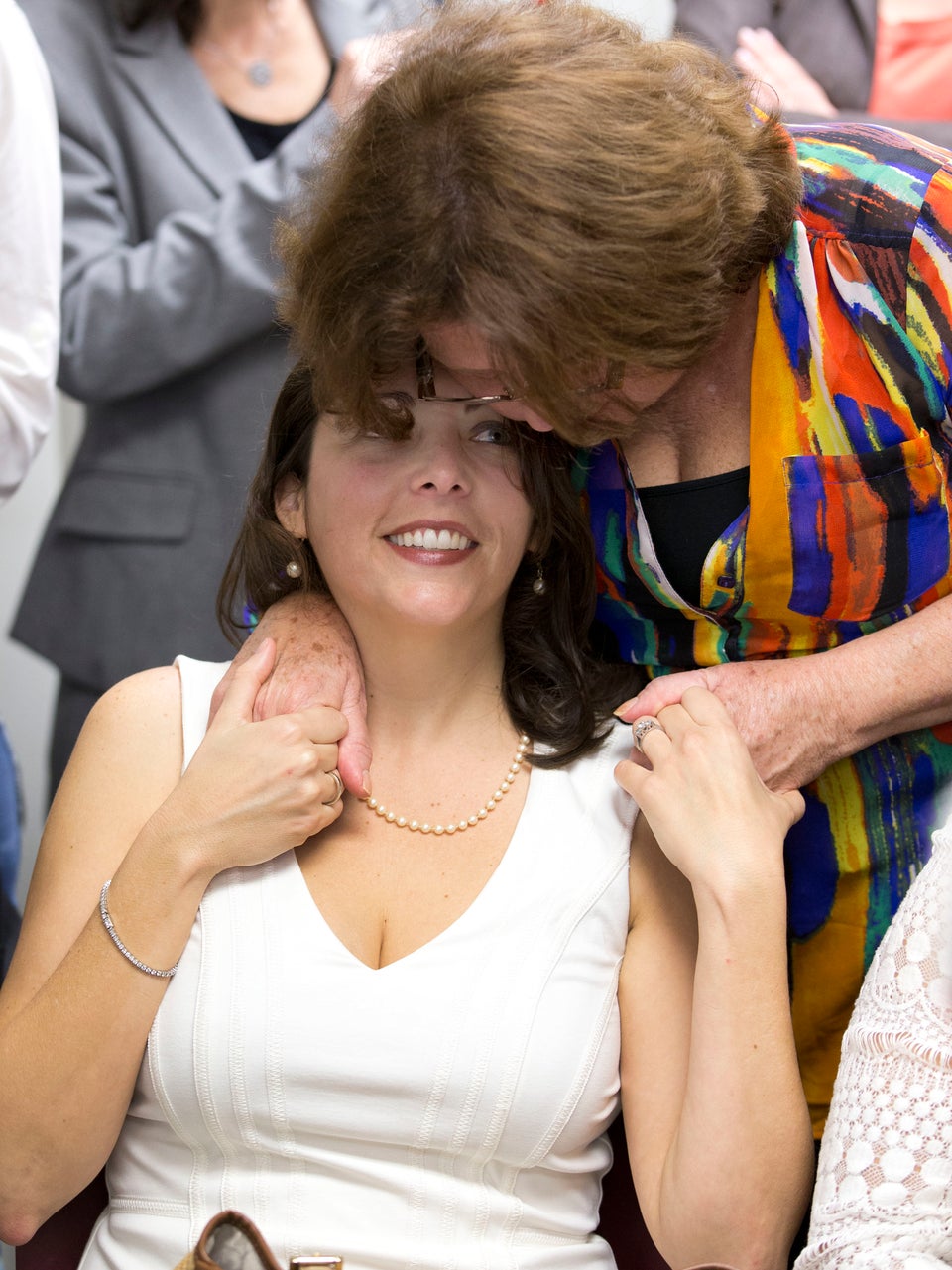 Wilfredo Lee/ASSOCIATED PRESS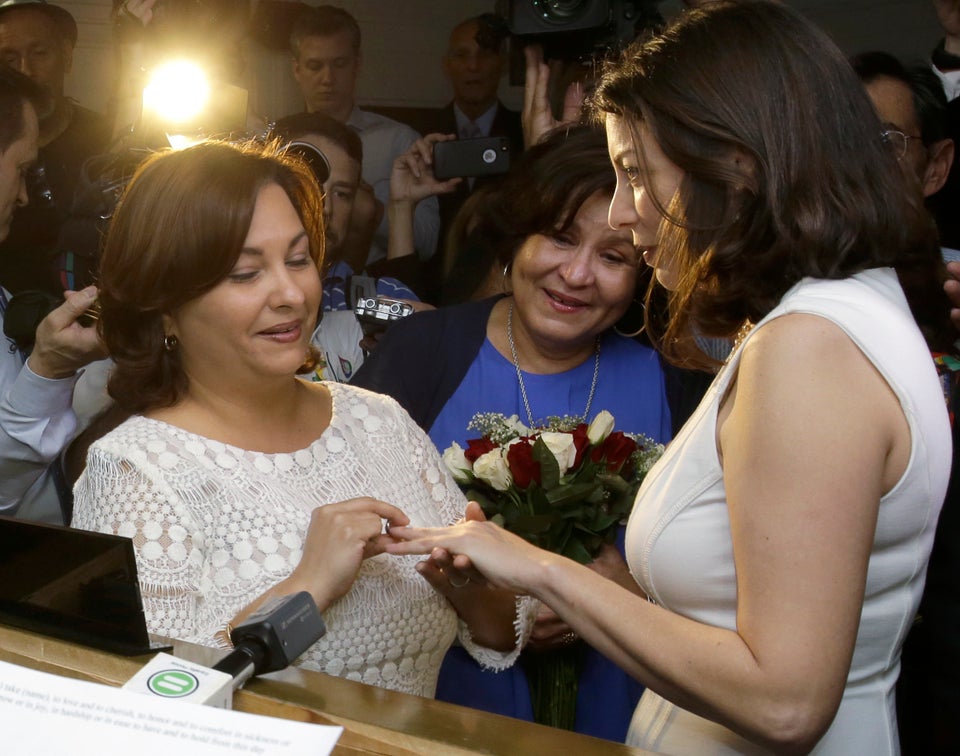 Wilfredo Lee/ASSOCIATED PRESS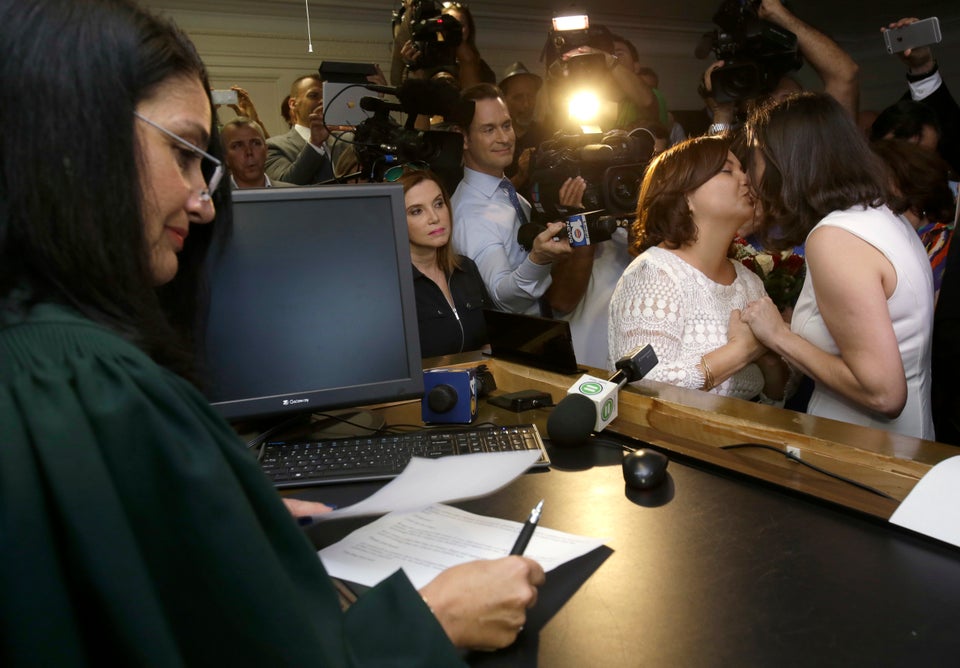 Wilfredo Lee/ASSOCIATED PRESS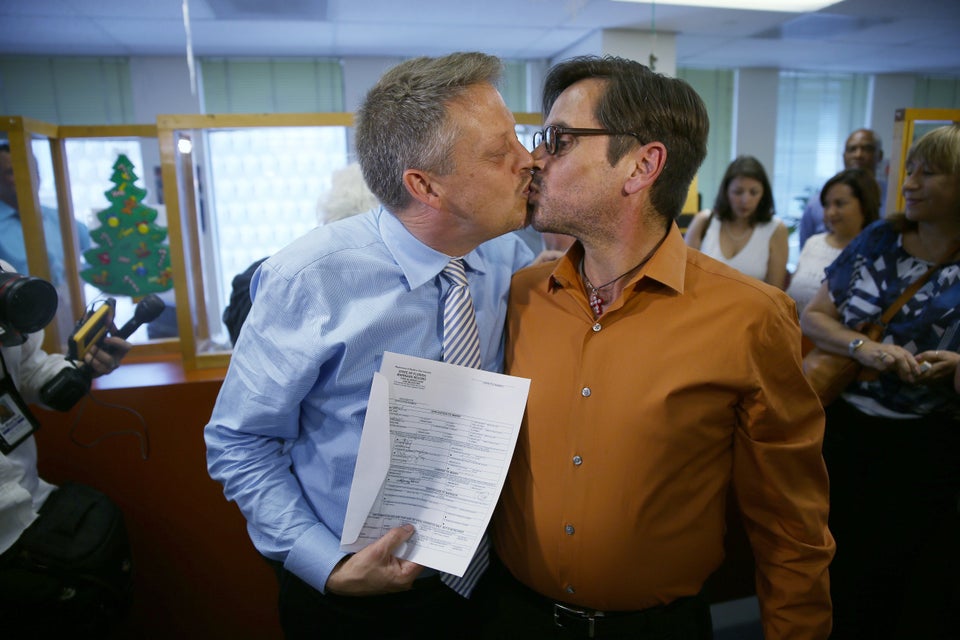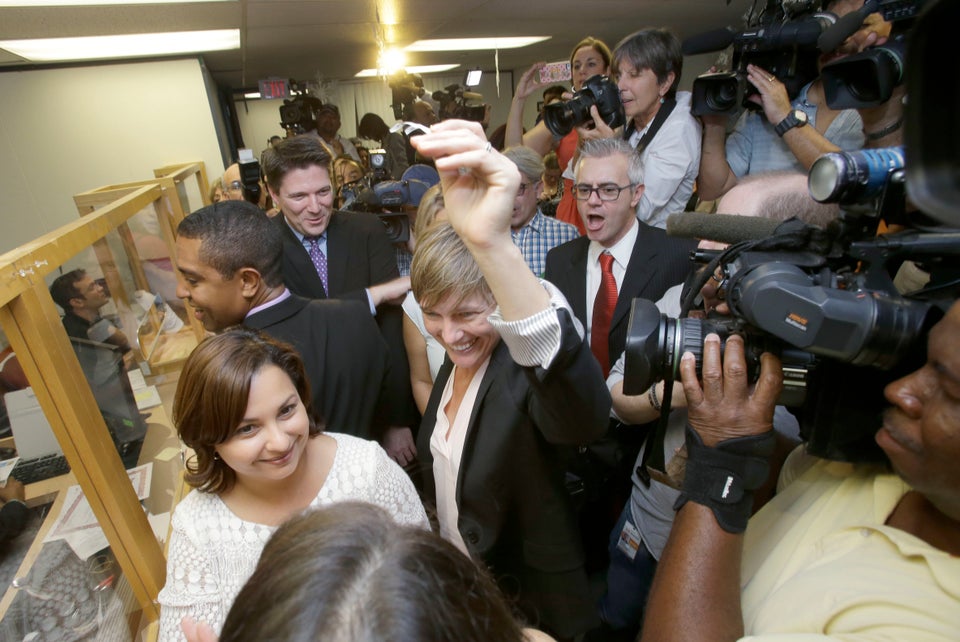 Wilfredo Lee/ASSOCIATED PRESS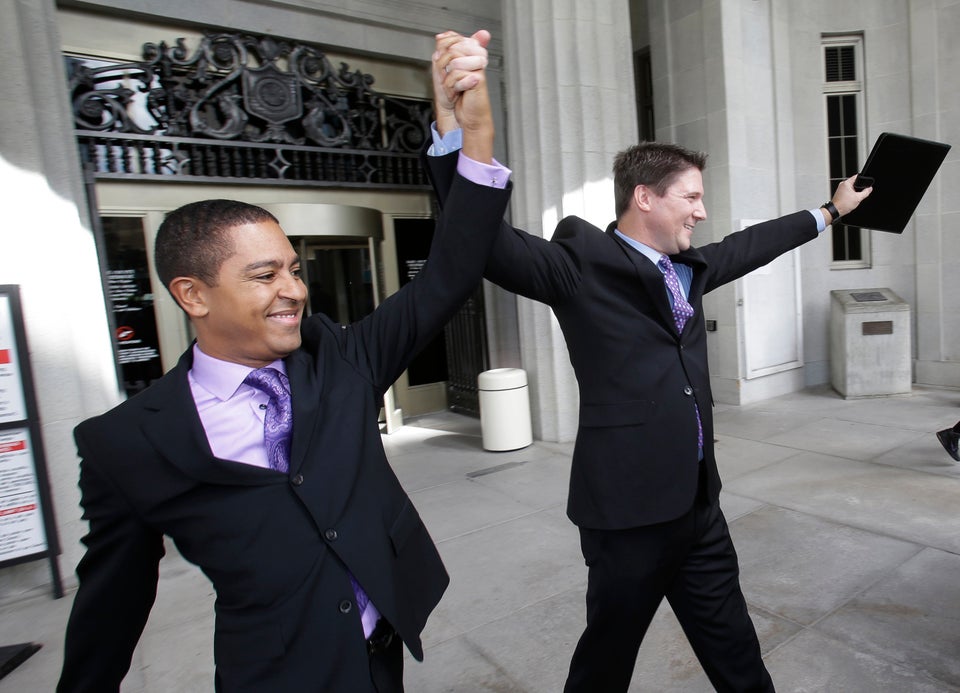 Wilfredo Lee/ASSOCIATED PRESS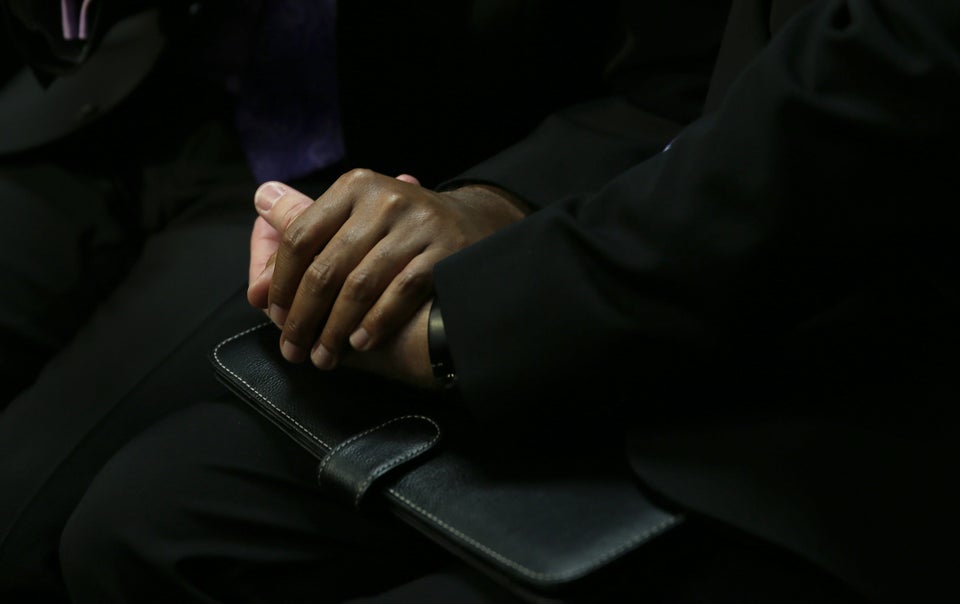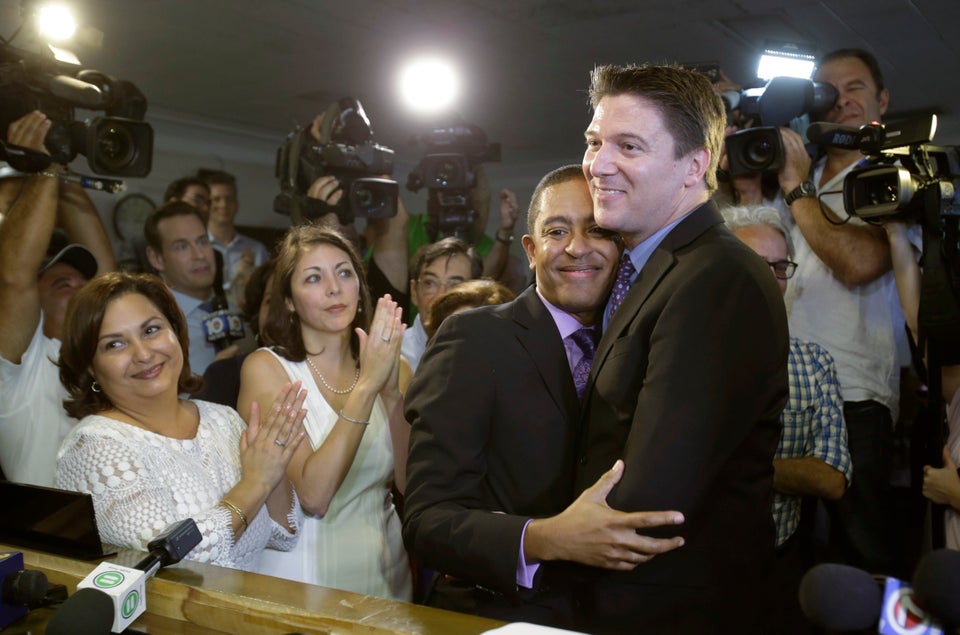 Wilfredo Lee/ASSOCIATED PRESS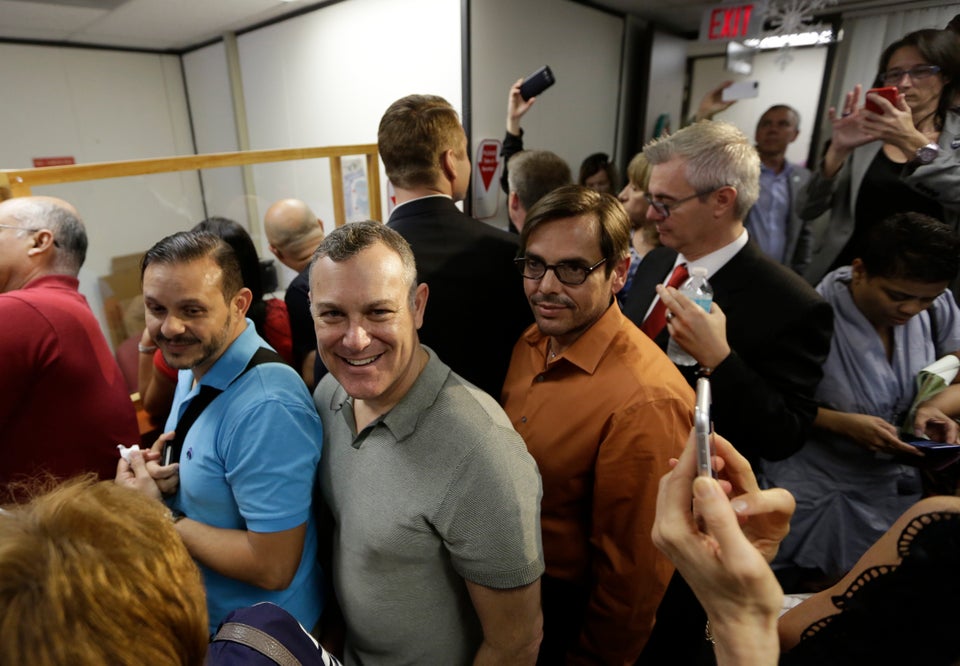 Lynne Sladky/ASSOCIATED PRESS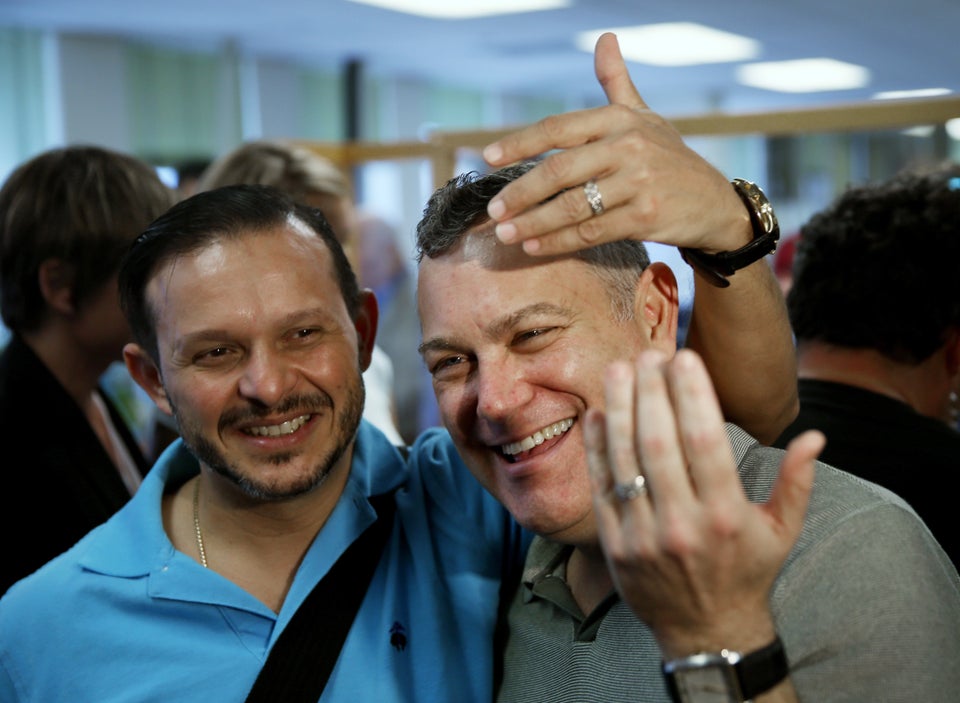 Joe Raedle via Getty Images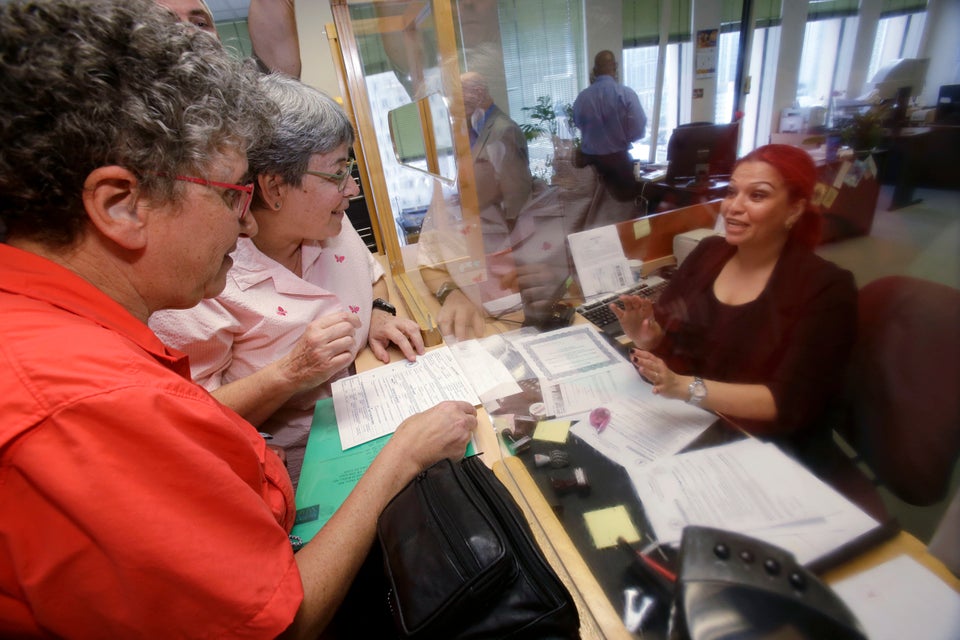 Wilfredo Lee/ASSOCIATED PRESS