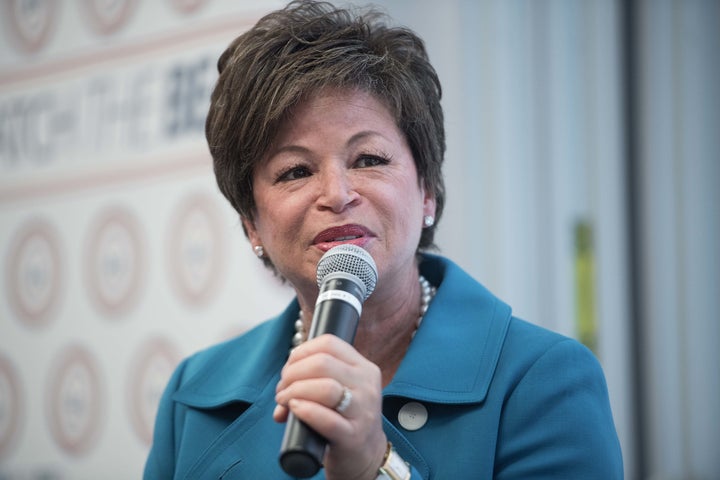 NEW YORK― President Donald Trump is rolling back several of the hard-won women's rights victories of the Obama administration. But two of former President Barack Obama's top female advisers are organizing women across the country to fight back.
"As President Obama said, once you leave the White House you still have the most important office of all, and that's the office of citizen," Jarrett told HuffPost in an interview Thursday. "I've been using the bully pulpit to continue to talk about the importance of gender equity. I worry deeply about the lives that are gonna be adversely affected by changes in policy." 
The program will focus on many aspects of gender equity, including reproductive rights, ending gender-based violence, equal pay and paid family leave. But Jarrett and Tchen are particularly concerned about the GOP push to repeal the Affordable Care Act, Obama's signature health care law, which prevented insurance companies from charging women more just for being women. The law popularly known as Obamacare also required employers to cover the full range of preventative services for women ― such as contraception, well-woman visits and breast examinations― in their insurance plans with no copay. 
"We are now seeing the lowest rates of unplanned pregnancy in our country, so the idea that we're going to lose all of that in the Republican plan is unthinkable," Tchen said. 
The first summit is due to take place in Chicago in July, where Jarrett, Tchen and a diverse group of women's rights activists and state politicians will give local women the tools to be effective leaders in a political movement. Speakers include Illinois Democratic State Sens. Toi Hutchinson and Juliana Stratton, and Jennifer Welch, CEO of Planned Parenthood Illinois. Chicago is a symbolic place for the tour to begin, not only because it's the hometown of Obama and Jarrett. 
"Chicago is home to a vibrant community of activists, especially people who have worked on gender equality issues, and it's center of the country," Tchen said. "It speaks to Middle America and to the values we want to see across the country. It was a really natural starting place." 
The program will host similar summits in Columbus, Atlanta, Miami, Albuquerque, and Philadelphia. 
While Tchen and Jarrett are frustrated to see certain setbacks for women under Trump, they still believe the Obama administration permanently advanced the cause of equity by showing women what equitable health care and a feminist president looks like. Now, women are motivated to fight for rights like insurance coverage of contraception because they saved $1.4 billion on copays in the first year the benefit was in place. 
"Changing attitudes is a lot of what we did," Tchen said, "and that's going to outlast any attempt to undo the policy."
REAL LIFE. REAL NEWS. REAL VOICES.
Help us tell more of the stories that matter from voices that too often remain unheard.
BEFORE YOU GO
PHOTO GALLERY
Disney Princesses As Women's Rights Activists