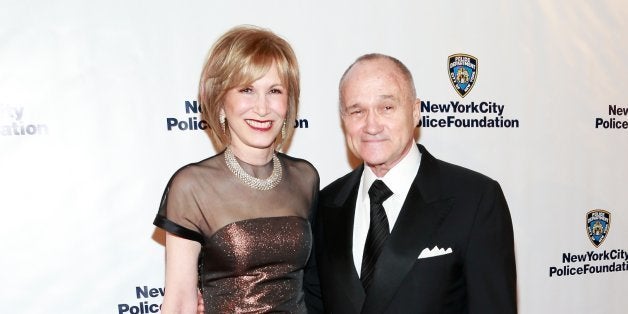 MANHATTAN — An NYPD assistant commissioner operates a charity that campaigns against counterfeit goods and has appeared on Katie Couric's show, as well as other high-profile TV segments, to promote it.
Trouble is, the charity is not registered either with New York State or with the federal government.
Valerie Salembier, a former media executive, was chair of the New York City Police Foundation when she was appointed by NYPD Commissioner Raymond Kelly to her post within the department's public relations office last July.
She left the foundation, which has funded various NYPD efforts including counterterrorism, and divested herself of almost all her interests. But she was allowed to continue running her consulting firm, The Salembier Group, and her "charity," The Authentics Foundation.
According to its website, The Authentics Foundation is "an international, nongovernmental 501(c)3" charity."
But the state's Charity Bureau registry shows no listing for The Authentics Foundation, a spokesman for Attorney General Eric Schneiderman confirmed.
The spokesman added that a 501(c)3 designation can only come from the Internal Revenue Service, and that a foundation that "holds charitable assets" must also be registered with the state.
The Internal Revenue Service registry showed no record of Salambier's charity, either.
Asked about the alleged snafu, Salembier initially maintained the Authentics Foundation was exempt from being listed in New York because it was registered in the United Kingdom.
But the British charity registery had no record of The Authentics Foundation and, even if it did, the foundation would still have to be registered here to claim charity status, according to state and federal regulations.
After being presented with that fact, Salembier said she needed a few days to track down the foundation's documents in her Hamptons home.
On Chrismas Eve, she said that "I believe this will be our last conversation on this matter" and then read a sentence from what she described as a more than 100 page document: "The company is 'The Authentics Foundation' and in this document is henceforth called 'The Charity.'"
She said she would try to get more clarity about The Authentic Foundation's "charity" status from lawyers overseas, but she has been unable to do so.
Schneiderman's spokesperson said the AG's office is formally reaching out to Salembier's charity to seek "information about who they are and whether they should be registered with the New York State Charity Bureau."
Salembier told DNAinfo she was fully vetted by the NYPD's legal bureau and the city's Corporation Counsel before she took her post, and that no issues arose.
She said The Authentics Foundation does not take in any money, is "self-funded" and she does not receive a salary. This was not possible to confirm, given the lack of public records.
The Authentics Foundation was created a decade ago by lawyers working in foreign cities for several of the world's most prominent manufacturers of luxury goods. Their mission was to protect clients from the multi-billion dollar knockoff industry.
Salembier, who has served in the executive ranks of Esquire magazine, The New York Post, The New York Times and Town & Country, became an ardent supporter of the foundation when she was the publisher of Harper's Bazaar. She strongly believes counterfeiting is built on child labor and funnels cash to drug traffickers and terrorists.
Since 2004, she hosted anti-cournterfeiting summits that featured keynote speakers Mayor Michael Bloomberg and Kelly, according to the Police Foundation website.
In 2008, she attended an Authentics Foundation conference in Brussels, Belgium, and then became a board member before she eventually took over the foundation in December 2012.
Meanwhile, she also chaired the Police Foundation since 2003, steering $50 million in donations to the NYPD to underwrite numerous projects, including Kelly's controversial posting of detectives in a dozen foreign cities.
Some observers felt her appointment by Kelly in the waning months of his 12-year term was partial payback for her years of service helping him and the NYPD.
The position is part-time — three days a week, she said — so she can also continue to run her consulting company, which shares the same address as her charity at 575 Madison Ave.
Her NYPD job pays a nominal $1.
Last June, she testified before the City Council in favor of legislation to punish people who purchase fake goods, not just the peddlers. She described the Authentics Foundation then as "a company." The bill was not passed.
On Oct. 12, Salambier appeared on Katie Couric's show, which listed her as president of the foundation and as an assistant NYPD commissioner.
On Cyber Monday, she appeared on local ABC-TV representing the charity and warning about the knock-off trade.
On Christmas Eve, she provided lessons on spotting fake handbags with "Good Morning America's" Bianna Golodryga.
Salembier said she did not persue appearances on those shows and added that she did not need NYPD permission, but received it anyway.
Dick Dadey, executive director of the Citizens Union, explained that being a city official does not preclude participation in philanthropic opportunities.
"But they have to be careful that they are not using their position to advance their charity," Dadey said. "So long as they are not using city resources and their police post to benefit the non-profit, it is perfectly legal to promote it."
Popular in the Community