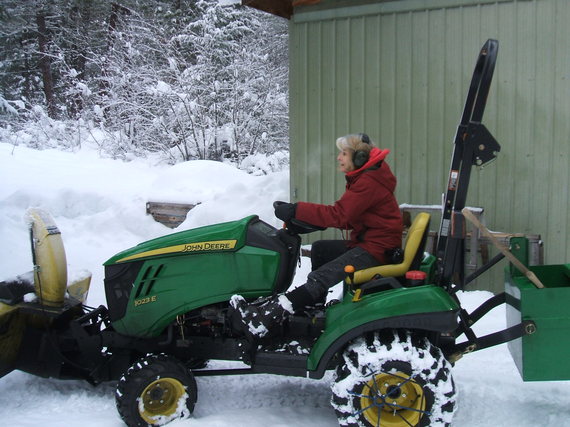 Valerie Trueblood, on the morning her Pen/Faulkner nomination is announced, going about the business of plowing snow.

Poets and writers all know that the right-sized story is essentially given us, that we actually have little choice about whether we'll be one of those slogging away for years writing the long story long or the singer who suddenly stands to sing an inspired song.
When Valerie Trueblood and I began our discussion about the size of the story almost a decade ago now, she'd just published "What's the Story: Aspects on the Form" in the American Poetry Review. In her essay, Trueblood offers the overview of how born short story writers -- and she is one -- from Katherine Anne Porter to Eudora Welty to Tobias Wolff to Lorrie Moore have been bullied, pushed and bribed by a marketing arm of book publishing that's trying to turn every writer of fiction into a novelist.
Sure, maybe reviews of collections are hard to come by? Maybe a book of short stories might not sell all that well, but beautiful things do sometimes happen, as when an awards committee gets it right and Alice Munro wins the Nobel Prize.
The back-and-forth of our conversation engages us because Valerie Trueblood and I -- in both aptitude and practice -- are diametrical opposites. If a story of mine inevitably ranges outward toward some distant horizon in its need to be inclusive, one of hers will feel exclusive, containing nothing but its own essentials.
So lacking in digressive impulse is a story of Trueblood's that it seems to begin already arriving at its own conclusion, the reader pulled forward so intently she can feel the hum of the ending resonating backward through the words of its first sentence.
Her stories deal frankly with matters of life and death. They are written with the assurance of someone with complete mastery of the form and contain events that feel entirely convincing, in fact, they seem reassuringly inevitable.
Nowhere can these elements be seen more clearly than in Trueblood's new book, Search Party: Stories of Rescue, which has just been nominated for the Pen/Faulkner Award in fiction, and -- yes! -- a prize committee gets it right again!
The title story is 45 pages long and tells of how, on a blisteringly hot summer's day in the vast farmland of rural Virginia, a small child wanders away from home and is lost for hours that then spool tragically into days. In her distress, the girl's pregnant mom is rushed to the hospital and delivers a baby born so prematurely that she is not expected to live.
The reader becomes involved in this family's duel vulnerability and is riveted to the outcome -- it's as if we've all joined the search party and cannot rest until we know how it all turns out. The potential for such a compounding tragedy is what holds our rapt attention: How could providence be so cruel?
But here -- as in real life -- all endings are unpredictable. As the story's surprises are revealed, Time is becoming the spring that flings all involved outward from those initial happenings. The tale of the search party gains force and is carried away into the future as something mythic and expanding and belonging to everyone. All involved are changed by their participation in a collective effort at once herculean and human scaled.
We're left wondering what other species would behave like this, mounting a massive search party when there is no hope? What other species would occupy itself as we do, telling stories to one another or singing songs for no reason other than to bridge the gap?
And we remember, these are stories of rescue.