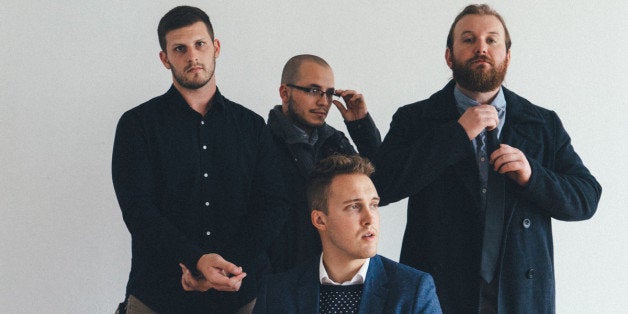 At some point in our lives, most likely when a child, we've all played a game of telephone: someone comes up with a message, and that message is whispered from person to person until it gets back to the original person. The idea is to see if the message can be correctly transferred through the whole chain, although half the fun is seeing how much a message can change in such a simple scenario, many purposely giving the message a twist from time to time. However, when playing Valise's adult version of telephone, the message is a lot more substantial, and the stakes are a lot higher.
"The 'Don't Forget Me' video is basically a grown up game of telephone," Jared Travis of Valise told the Huffington Post. "When we applied that idea to relationships, we got this poignant reminder of how much people can change and hurt each other when they're together, and how that damage becomes baggage in their next relationship. Add in a dash of 'what goes around, comes around,' and the idea was pretty much set."
Valise is an emerging indie rock four-piece -- Vince Penick, Jared Travis, Casey Newton and Ricky Johnson -- hailing from Dallas, Texas. "Don't Forget Me" is the second release from the band's upcoming debut album, "Young Bloomer." The song's video features a circular exchange of passionate kisses, following from one person to the next as the focus continuously wavers.
"The video was done at C&I Studios in Fort Lauderdale, Fla.," Johnson said. "They instantly understood the vision, and really brought it to life. The timing of the walking and kisses was tricky, especially in slow motion, but they worked it out, and the upbeat song against the slow, flowing movements, gave it a sort of nervous feel and helps the concept sink in a little deeper."
You can download "Don't Forget Me" for free on the band's Soundcloud page. "Young Bloomer" will be available for purchase on Feb. 24, 2015.

Before The Beat Drops is an artist introduction series dedicated to bringing you the rising acts before they make their break. Our unlimited access to music of all kinds is both amazing and overwhelming. Keeping your playlists fresh, we'll be doing the leg work to help you discover your next favorite artist.
REAL LIFE. REAL NEWS. REAL VOICES.
Help us tell more of the stories that matter from voices that too often remain unheard.
BEFORE YOU GO
PHOTO GALLERY
Artists To Know In 2014