"Valor is stability, not of legs and arms, but of courage and the soul."
-- Michel de Montaigne

One of my earliest, fondest memories is of sitting with my grandfather as he recounted his days in the military in World War II, comprised, in significant part, of his years as a POW in the infamous Stalag 17. Although my grandparents have long since passed away, I vividly recall sitting on their orange-and-green, thin-striped, 1960s-era, itch-inducing synthetic twill couches -- a pitcher of rum and coke between them and a tray of Vienna fingers for my three sisters and me -- as he spun what we were sure must be, at least in part, fabulistic yarns about his wartime odyssey.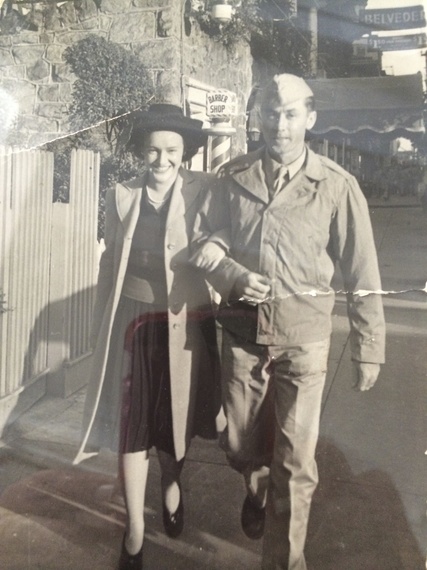 We were, no pun intended, a captive audience. And at 8 or 9 years old, we knew very little about, and had even less interest in, World War II or history in general, for that matter. None of that made any difference at all. It was simply a thrilling tale: bombing missions and fighter jets, capture, survival, heroism, escape -- and humanity. The amazing part is that it all turned out to be true, and the hero was a man I loved dearly: my grandfather, Michael Fleming.
Mike Fleming was a radioman in the Army Air Force, flying missions in a B-52 from an airbase in England. One fateful day, his bomber was flying in formation when it was shot down over Germany. Those observing the severity of the incident from the other aircraft in the formation reported "no survivors."

They were wrong. My grandfather was somehow able to engage his parachute and, stunningly, came down safely in the branches of a tree. He got himself to the ground and was soon swimming across a river to what he hoped was freedom. When he came up for air on the other side, however, he found himself staring down the barrel of a gun in the hands of a Hitler Youth who regarded him coolly and said, matter-of-factly, "For you, the war is over." (For years, my sisters and I would deploy this chilling phrase whenever one of us was about get in big-time trouble with our parents.)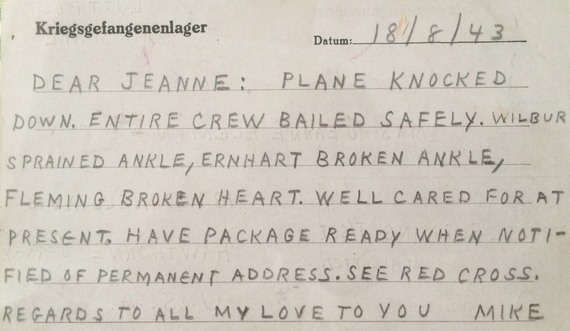 My grandfather would spend the next 2 1/2 years of his life in Stalag 17.

Meanwhile, my grandmother, who had just given birth to my mother, received the report that there were no survivors. It would be another eight months before the Red Cross one day appeared on her doorstep and delivered the long since despaired-of news: her husband was alive! But two more long, trying years would pass before Mike Fleming finally returned home. The stories of what befell him during that time are nothing short of awe-inspiring.

Some of those stories were too painful to recount, and on occasion my grandfather would lapse into silence and stare into the middle distance. (We children, in turn, would sit dutifully in silent solidarity, patiently waiting until he was ready to come back to us.) Others were right up there with any of the great swashbuckling adventure movies of all-time, especially the tales of his many unsuccessful attempts at escape (our favorite was the one where he and a fellow prisoner tried to swim through a sewage pipe; needless to say, it didn't end well.)

But in the end, perhaps the most lasting effect of my grandfather's stories was to put a human face on the wages of war. And the reason that he will always be my hero has little to do with the dashing exploits and derring-do. Rather, it's the simple humanity of the things that he did daily for his comrades and their families. He saved all of the dog tags of the many American GIs who "visited," but never left, that camp. What's more, he collected and curated their poems and their pictures, letters and keepsakes, saving them all to return to their families, so that they, like we, would have the stories to remember their loved ones by. What makes him my hero are the things he did to ensure that the ones who never came home would never be forgotten.

So, how does all of this relate to morphmom? Certainly, hearing from my grandmother about her stateside experiences during the war brought home that every wife and mother instantly became a morphmom, against her will, the day her husband shipped out -- a woman suddenly uniquely responsible for keeping her family intact and on track in an era when this country still wasn't wired for such arrangements. But today, I want to focus on a particularly inspiring sort of modern morphmom whose very existence would have been unthinkable back in my grandmother's day: the Military Morphmom. Not the incredibly valiant wives of active duty soldiers who, like my grandmother, "keep the home fires burning" and strive daily to raise their families while their spouses are in harm's way halfway across the world. Those strong, brave women deserve an entire blog devoted just to them. But today, I want to highlight the modern military morphmoms who have themselves seen active duty in combat zones: some who have returned home safely to their families, as my grandfather was blessed to do, and others who made the ultimate sacrifice.
First, meet Nancy Lacore, a U.S. Navy Captain and mother of six (yes, six!) who deployed to Afghanistan a few years back. Upon her return, Nancy realized that, while the tragic loss of life knows no gender, the nation seemed largely unaware that, among those who have given their lives in our country's 21st century wars were 160 servicewomen. Like my grandfather did for his comrades in Stalag 17 all those years ago, Nancy felt compelled to do something to ensure that the stories of those women would be known and never forgotten. What she decided to do, and what she successfully accomplished, was to run a mile for each and every one of them -- 160 miles in all -- over the course of one week. And she raised $33,000 in the process, which was donated to a variety of worthy non-profits. Still not satisfied that she'd done enough, she decided to start her own non-profit, and Valor Run was born. Today, Valor Run is a nationally recognized non-profit that sponsors running events around the country to help raise awareness of our servicewomen's sacrifices and to remember their stories. The next 160-mile Valor Run will be held from July 23-26, 2015.



Enter morphmom Major Bridget Guerrero, USMC, mother of three, who will be running 160 miles around Puget Sound over the course of just four days, starting in the hometown of Major Megan McClung (who, in December 2006, became the first female Marine killed in Iraq) and finishing in Dupont, Washington, just outside of Joint Base Lewis McChord.
When I learned about Valor Run, I thought immediately of my grandfather and his stories -- the ones that he told us as children and the ones that he collected, protected and brought home for his fallen comrades -- and knew that morphmom had to get involved. My only concern was that, as a lifelong civilian, I simply wasn't qualified. But when I reached out to Nancy, all of my fears were instantly allayed. She's an incredibly generous woman (obviously) and quickly agreed to bestow on morphmom the privilege of hosting an event to honor Valor Run. Soon, a plan took shape: what better way to remember our fallen women warriors than to hold the event in Washington, D.C., in conjunction with the Memorial Day celebrations in our nation's capital? Better still, the venue would be the fabulous Dog Tag Bakery in Georgetown, a bakery and coffeehouse with terrific food, drink and ambiance run by Dog Tag Inc., where wounded veterans and their families are provided with small business certificate training and practical experience interning at Dog Tag Bakery, which prepares them for entrepreneurial opportunities as they transition out of the military.
After weeks of fast-paced planning, Bridget flew in from Seattle, joined by Emmy-winning TV and radio host, Rita Cosby, whose bestseller, "Quiet Hero: Secrets from My Father's Past," highlights her father's experience in a Nazi POW camp as a young Polish man. (Rita and I had bonded over the connection between her father's and my grandfather's wartime experiences and she'd agreed to be a featured speaker at the event.)
On May 27th, in order to spread the word about the upcoming event, Bridget and I attended the Washington, D.C., Memorial Day Parade as Rita's guests. The hours we spent that day handing out pamphlets, meeting and hearing the stories of active servicemen and women of all ranks, disabled veterans, U.S. and foreign diplomats, and scores of other people of goodwill, from all points on the political and socio-economic compass, there to acknowledge the sacrifices that so many have made to secure our most precious gift, Freedom, were among the most moving of my life.
The next evening, Dog Tag Bakery was packed with military and their families, government dignitaries, veterans, friends and local supporters, all assembled to honor Valor Run, to remember the stories of the servicewoman who gave their lives, and to thank the Military Morphmoms who, in a 21st Century continuation of my grandfather's self-assigned mission (begun at Stalag 17 and continued after he returned home), are working tirelessly, selflessly, to preserve those stories. Suddenly, if only for a moment and in the smallest of ways, I felt like a participant in my grandfather's heroism. Thank you for allowing morphmom the opportunity to take part in something so much bigger than all of us!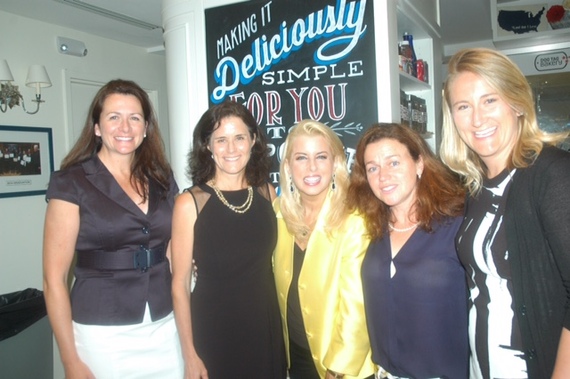 Nancy, Bridget, Rita Cosby, myself and Meghan Ogilvie ( CEO, Dog Tag Bakery)
Calling all HuffPost superfans!
Sign up for membership to become a founding member and help shape HuffPost's next chapter