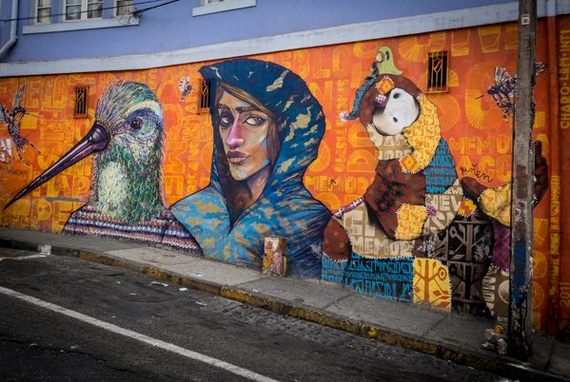 Like a Pablo Neruda love poem come to life, the melancholic notes of an old Chilean folk ballad float down from an open window overlooking one of Valparaíso's steep cobblestone streets.
Hearing this music, my companion -- exquisite in her sun-kissed summer dress and cream fedora -- dances past candy-store colored clapboard and corrugated tin houses, their ramshackle facades covered with elaborate murals and bold graffiti. Midway up Cerro Alegre -- one of the nearly 50 cerros (hills) that form the natural amphitheater facing the sea that is arguably Latin America's most colorful city -- love is in the air. And on nearly every wall.
"To me, street art is free art for the people. It's like walking into a free open art gallery where you just keep your eyes open and embrace it," says Elias Huito, a business student and graffiti artist who is leading us on a street art walking tour of Valparaíso.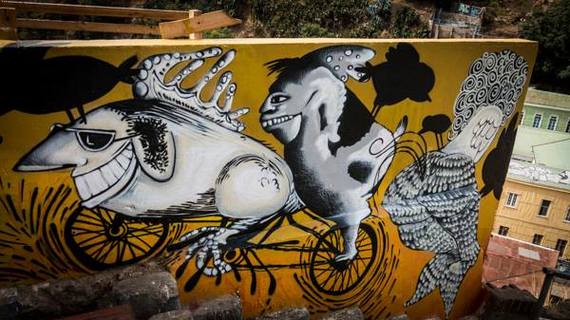 Pointing out stunning work by icons of the Latin American underground street art world like INTI, Sharkey, Saile and LRM, Huito explains that Valparaíso's street art has nothing to do with violence or gang related activities, unlike in New York or Los Angeles. Rather, it began as a form of protest against the Pinochet regime by artists resisting the fascism they saw devouring their country with the only weapons they had -- their creativity. Before long, the walls, doorways and staircases in Valparaíso's hillside barrios were covered in satirical, whimsical expressions of beauty and outrage.
After democracy was restored in Chile, Valparaíso's civic leaders opted to embrace street art rather than try to cover it up as so many North American metropolises have done. Street artists were embraced, not prosecuted. The authorities even began to commission work from them, sometimes providing pastel paint cans and scaffolds.
Today, these prismatic artistic statements -- some covering entire sides of large office buildings -- are a major attraction in this shambling port of last call wedged between the Andes and the Pacific, a hundred kilometers west of Santiago. They are also vivid reminders that Valpo, as locals affectionately call it, remains a hopeful place despite enduring so many political, economic and natural disasters, including the massive fire this spring that destroyed large swathes of the city.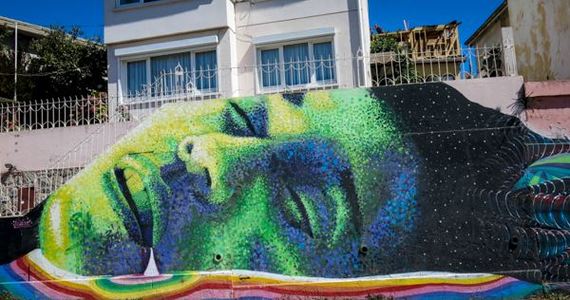 Accessible by twisting staircases and century-old wooden ascensores (funiculars) -- this magnificent street art also occupies the vivid heart of Valparaíso's Historic Quarter, recognized internationally when it was awarded UNESCO World Heritage Site status in 2003.
Showing us a new mural by a Colombian artist who goes by the inelegant name of Stinkfish, Huito explains how its creator used spray paints to produce a series of stunning portraits that emerge from his signature abstractions. Further on, we encounter the image of Vincent Van Gogh himself audaciously painted on the wall of a popular hostel. The creation of Chilean street artist Teo Doro, this mural features signature images from three of the Dutch master's most famous paintings -- the Sunflowers, Cypresses, and Starry Night.
"Valpo has always been the artistic capital of Chile," says Huito, explaining that artists have thrived amid the city's bohemian ambience since it rose to great wealth and prominence in the 19th century as a major seaport for ships sailing between the Atlantic and Pacific via the Strait of Magellan. Incredibly cosmopolitan for its time, Valparaíso was nicknamed 'Little San Francisco,' partly for its many sailors' bars, brothels and general air of free spirited decadence, catnip for radicals, intellectuals, anarchists and artists from across Latin America and Europe.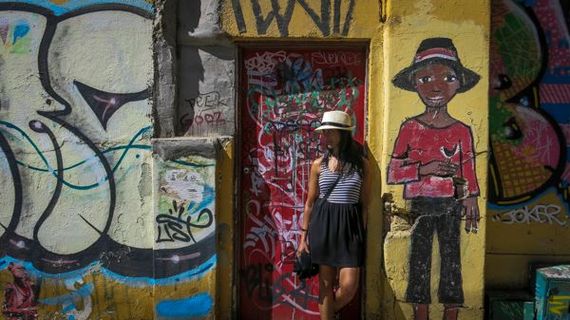 After the Panama Canal opened the port and city fell on hard times, eventually becoming a forgotten backwater. Yet the definitely exuberant spirit that sometime resident Pablo Neruda captured in his famous poem, Ode to Valparaíso, remained, boosted in 1939 by an influx of anti-Franco artists, writers and musicians fleeing the Spanish Civil War aboard the French steamer, SS Winnipeg.
It was Neruda himself, then acting as Chilean consul to Spain, who facilitated this mass artistic exodus. Some who he saved ended up as the great poet's houseguests at La Sebastiana, Neruda's multi-story hilltop home in the district of Bellavista that boasts panoramic views of the city and harbor.
Today a popular museum, La Sebastiana is the final stop on our uphill tour of Valparaíso's colorful cerros. It contains within its whimsical walls a surreal jumble of bizarre artifacts, eccentric art and kitchy1950s furniture that Neruda collected during his extensive travels. Among them are a wooden horse from Paris, decorative dinner plates featuring hot air balloons, a huge cow-shaped Italian punch bowl, ship figureheads, a stuffed bird; even an ornately decorated pink bar strictly reserved for Don Pablo. It's as if Neruda was determined to personally curate the soul this 'crazy, insane port', as he playfully called his beloved city by the sea.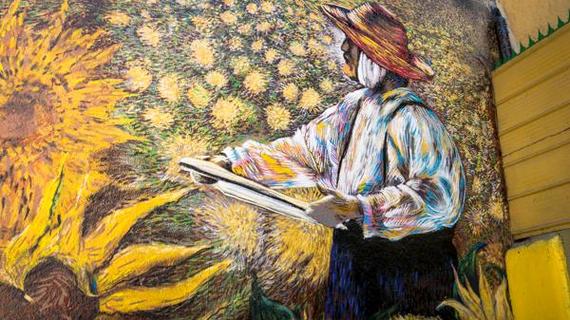 Savoring the stunning view from La Sebastiana's turret-like top-floor study, I think back to our impromptu musical interlude beneath the open window on the way up here. In another era my tangoing companion could have easily been one of Neruda's beautiful muses, flooding the portly Nobel laureate's mind with erotic imagery. Just as Valparaíso, this most colorful of cities, has provided an inspirational canvas for talented street artists who continue to their paint love letters to her on nearly every building.
Getting there
LAN offers regular non-stop flights to Santiago from New York, Miami and Los Angeles, with convenient connections to Valparaíso, 90 minutes' drive from the capital.
Where to stay
Set in a charming, recently renovated art deco era building with panoramic bay views in the heart of the Historic District, the boutique Hotel Palacio Astoreca is walking distance from Museo de Bellas Artes de Valparaiso.
Recommended tour
Valpo Street Art Tours offers daily street art walking tours led by members of the street art community.
Recommended outfitter
American owned and operated Santiago Adventures offers customizable, multi-sport luxury tours that combine Valparaíso and Santiago with other Chilean highlights like the Atacama Desert and the Lake District.