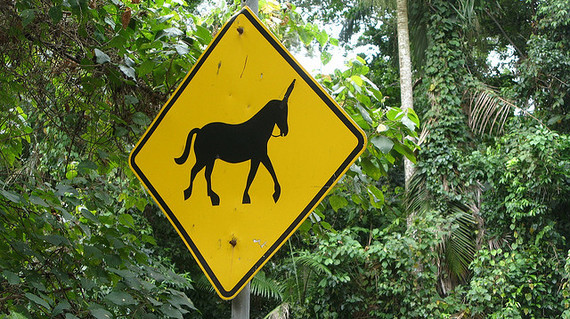 Recently, Unicorns with multi-billion dollar valuations without the revenue to justify them have returned with a vengeance. The frenzy started with Facebook acquiring Instagram for $1 billion, and climaxed with the same company acquiring WhatsApp for $19 billion.
If there were any analysts that had doubts about Facebook's mobile dominance plans, they have been put to rest. Facebook's monetization plans vis-à-vis these apps, however, are less clear. The same applies to Yahoo!'s $1.1 billion acquisition of Tumblr.
I would like to look at WhatsApp more closely just because of the historic nature of the deal.
Santa Clara-based WhatsApp was founded in 2009 by ex-Yahoo engineers, Brian Acton and Jan Koum. The app delivers mobile messaging capabilities irrespective of a phone's OS by using the phone's mobile broadband subscription. It is available across multiple platforms including iOS, Android, BlackBerry, and Windows. Users are able to exchange texts, images, audio and video content through the app without paying anything to the wireless carrier.
WhatsApp is free to download and does not charge any fees for the first year of the subscription. A year later, WhatsApp charges $0.99 per year to let the user continue to use its services. WhatsApp does not disclose detailed financials, but reports suggest that they were operating at an annual revenue run rate of $10 million at the time of the acquisition. Prior to the acquisition, WhatsApp had received venture funding of $60 million led by Sequoia Capital. Their last round of funding held in July 2013 raised $52 million at a valuation of nearly $1.5 billion.
Obviously, $20 million in revenue doesn't justify a $1.5 billion valuation, and most definitely not a $19 billion valuation. So what calculations did Sequoia do? What calculations did Facebook do? We can only guess, so here's my take at what could have been the thinking.
Whatsapp has seen rapid adoption. As of December 2013, they had more than 400 million registered users and more than 200 million of them were monthly active users. Since then, at the time of the acquisition in February 2014, they had increased their user base to 450 million users. They claimed to be adding over a million users every day. The app was seeing more than 50 billion messages and 500 million images exchanged over their platform daily. WhatsApp's goal is to be available on every single smartphone - that is an estimated 1 billion phones as of 2013.
WhatsApp cost Facebook $4 billion in cash and an additional $12 billion in stock. WhatsApp's founders and employees will be eligible for another $3 billion in stock grants to be paid out if they remain employed by Facebook for four years. This is the biggest acquisition so far by Facebook and is among the second largest tech space acquisition after HP paid $25 billion to acquire Compaq in 2001.
Despite the strength of their messenger, Facebook has been scouting the market for potential acquisitions to increase its presence on the mobile usage front. They had offered $3 billion to acquire Snapchat, but the deal fell through because Snapchat did not want to sell.
WhatsApp was rumored to have been courted last year by both Google and Facebook, but they refused to sell as well. Recent reports suggest that even now, this may not be an easy marriage. Both Facebook and WhatsApp are led by two strong willed CEO-founders who have very different beliefs.
Facebook's revenue source is advertisement powered by extraordinary levels of data analytics and WhatsApp's guiding principle is "No Ads, No Games, No Gimmicks." Where Facebook relies on collecting and leveraging user data, WhatsApp does not collect any other information besides the mobile phone number and the address book. In fact, WhatsApp does not even store the messages that are sent over their platform. Due to his communist country background, Ukrainian founder Jan Koum doesn't believe in invading people's privacy. For now, though, both CEOs have agreed to set their differences aside.
There are several theories on why Facebook really bought WhatsApp. Surely mobile dominance is key. Photo sharing is a big part of that strategy. Facebook earlier spent $1 billion to acquire photo app, Instagram. But at the time of the acquisition, Instagram processed 55 million photos a day. Facebook, with all its might, also processed 350 million photos a day. Compare that with WhatsApp which processed 500 million photos a day. The acquisition will not only ensure that the online photo messaging space is now dominated by Facebook, but will also ensure that the market's "attention" remains focused on Facebook instead of a competitor like WhatsApp or Google.
Facebook maintains that WhatsApp will continue to operate independently and autonomously even after the acquisition. But, I have my concerns with that statement as I am sure that Facebook will want to recover the huge investment by monetizing WhatsApp. Assuming that WhatsApp reaches its goal of being there on every smartphone and is able to monetize 10% of this base, they are talking revenues of nearly $100 million a year (at current subscription rate of $1 per year, assuming a high conversion rate of 10%).
If Facebook were to increase the subscription fee to $1 per month instead of per year, that would help it earn revenues of $1.2 billion per year, which is well within the realm of possibilities. I strongly believe that very soon, the model of free apps will fade as people developing them won't be able to sustain them. App developers will either have to charge subscription fees or show ads and it will become acceptable for WhatsApp to do the same. WhatsApp may prefer the subscription model, but some of their users who choose not to subscribe will have to be willing to be see advertisements as well. Let's say, 10% will subscribe, and 90% will choose to watch ads. The service provides very high levels of value and stickiness. Even $1 a month is quite cheap for most users to pay, to keep using it. So at least a billion dollars a year worth of revenue is well within the realm of possibilities.
I know WhatsApp is in principle against advertising, but now Facebook owns the product and they have not bought this company as a charity. They intend to leverage it, just as Yahoo! will eventually have to monetize Tumblr. And, it is not just Facebook's management. Given that the deal is structured so that WhatsApp founders now have stock in Facebook, it is in their interest to ensure that Facebook's stock rises. It is easy to understand why WhatsApp will need to give in a little to embrace Facebook's advertising-based revenue model. This could generate another billion or two in revenues quite easily.
While the consensus is that the deal is driven to a large extent by fear and panic, I do think that Mark Zuckerberg is emerging as a very shrewd CEO. He has invited Jan Koum to join the board of Facebook. This will expose Koum to the concerns of shareholders, and inevitably, these concerns will be around monetization, revenue growth, and profitability. The solution of charging subscription and showing ads are going to be so obvious to everyone, that Jan Koum will not be able to resist yielding. Very cool psychological move!
Communication, messaging, and photo apps are a dime a dozen on all the major smart phones. Of these, some have come to dominate their markets (example: Kakao in Korea), some have created significant niche user bases (example: TextMe), and there are numerous 'also rans' that will simply go out of business in due course. We can certainly expect more acquisitions in the category by major tech companies, especially the social networks, and perhaps even the mobile platform vendors. We can also expect some acquisitions by the carriers and handset vendors who will try to differentiate with proprietary apps.
But I do not see the current party of free apps funded by gobs of venture capital continuing forever.
And that, in the end, will make the likes of Facebook win.
They will monetize.
The market will play ball.
I don't believe in 'free'. It's against the basic value of capitalism, which I happen to still believe in.
The market will, in time, come to appreciate the wisdom of this simple model: offer value, get paid for it.
Also, startups going crazy over the valuation should remember that 99% of the entrepreneurs who go out to seek financing get rejected. WhatsApp had Sequoia and other VCs bankrolling their growth with $60 million. This is a low probability scenario, and for most entrepreneurs, keeping your feet on the ground would be an excellent idea. That being said, expect to see confused and highly speculative behavior both from entrepreneurs and investors for a while, as the tech industry reels through this shock.
More pragmatically, though, I want to expose readers to the case study of Eventbrite that also has a Unicorn level valuation, but started with a modest and fundamentally sound business model. The company has raised close to $200 million in funding, with the latest round valuing it above $1 billion.
However, the company started with the founders, Kevin and Julia Hartz putting it $250,000 of their own money. Kevin had an exit prior to founding Eventbrite.
Initially, they got early customer validation by offering event organizers the use of their online ticket-selling platform for free. Soon, however, they switched to a freemium model such that for free events they did not charge anything, but for paid events, they charged 2.5% of sales. The model is simple, logical, fair.
By the time the company raised their first million, they already had a proven business model and revenues.
In general, I believe, Eventbrite is a better model for entrepreneurs to follow, unless you are one of the early Facebook or Google employees, and can afford to throw a lot of money around. A case in point is Quora, founded and heavily funded by Facebook's former CTO Adam D'Angelo. The company has raised $161 million and is valued at over $900 million. It does not monetize yet. Competitor Answers.com is already doing $200 million a year in profitable revenue.
Most readers, I presume, are not in a position to follow Adam's example.
Excerpt from Billion Dollar Unicorns by Sramana Mitra.
Last year, we began tracking Unicorn companies - essentially organizations with billion dollar plus valuations - inspired by a TechCrunch article by Aileen Lee of Cowboy Ventures. Unicorns will also be discussed with some special guests during our 1M/1M Roundtable programs over the next few weeks.

Photo: rumpleteaser/Flickr.
Calling all HuffPost superfans!
Sign up for membership to become a founding member and help shape HuffPost's next chapter