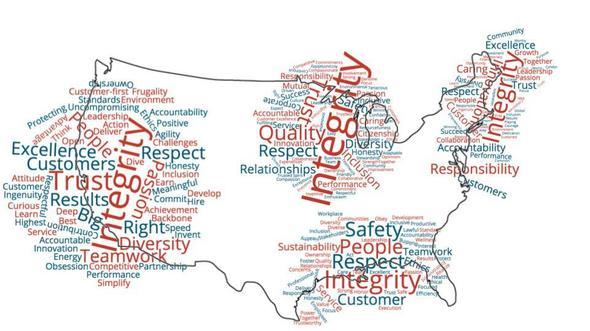 Our research found that respect and integrity mattered everywhere. Three of the four values regions prioritized customers. The coasts and the Midwest cared equally about passion and trust. Concerns for safety ran with the Mississippi River right through the heart of the country. California shared its commitment to teamwork with the deep South.
The overwhelming majority of the Fortune 50's values are admirable — and universal — goals: safety, inclusion, responsibility. They describe a business community that is ethical, thoughtful, and always striving to be better and we should acknowledge when companies make efforts to act on their values.
As I write this, there are numerous companies donating to the hurricane relief effort and accepting donations of supplies and money from customers. Corporate donations have already surpassed $157 million. Over the course of the next few weeks, the funds will continue to rise as the nation braces for continued devastation in anticipation of hurricane Irma. These events have presented an opportunity for organizations to act on their core values and make them more than words posted in the break room.
Walgreens, Dow Chemical Company, Walmart, Starbucks, Bank of America, AT&T, Home Depot and more have all assisted with hurricane relief and share these core values: Service, Respect, Integrity, People, Trust, Care, and Presence.
Additionally, Dow Chemical Company values protecting our planet, Starbucks values creating a culture of warmth and belonging, where everyone is welcome, acting with courage, challenging the status quo and AT&T values inclusion and diversity.
These organizations providing hurricane relief assistance are a reflection of successfully cultivating a corporate culture their employees (and consumers) can be proud of.
Talent Sonar would like to assist in doing the same. We're hosting a free upcoming webinar with Harvard Professor Iris Bohnet where we'll share in more detail why there is renewed concern about corporate culture, why companies should take an active interest in shaping their own culture and techniques that can be used to effect positive change.
REAL LIFE. REAL NEWS. REAL VOICES.
Help us tell more of the stories that matter from voices that too often remain unheard.
This post was published on the now-closed HuffPost Contributor platform. Contributors control their own work and posted freely to our site. If you need to flag this entry as abusive,
send us an email
.