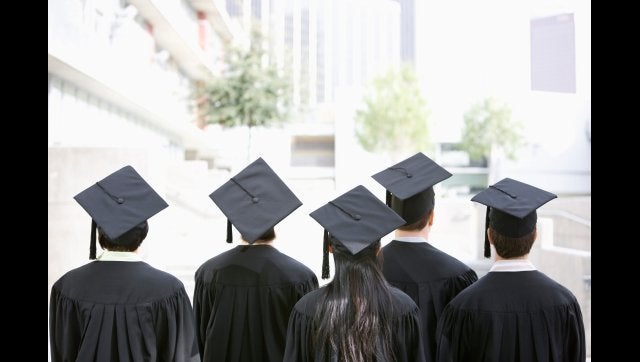 There is no silver bullet to growing our economy but research shows there is one economic strategy that comes closest -- college completion. It is ironic that at a time when we must focus on those economic strategies that have the greatest leverage, we are still debating the value of post-secondary degree.
60 Minutes recently featured PayPal co-founder Peter Thiel promoting dropping out of high school or college to pursue careers based solely on their individual skills and ideas. Mr. Thiel cited college dropouts and tech executives Bill Gates, Steve Jobs and Mark Zuckerberg as examples of success. This argument is akin to using Kobe Bryant, Dwight Howard, and LeBron James (all NBA players who bypassed a college career) as examples of success in the athletic world.
Spotlighting the exception does nothing to address issues of the masses. While there is no doubt our nation was built on the backs of fearless and innovative entrepreneurs, skipping a post-secondary education in today's economy does nothing to promote the development of a robust and skilled workforce.
So that we can get to the business of fixing and addressing the problems in higher education, let's review again the value of a postsecondary degree.
Multiple studies show that those with college degrees earn roughly $1 million more than those with only a high school degree. A recent Georgetown University study found that people with bachelor's degrees make 84 percent more over a lifetime than high school graduates. According to a Brookings Institution study a college degree returns 15.2 percent a year, more than double the return to stock market investments since the 1950s, and five times more than the return to bonds, gold, or government bonds. These studies suggest that, despite the rising cost of college, graduates will more than make up for the expense over the course of their careers.
Beyond earning potential, Americans with a college degree face a substantially smaller risk of being and staying unemployed than those without diplomas. Between September 2008 and August 2010, 6.9 million American jobs were eliminated. In the last year and half, 3.1 million jobs have been created. The unemployment rate for individuals with a bachelor's degree or higher in April 2012 was 4 percent compared to 7.6 percent for individuals with some college, and 7.9 percent for high school degree holders.
As businesses slowly rebuild, they are seeking the most qualified, prepared workers they can find. Employers want and can be selective. According to a study released by the Committee for Economic Development business leaders view higher education as critical to the nation's economic competitiveness and a postsecondary degree as critical to employment. They cited their interest in highly skilled graduates in the areas of science, technology, engineering, and math (STEM) as well as the importance of transferable skills one gains in college such as writing and interpersonal skills.
Higher Standard of Living
It should come as no surprise that if a college degree equals greater earnings and employment potential is also leads to a higher standard of living. A recently released College Board report suggests that having a college degree is not just about economic advantages. The report suggests that people with a postsecondary degree (and even those with some education) generally do better in life. They are more likely to be satisfied with their job, spend more time with their children, and are healthier. The report also indicates that having a college degree changes the way individuals behave and the choices they make, making them more productive and higher paid members of the workforce.
In a time when higher education, businesses, governments, cities, non-profits, philanthropists, and even private citizens are coming together around college attainment, we can ill afford to promote dropping out as a solution to our problems.
Our focus must be on the hard work of and staunch commitment to ensuring postsecondary access and attainment for all.
Calling all HuffPost superfans!
Sign up for membership to become a founding member and help shape HuffPost's next chapter