As one looks back on American history, it's easy to identify certain demographics such as the GI Generation (born 1901-1926) and the Baby Boomers (born 1946-1964). Then, of course, there are the Alphabet generations -- Generation X (born 1965-1980), Generation Y (born 1981-2000), and Generation Z (those born after 2001).
Generation Y has recently become synonymous with the term millennials while Generation Z has become synonymous with the term boomlets. While some wax nostalgic about the so-called Greatest Generation (born 1927-1945), little is said about the Lost Generation (people who died of AIDS). Two factors which distinguish this group is that it includes members of three chronological generations and that the death toll from the "gay plague" was particularly devastating for those in the arts.
Filmmakers who died of AIDS included Derek Jarman, Warren Sonbert, Arthur Bressan, Jr., Peter Adair, Peter Mark Schifter, and Marlon Riggs.
Dancers and choreographers who died of AIDS included Michael Bennett, Alvin Ailey, Miguel Godreau, Louis Falco, Christopher Chadman, Clark Tippet, Peter Fonseca, Rudolf Nureyev, Arnie Zane, and Charles Ward.
Singers, composers, and musicians who died of AIDS included Freddie Mercury, Sylvester, Peter Allen, Howard Ashman, Fela Kuti, Christopher Keene, Paul Jacobs, Stephen Oliver, and Liberace.
Artists and photographers who died of AIDS included Keith Haring, Robert Mapplethorpe, Herb Ritts, and David Wojnarowicz.
Porn stars who died of AIDS included Al Parker, Casey Donovan, John Holmes, Scott O'Hara, Richard Locke, Tony Bravo, Lee Ryder, Glenn Steers, Pierce Daniels, Lon Flexx, and Matt Gunther.
Writers who died of AIDS included Randy Shilts, Vito Russo, Paul Monette, Nicholas Dante, Tom Eyen, Michel Foucault, Isaac Asimov, Lance Loud, Robert Chesley, and John Preston.
Actors who died of AIDS included Paul Jabara, Rock Hudson, Pedro Zamora, Brad Davis, Craig Russell, Wayland Flowers, Keith Prentice, Larry Kert, Swen Swenson, Tony Richardson, Anthony Perkins, Amanda Blake, Michael Jeeter, Kenneth Nelson, Robert La Tourneaux, and Leonard Frey.
Some of these people were in the early stages of their careers; others had a long list of artistic achievements under their belt. Some were at a point where their careers were beginning to draw major attention; others were overachievers who excelled in multiple disciplines.
One of the great polymaths lost to the AIDS epidemic was playwright, director, cinephile, opera queen, filmmaker and actor Charles Ludlam. In 1967 (at the age of 24) he founded the Ridiculous Theatrical Company and, for two decades worked as its artistic director, scenic designer, resident playwright, and star, performing in a tiny basement theatre at One Sheridan Square.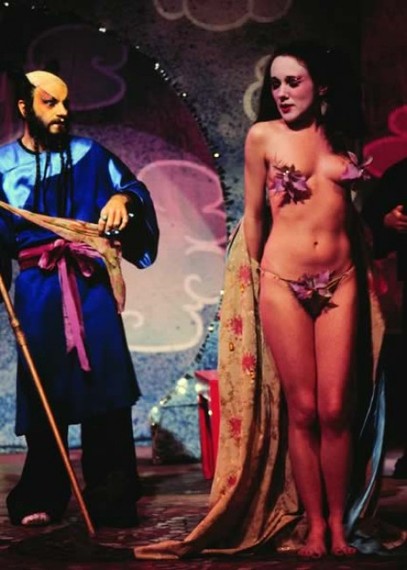 Charles Ludlam and Black Eyed Susan in a scene from 1971's
Eunuchs of the Forbidden City (Photo by Leandro Katz)
Ludlam's productions (which included Turds in Hell, Der Ring Gott Farblonjet, Bluebeard, and Salammbo) were notable for their delicious and often hysterically funny use of high camp, low humor, wretched excess, tacky sets, and bawdy costumes. This rare audio recording from a performance of Bluebeard gives a sense of what Ludlam sounded like onstage.
While Andy Warhol and the actors who frequented his studio (The Factory) gained plenty of notoriety, Ludlam, his lover (Everett Quinton), and their theatrical friends kept shocking and entertaining audiences by pushing the envelope of gay theatre as far as they could. During his time with the Ridiculous Theatrical Company, Ludlam wrote, directed, and starred in 29 plays.
How does one describe Ludlam and his art? Try to imagine a man with little money and an overly fertile imagination -- a soul who embodied the creative instincts of John Waters (a brazen and transgressive artist), Taylor Mac (a flamboyant gender-bending artist), Robin Williams (a manic diva of improvisation), and Jean-Pierre Ponnelle (a polymath noted for his meticulous attention to detail) and you might just get a glimmer of the work that was yet to come when this talented man died of AIDS on May 28, 1987 at the age of 44 (his obituary ran on the front page of The New York Times).
Ludlam was very much an Off-Off-Broadway phenomenon. However, during the 1970s he began experimenting with 16-mm film. I could only find a six-minute clip from 1986's The Sorrows of Dolores (which starred Everett Quinton, Black-Eyed Susan, and Richard France) on YouTube.
However, Queer/Art/Film digitally remastered The Museum of Wax (which starred Ludlam, Everett Quinton, and Richard France). A 21-minute silent/noir short shot by someone who had a keen understanding of theatrical lighting, The Museum of Wax was given a new score by Peter Golub.
The original print and digital masters of Ludlam's film (which had not been seen in more than 20 years) are now archived at The Outfest Legacy Project Film Gallery at the UCLA Film & Television Archive. Thankfully, The Museum of Wax can also be seen on YouTube.
Ludlam's great strength, however, was as a theatre animal. Unlike many others, he was a man with a fervid and clearly defined artistic vision. His manifesto entitled "Ridiculous Theatre, Scourge of Human Folly" states:
Aim: To get beyond nihilism by revaluing combat.

Axioms to a theater for ridicule:

You are a living mockery of your own ideals. If not, you have set your ideals too low.
The things one takes seriously are one's weaknesses.
Just as many people who claim a belief in God disprove it with their every act, so too there are those whose every deed, though they say there is no God, is an act of faith.
Evolution is a conscious process.
Bathos is that which is intended to be sorrowful but because of the extremity of its expression becomes comic. Pathos is that which is meant to be comic but because of the extremity of its expression becomes sorrowful. Some things which seem to be opposites are actually different degrees of the same thing.
The comic hero thrives by his vices. The magic hero is destroyed by his virtue. Moral paradox is the crux of the drama.
The theater is a humble materialist enterprise which seeks to produce riches of the imagination, not the other way around. The theater is an event and not an object. Theater workers need not blush and conceal their desperate struggle to pay the landlords their rents. Theater without the stink of art.

Instructions for use: This is a farce, not a Sunday school. Illustrate hedonistic calculus. Test out a dangerous idea, a theme that threatens to destroy one's whole value system. Treat the material in a madly farcical manner without losing the seriousness of the theme. Show how paradoxes arrest the mind. Scare yourself a bit along the way.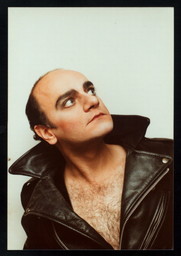 Charles Ludlam (Photo courtesy of the N.Y. Public Library)
Since his death in 1987 (three months after he was diagnosed with AIDS), Ludlam's most frequently performed play has been The Mystery of Irma Vep (1984), a stage farce in which two male actors perform 35 quick costume changes as they tackle a variety of characters. I was lucky enough to see Ludlam and Quinton perform in the original production of Irma Vep late in 1985.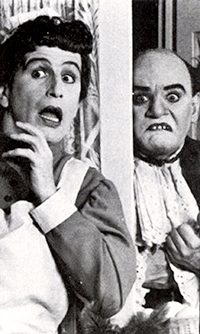 Everett Quinton and Charles Ludlam
performing in The Mystery of Irma Vep
at the Ridiculous Theatrical Company
This summer, the California Shakespeare Theater unveiled a new production of The Mystery of Irma Vep staged by its outgoing artistic director, Jonathan Moscone. Upon entering the Bruns Amphitheater, I was immediately struck by the sheer luxuriousness of Douglas Schmidt's facile set (which frames a playing area more than twice as large as what Ludlam and Everett inhabited at One Sheridan Square).
For scenes set at England's Mandacrest Estate as well as one scene set in an Egyptian tomb, Schmidt brought a a delicious combination of elegance and camp to the production. Thanks to sound designer Cliff Caruthers, the audience was treated to wonderful clips from the film scores of numerous grade B movies prior to the show and during intermission.
In marked contrast to the original 1984 production, this was a class act all around (which only goes to show how well this play -- and its use of drag -- have progressed in 30 years). All one needs to do is examine the costume work by Katherine Roth to realize that Irma Vep has aged with amazing grace.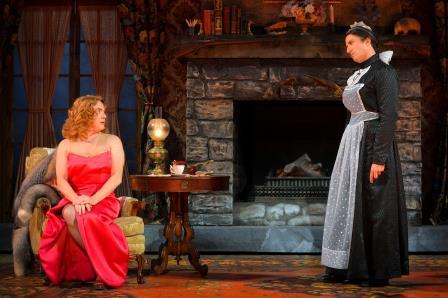 Lady Enid (Danny Scheie) and Jane Twisden (Liam Vincent)
in The Mystery of Irma Vep (Photo by: Kevin Berne)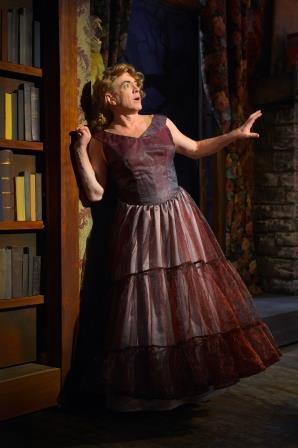 Danny Scheie as Lady Enid in The Mystery of Irma Vep
(Photo by: Kevin Berne)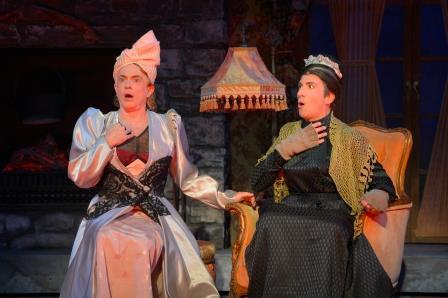 Lady Enid (Danny Scheie) and Jane Twisden (Liam Vincent)
in The Mystery of Irma Vep (Photo by: Kevin Berne)
Although Ludlam's play relies on two skilled male actors who can change costumes, dialects, and genders on a dime, it requires a much more manic performance style than any of the plays from the Greater Tuna franchise. With Bay area regulars Danny Scheie and Liam Vincent doing the honors, Moscone paced the show beautifully. I was especially delighted that he let the audience witness one of Vincent's costume changes between scenes so people could understand how a quick-change costume must be built.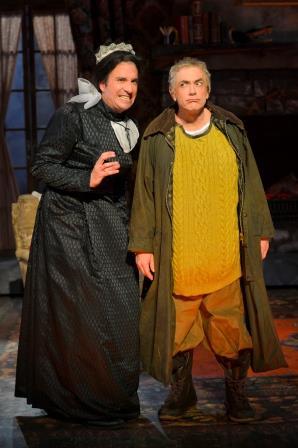 Jane Twisden (Liam Vincent) and Nicodemus Underwood
(Danny Scheie) in The Mystery of Irma Vep
(Photo by: Kevin Berne)
Over the years, Danny Scheie has become somewhat of a local legend, delivering as much ham to Bay area stages as Hormel does to Safeway. A gifted clown who can milk a laugh with craft and cunning, deliver a zinger with deadly aim, work a costume like a mischievous fashion model, and convulse an audience with a silent grimace or roll of his eyes, Scheie's performance was like watching a well-oiled production line staffed by Lady Irma (Lord Edgar Hillcrest's possibly deceased first wife), Lady Enid (Lord Edgar's noticeably pale second wife), Nicodemus Underwood (the lecherous groundsman of Mandacrest Estate), Alcazar (an Egyptian tour guide with access to a tomb with a view), and Pev Amri (a ravenous, sex-crazed mummy who makes her entrance from a plush sarcophagus while dancing to the beat of "It's Raining Men").
While Liam Vincent's costumes as Lord Edgar Hillcrest and Jane Twisden (Lord Edgar's housekeeper and Lady Irma's former maid) were decidedly less glamorous than his stage partner's, Vincent provided the kind of stalwart character support that proudly holds its own against a stage animal like Scheie without ever stepping on his colleague's toes, hems, or lines.
A notorious culture vulture, Charle Ludlam fashioned The Mystery of Irma Vep as part penny dreadful and part drag theatre, combined with a spoof of Victorian melodrama. His script includes references to such film classics as 1939's Wuthering Heights, 1940's Rebecca, 1941's The Wolf Man, and 1944's The Mummy's Curse. I can think of no other playwright who could provoke belly laughs from a devilishly demure and cattily competitive dulcimer duet devoid of any signs of sisterly love or an old-fashioned burlesque skit based on one's ability to sightread a string of crude Egyptian hieroglyphs.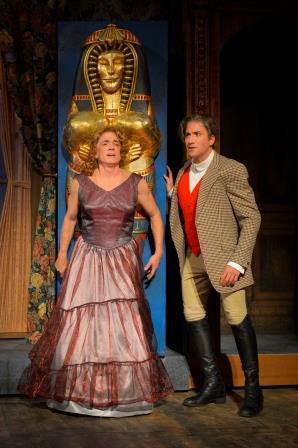 Lady Enid (Danny Scheie) and Lord Edgar Hillcrest
(Liam Vincent in The Mystery of Irma Vep
(Photo by: Kevin Berne)
Filled with werewolves, vampires, sarcophagi, and wolfsbane, this Calshakes production of The Mystery of Irma Vep was aided immensely by Domenique Lozano's contribution as a dialect coach and the lighting design by Alex Nichols. When the play ends and the audience returns to reality, it's interesting to remember that they have just been thoroughly entertained by a masterful farce that was written, directed, and performed with gusto by some extremely talented gay men.
REAL LIFE. REAL NEWS. REAL VOICES.
Help us tell more of the stories that matter from voices that too often remain unheard.