Whenever it seems as if the world is about to crumble like a cookie (or be transformed into a pile of ash), it helps to embrace wretched excess. Like a religious deathbed conversion, wretched excess may be the antithesis of everything a person stood for in his sane, tightly disciplined life. But there comes a time when giving in is a better option than merely giving up.
As part of its one-day Silent Autumn 2014 program, the San Francisco Silent Film Festival presented the world premiere of a beautifully restored print of Rudolph Valentino's last film (released just two weeks after the famous matinee idol died at the age of 31). Thrillingly directed by George Fitzmaurice, there is much about 1926's The Son of the Sheik to admire.
Valentino's lithe and athletic stunt work as an equestrian is a pleasant surprise (many people forget that he worked in San Francisco as a ballroom dancer/escort for several years).
Vilma Banky's dancing ranges from campily seductive moves to some pretty fancy footwork.
The costumes for the two romantic leads are gloriously designed and an absolute joy to behold.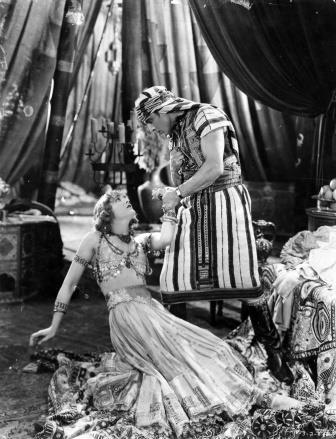 Wilma Banky and Rudolph Valentino in 1926's The Son of the Sheik
But while Valentino and Banky were impressive stars during the silent era, this restored print (completed by Ken Winokur and Jane Gillooly's distribution company, Box 5), adds another star to the legacy of The Son of the Sheik -- a brand new score composed and performed by the Alloy Orchestra.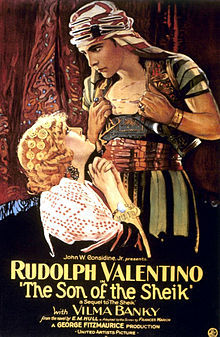 Poster art for The Son of the Sheik
Music was -- and always will be -- a key component of silent film. A great score (or performance by talented accompanying musicians) can bring an audience to its feet with a standing ovation. Poorly-matched musical choices from what's available for free (most likely because the music has entered the public domain), can sap the life and blood of a silent film experience.
Those who have attended the San Francisco Silent Film Festival in the past are familiar with the delights that emanate from the Alloy Orchestra's instruments. Starting with their first collaboration in 1991 (a new score for Metropolis), they have since composed scores for 25 silent classics ranging from He Who Gets Slapped, The General, and The Phantom of the Opera to The Black Pirate, The Lost World, and Nosferatu.
The trio, which consists of Terry Donahue on junk percussion, musical saw, and accordion; Ken Winokur on percussion and clarinet; and Roger C. Miller on keyboard, describes its work as:
".... a three-man musical ensemble, writing and performing live accompaniment to classic silent films. Working with an outrageous assemblage of peculiar objects, they thrash and grind soulful music from unlikely sources. An unusual combination of found percussion and state-of-the-art electronics gives the Orchestra the ability to create any sound imaginable. Utilizing their famous 'rack of junk' and electronic synthesizers, the group generates beautiful music in a spectacular variety of styles. They can conjure up a French symphony or a simple German bar band of the 1920s. The group can make the audience think it is being attacked by tigers, contacted by radio signals from Mars, or swept up in the Russian Revolution."
The thrilling key to their new score for The Son of the Sheik is a heavy percussive element, whose desert drums cover everything from the pounding hooves of Arabian steeds (although the film was shot in Yuma County, Arizona) to the passionate pumping of blood through a handsome young stud's heart. The following three clips offer appetizers of how Alloy Orchestra's new score sounds:
Although the following clip contains the entire film, you might find it difficult to enjoy with its comparably sedate choices of classical music. Thankfully, the Alloy Orchestra will be touring screenings of The Son of the Sheik throughout the coming year. Hearing their new score for The Son of the Sheik could completely transform your feelings about silent film.
The great English poet and playwright,William Congreve, is remembered for his assertion that "music has charms to soothe a savage breast," I don't know how Congreve would have reacted to Meow Meow, the Australian cabaret performer who opened the Berkeley Repertory Theatre's 2014-2015 season. Directed by Emma Rice (the Joint Artistic Director of Kneehigh Theatre), the world premiere production of An Audience With Meow Meow is devoted to celebrating the presence of that rarest of entertainers, a genuine stage animal.
Born Melissa Madden Grey, Meow Meow has been entertaining audiences for much of the past decade with her comic timing, husky chest voice, and bawdy sense of humor. She has toured Australian concert halls with Barry Humphries (a/k/a Dame Edna) and the Australian Chamber Orchestra in a program of lost and re-found works from the Weimar Germany of the 1920s. In 2013, Meow Meow made her London Philharmonic Orchestra debut under Vladimir Jurowski's baton as Jenny in Brecht/Weill's Die Dreigroschenoper with performances in Paris's Théatre des Champs-Élysées and London's Royal Festival Hall.
Whether talking about her upcoming shows or making fun of herself, Meow Meow is determined to give her audience their money's worth. If one is sitting in a certain part of the theatre, it's possible to be called into service as Meow Meow body surfs the crowd. At other times, one might simply feel as if one has been called to witness an extraordinary talent hold the audience in the palm of her hand. She is completely at ease interacting with strangers in a way that would make perfect sense to a Cirque du Soleil clown but terrify a more cautious performer like Barbra Streisand.
Whether performing on Australian television or in the Kneehigh Theatre's stage adaptation of Michel Legrand's beloved film, The Umbrellas of Cherbourg, Meow Meow is ready to give her all to an audience. The result is a type of communal experience which is partly scripted but can be hilariously spontaneous. At one moment she may be cursing out "those fucking producers" while, a bit later in the show, she will hold her audience spellbound while singing a darkly introspective ballad.
Certain performers occupy a rare space in entertainment history because they are truly creatures of their own invention. Tony Taccone (the artistic director of Berkeley Repertory Theatre) describes Meow Meow as a cross between Liza Minnelli and Lucille Ball. "She's funny, smart, and has the voice of a ferocious angel." During the performance I attended, there was never any doubt in my mind that I was watching a phenomenally gifted artist whose formidable vocal and dramatic assets evoked memories of the comic acuity of a young Carol Channing and the musical intelligence of Bette Midler, with a dash of Edith Piaf thrown in for seasoning.
Comparisons, however, are futile. An extremely versatile artist who thrives on taking risks, Meow Meow is very much her own creation. Backed by dancers Michael Balderrama and Bob Gaynor (with musical supervision by Lance Horne), An Audience With Meow Meow was the kind of experience one is not likely to forget!