Despite the appearance of his chompers, this sweet kitty does not vant to suck your bloooood. 
Rory, a 4-year-old rescue cat who was recently brought to charity organization Battersea Dogs And Cats Home in London, has front teeth that poke out. 
The feline, who's been lovingly dubbed the "vampire" cat, rose to Internet fame because of his special  look, and has landed a forever home with his new owners set to pick him up on Friday.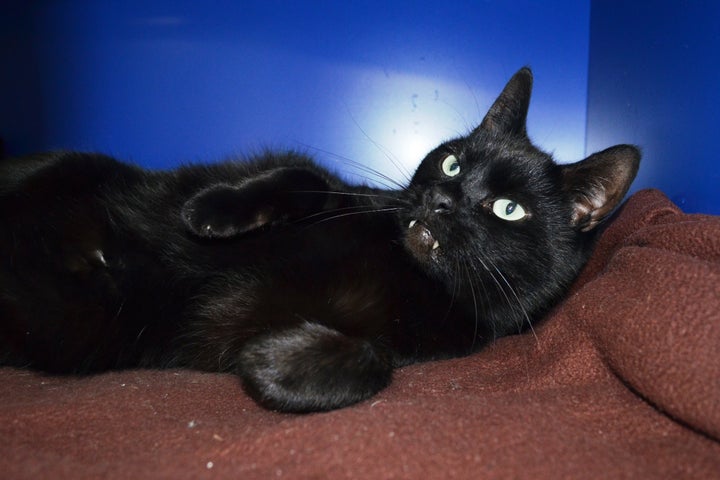 "Rory is a gorgeous boy and his dazzling smile meant he found a home in no time at all -- we are so pleased for him," JoAnna Puzzo, Battersea's cattery team leader, said in a statement. "Any little quirk or feature that makes a cat stand out in the cattery is guaranteed to draw attention from potential owners, and Rory certainly knows how to show off the pearly whites he has left."
Louise Muttram, communications officer for the organization, told The Huffington Post that Rory's previous owners quickly realized after they got him that they didn't have the time or funds to care for the cat. Because of his "fangs," the group has received hundreds of adoption requests from people in various countries as far as Colombia.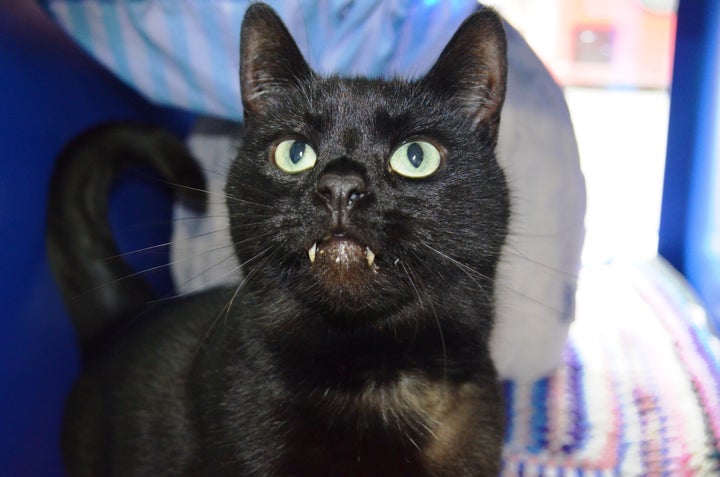 While his teeth are fangtastic now, the feline had quite a bit of work done on his pearly whites after he was taken in by the organization. In fact, he doesn't have all that many teeth now. 
"He arrived with very bad teeth and malocclusion of the jaw -- imperfect positioning of the teeth when the jaws are closed -- and had to go through a major dental work in Battersea's vet clinic," Muttram explained. "Unfortunately this has left him with only the four canine teeth!"
Though he doesn't have many teeth to work with, Muttram said that he can still live a happy, normal life with one slight adjustment. 
"The only difference to his lifestyle is that he can only eat wet food due to his lack of teeth!" Muttram said. "He absolutely loves tuna."
Don't let that Dracula-esque look fool you. He's definitely not a vicious little guy -- in fact, he's actually a big cuddler. 
"He can be a chatty cat and loves to be stroked and nuzzled by anyone who will give him attention."
We hope Rory's new life will be filled with tuna, snuggles and absolutely no garlic. 
REAL LIFE. REAL NEWS. REAL VOICES.
Help us tell more of the stories that matter from voices that too often remain unheard.
BEFORE YOU GO
PHOTO GALLERY
Elephants Mia and Sita Rescued From Indian Circus