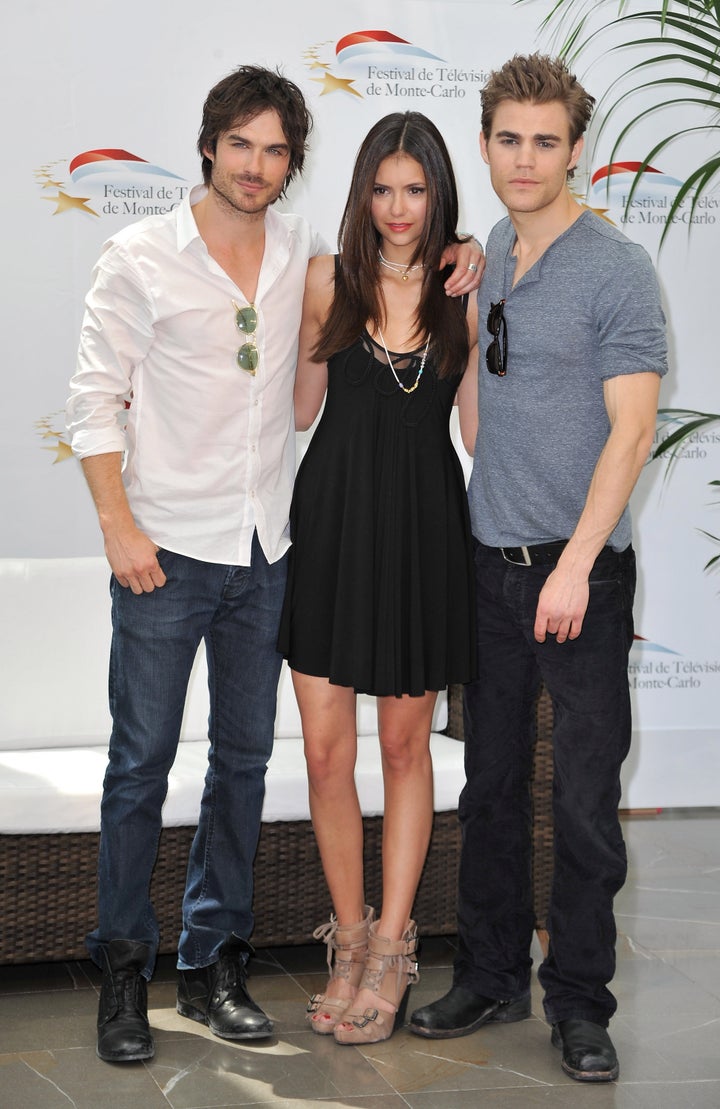 Oh the bad boy. We love him. We loathe him. And somehow, against our better judgment, he inevitably entices us to love him again. Typically, we find our heart willing to offer him a second or third chance after he turns on that smoldering gaze. He retorts with a snarky quip during a heated argument that has a touch of flirtation under the surface. Once that "I know I'm hot" grin spreads across his face, we're done.
And by "we" I mean me of course.
Let me just get this out in the open: Yes. I watch Vampire Diaries and I LOVE IT. Stop pretending you don't secretly DVR the show and just embrace the power of this tween beat drama. I invite you and every other girl under the age of 17 to rejoice with me that after many, many weeks on holiday hiatus, my current favorite primetime TV bad boy Damon Salvatore is back tonight.
Oh how I've missed his baby blues. What I wouldn't give to have them stare me down in the eerie woods of Mystic Falls. Is that too much information to share?
Although I think the show is one of the most rapid moving dramas boasting twists and turns in every single episode, I still come back to the fact that each week I look forward to what Damon Salvatore is going to do or say. He speaks my love language: sarcasm. I personally believe he has some of the best one-liners on television, excluding the genius of Modern Family and The Big Bang Theory.
His indifference doesn't bother me either. Traditionally, I would shy away from television shows that celebrate the gory details of a vampire sucking the life out of a vivacious Channel 2 reporter's neck. For some reason when Damon does it, I'm okay. In fact, I adore the way he displays tiny signs of vulnerability before staking one of the bad guy's cronies or ripping the heart out of the vicious (yet equally hot) werewolves. Perhaps it's the way the CW distracts me with rock hard abs and sculptured bare shoulders that I don't notice or care that a little trickle of blood has splattered all over the asphalt.
Should I be concerned about myself and mental well-being? I say no. Because Damon is just so pretty.
Another plot that keeps me coming back every week is the inevitable chemistry between Damon and Elaina. Rumor has it that Ian Somerhalder (Damon) and Nina Dobrev (Elaina) are dating in real life. This may be the reason that their scenes are so electric. Sure, Elaina is still pining after Stefan even though he's jumped in head first off the deep end of evil masterminding, but there has to be a day looming in future seasons when she throws all caution to the wind and succumbs to the charm of the bad boy brother.
We'll all want front row seats for that.
Vampire Diaries returns tonight at 8:00 p.m. EST on the CW.

Calling all HuffPost superfans!
Sign up for membership to become a founding member and help shape HuffPost's next chapter