This summer, how many times have you been asked: Are you Team Jacob or Team Edward? Team Bill or Team Eric? Honestly, I'm Team Dracula.
At the risk of alienating the female population of the world, I still think the original Dracula -- the broody, moody, mysterious titular character of Bram Stoker's literary classic -- is the quintessential vampire. He may be a distillation of European folklore and the sadistic 15th Century Romanian prince Vlad Tepes, but as pop culture anti-heroes go, Dracula set the standard. Think of Bella Lugosi in 1931's Dracula or Gary Oldman when he reprised the role in 1992.
What is it about vampires that we find so compelling and fascinating? They're scary, but also charming, sexy and sophisticated when not playing into the cliché of dramatic capes and slicked-back coifs. They're supposed to be evil, but that much more attractive when they fight their natural instinct on behalf of good. This explains the current craze over modern characters like Edward Cullen, Bill Compton, the Vampire Diaries crew or Amy, the little vampire girl from Iowa who holds the fate of the world in her hands in Justin Cronin's The Passage (a great summer read).
Like clockwork, every few years, we fall under the spell of vampires. This latest obsession, fueled by Stephenie Meyer's Twilight saga and HBO's True Blood, is particularly gripping -- New York Times columnist Maureen Dowd recently confessed her undying crush on Dracula. Even iTunes has succumbed to Vampire Weekend.
In fact, vampires make for great drama. Some of the most compelling characters in literature and on screen have featured extra long cuspids. While my boys all said their 123s with Sesame Street's Count von Count, I watched reruns of The Addams Family and The Munsters. Morticia Addams and Lily Munster played both vamps and sixties housewives to perfection while siring an elegant form of goth chic from the slimming, plunging black ensembles to pin-straight hair and dramatic makeup. (Decades later, the look still crops up on fashion's runways every few seasons in the form of black lace, sexy-severe silhouettes, crosses and blood red lipstick.)
The latest Hollywood buzz is that Johnny Depp signed on to play Barnabas Collins in Tim Burton's remake of the Sixties soap Dark Shadows, but he is just one of many Hollywood heavyweights who has slipped into fang character. Remember when Brad Pitt and Tom Cruise were Louis and Lestat in Anne Rice's Interview with the Vampire?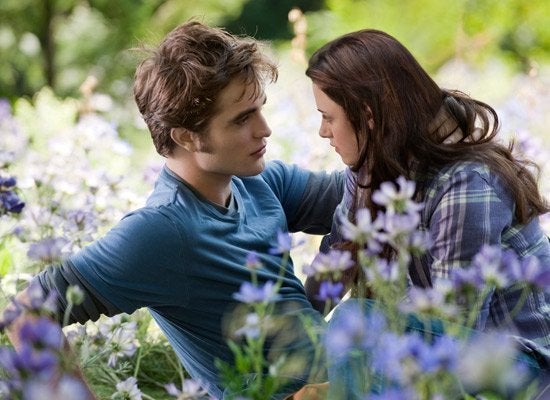 While the undead clearly make for great drama, they also make for great romance. Love is, after all, the reason Dracula became Dracula, why Twilight's Bella is so ready to lose her humanity in favor of vampire-hood. Blogs are alive, discussing True Blood's current Bill-Sookie-Eric triangle. It mirrors Buffy the Vampire Slayer's Angel-Buffy-Spike triangle, from the spunky, righteous blonde caught in the middle to how passionately fans have picked sides.
Yet here again, I think back to the original Dracula's doomed love. You know he's no good for heroine Mina, but you still root for them to live happily ever after -- together and undead.