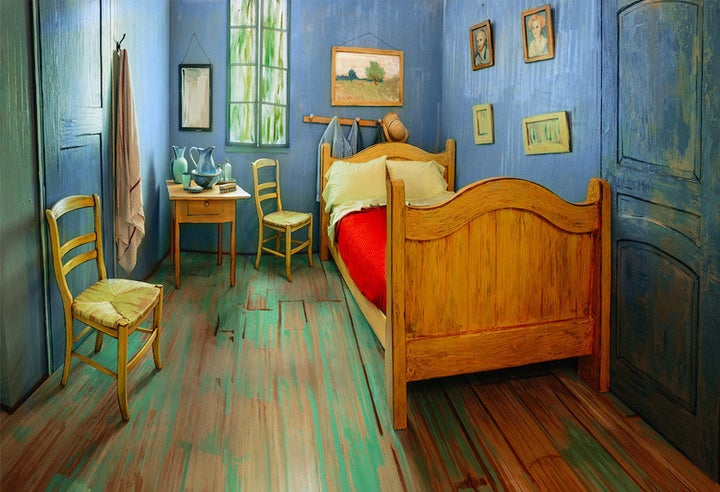 Yes, that's right. You can live out your art history dreams and fall asleep atop van Gogh's golden bed frame, set against iconic powder blue walls. The lonely towel, the wobbly chairs, the vaguely green-streaked wood floors -- it's all there! And we have the Art Institute of Chicago to thank for what is undoubtedly one of the most highbrow Airbnb rentals out there.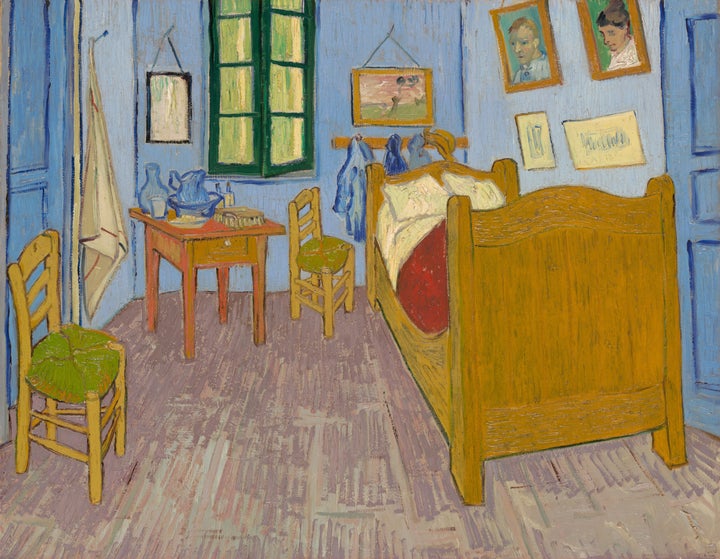 The very real listing -- I cannot emphasize this enough, YOU CAN STAY IN VAN GOGH'S ROOM -- is meant to stir up excitement for the museum's exhibition "Van Gogh's Bedrooms," which showcases three paintings of domestic spaces completed by van Gogh between 1888 and 1889. It'll be the first time the trio of paintings have appeared together in North America. The museum gives a tease of the show on its website:
Van Gogh painted his first Bedroom just after moving into his beloved "Yellow House" in Arles, France, in 1888. He was so enamored with the work, now in the collection of the Van Gogh Museum in Amsterdam, that after water damage threatened its stability, he became determined to preserve the composition by painting a second version while at an asylum in Saint-Rémy in 1889. Identical in scale and yet distinct from the original, that second work is now one of the icons of the Art Institute's permanent collection. Van Gogh created a smaller third version, now at the Musée d'Orsay in Paris, as a gift for his mother and sister a few weeks after making the second. While the three paintings at first appear almost identical, when examined closely, each reveals distinct and unique details.
The Airbnb bedroom is mean to mimic the piece of van Gogh's Yellow House we're most familiar with. It's located in a larger apartment on the museum's campus in the River North neighborhood of Chicago. The host is listed on the website as Vincent, which is adorable. "I'm charging $10 for no other reason than that I need to buy paint," the listing reads. "However, I will be happy to provide you with tickets to my exhibition at the Art Institute of Chicago."
A one-night stay (it accommodates two people) will only cost you $14 total, so expect the dates to fill up fast. 
And don't forget to stop by "Van Gogh's Bedrooms" and see the entire collection of 36 works on view until May 10, 2016. Bonus: here are some of van Gogh's best self-portraits to get you in the mood.
PHOTO GALLERY
20 People From Famous Paintings Who Can't Even

Calling all HuffPost superfans!
Sign up for membership to become a founding member and help shape HuffPost's next chapter