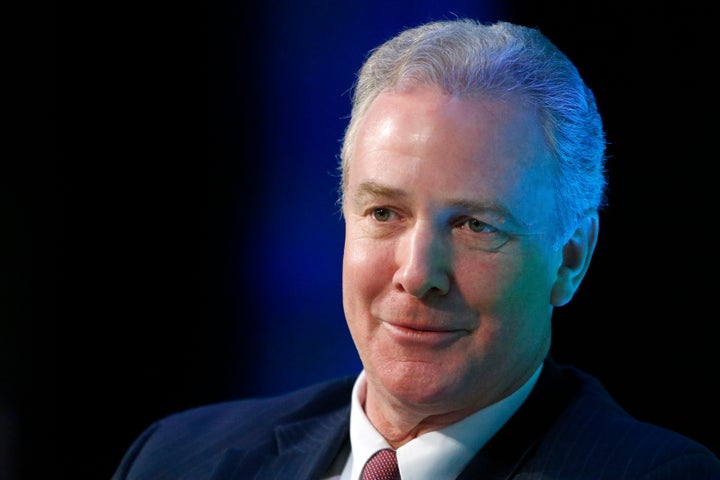 Sen. Chris Van Hollen's (D-Md.) star has been on the rise in the Democratic party: After seven terms in the House, he won a Senate seat last November, and now occupies a much-coveted spot on the Appropriations committee while also chairing the Democratic Senatorial Campaign Committee, the party's fundraising arm for its Senate candidates.
A knack for raising money has helped propel Van Hollen's steady ascent, which in turn has attracted more donors — many of whom are lobbyists. They like him so much that, in the 2016 election cycle, Van Hollen was the top congressional recipient of campaign contributions from federally-registered lobbyists.
In fact, the median member of the 100 congressional candidates who received the most lobbyist money in the 2016 cycle got less than one-seventh of Van Hollen's haul.
Of the top 100 recipients of lobbyist money, 40 were Democrats and 60 were Republicans — but that ratio wasn't represented among those who received the most cash. Van Hollen raked in the most money from lobbyists in the 2016 cycle, and Senate Majority Leader Chuck Schumer (N.Y.) was next, but a wide gulf separated him from Van Hollen.
Other lawmakers with leadership positions in Congress and/or their parties, like Speaker of the House Paul Ryan (R-Wis.) and Sen. Michael Bennet (D-Colo.), who chaired the DSCC during the 2014 and 2016 cycles, also brought in sizable amounts from lobbyists ― though not nearly as much as Van Hollen.
Craig Holman, a government affairs lobbyist for Public Citizen, wrote in an email that Van Hollen "has long nurtured a close working relationship with lawyers and law firms," and that "[v]ery frequently these same lawyers are also registered lobbyists."
It's true that Van Hollen performed exceptionally well with lawyers. He received almost $2.8 million from PACs and individuals in the lawyers and law firms "industry" — which does not include lawyers registered as lobbyists at the time of their donations — again leading the congressional pack. Even including presidential candidates, Van Hollen was the sole non-presidential contender in the top five, trailing only Hillary Clinton.
But why does Van Hollen attract such checkbook enthusiasm from attorneys and lobbyists? Caleb Burns, a partner at Wiley Rein, put forth a straightforward hypothesis.
"The answer might be as simple as geography," he said. "It's certainly possible that the fact that Chris Van Hollen's congressional district bordered Washington, D.C. is a real built-in advantage for him from a fundraising perspective, especially when that fundraising is geared toward Washington, D.C. lobbyists and law firms."
In his 14 years in the House, Van Hollen's district included a chunk of Montgomery County, one of the nation's wealthiest areas and home to a number of lobbyists.
Indeed, half of Van Hollen's top 20 donors were law firms with offices in Washington, D.C.
Sen. Ben Cardin (D-Md.), Maryland's senior senator, has also found the favor of attorneys. The lawyers and law firms industry has been his single greatest source of campaign contributions throughout his career. The same is true for D.C.'s other senatorial neighbors, Virginia Sens. Tim Kaine (D) and Mark Warner (D). (Note that lawyers and law firms is a much larger group than lobbyists, so the former's contributions naturally outpace those of the latter. For more information on how the Center for Responsive Politics evaluates industries, check here.)
Burns added that Van Hollen's Senate run last year "raised the profile of his campaign fundraising much more."
Questions about contributions from lobbyists seemed to give Van Hollen's office pause, perhaps because of public perceptions of lobbying as a means by which special interests try to win favorable treatment. Events like the Jack Abramoff lobbying scandal, former President Barack Obama's restrictions on lobbyists joining his administration and even President Donald Trump's "drain the swamp" rhetoric have all reinforced that image.
In an email, Bridgett Frey, Van Hollen's spokeswoman, wrote that "The vast majority of people who contribute to Senator Van Hollen's campaign are Maryland constituents, and it's not surprising that many of them work with the federal government on a wide variety of issues ― from climate change and education to better wages, affordable housing, and protections for individuals with disabilities."
The business of Washington
Three of Van Hollen's top five campaign donors were law firms that also do lobbying. Employees of Arnold & Porter alone (including attorneys, lobbyists and others) gave him more than $156,000, with another $5,000 coming from the firm's PAC; Arnold & Porter represents the likes of AT&T, the Children's Health System of Texas and Lloyd's of London, an insurance outfit aptly based in the United Kingdom, among many other clients. The other two were WilmerHale (clients: Microsoft, Verizon and others) and Arent Fox LLP (clients: American Airlines, the National Biodiesel Board and more). Their donations to him exceeded $259,000.
The three firms combined earned almost $16 million lobbying in 2016.
Despite their magnetic attraction to Van Hollen, lobbyists actually lagged behind their 2012 giving in the most recent cycle, down about 5.3 percent in donations to their top 100 congressional recipients. But they still managed to part with nearly $17 million in donations to those individuals.
Top lobbying contributors to federal candidates in 2016 cycle
Includes PAC and individual contributions to congressional and presidential candidates.
The WPP Group, in particular, is an expansive organization. The British company owns nine firms that lobby, hence its total of over $1.6 million in contributions from lobbyists and lobbying-related PACs. Its most generous lobbying offshoot, Ogilvy Government Relations, gave more than $700,000 in contributions. In 2016, Ogilvy lobbied for 64 clients, including Nike, Pfizer Inc. and the American Bankers Association, earning about $10.5 million for its services.
WPP's home base is far from D.C. and Maryland, but its lobbying extensions are not — so it should come as no surprise that WPP gave $44,100 to Van Hollen. He was the company's No. 1 congressional recipient.
This year's most contribution-happy lobbyist, Steven Elmendorf, who lobbies with Subject Matter, gave nearly $394,000 in political contributions over the course of the cycle. He gave $8,100 to Van Hollen's campaign and almost all the rest to other Democratic candidates ($5,000 went to Women Vote!, a super PAC).
With top lobbyist donors like Elmendorf already revving up for the 2018 contests, there's more money to come and go. And with Van Hollen safely settled in the Senate for now, other candidates will be sharing the ample bounty. Kaine's term will be up at the end of 2018, and he could use the funds — especially since Republicans are expected to fight hard for his seat in purple Virginia. Cardin's term ends at the same time, though he has yet to announce whether or not he will seek reelection.
Researcher Doug Weber and database programmer Soroush Bassam contributed to this post.
BEFORE YOU GO