Last month, donning a Versailles mini-gown and disco heels, drag vocalist Martha Graham Cracker serenaded the overflowing crowd at the official opening of FringeArts stage and brasserie to open the 2014 FringeArts Festival.
Festival director Nick Stuccio asked Martha, aka Dito Van Reigersberg, to be the opening act and asked him how to make it a special performance, van Reigersberg told him that he had "always dreamed about performing with the Philadelphia Orchestra and I just laughed it off, but he made it happen," he said.
A string quartet from the Fab Phils did accompany Martha in dreamy versions of "Every Little Thing She Does Is Magic and a baroque medley of Lennon classics Dear Prudence/Julia and then several art songs.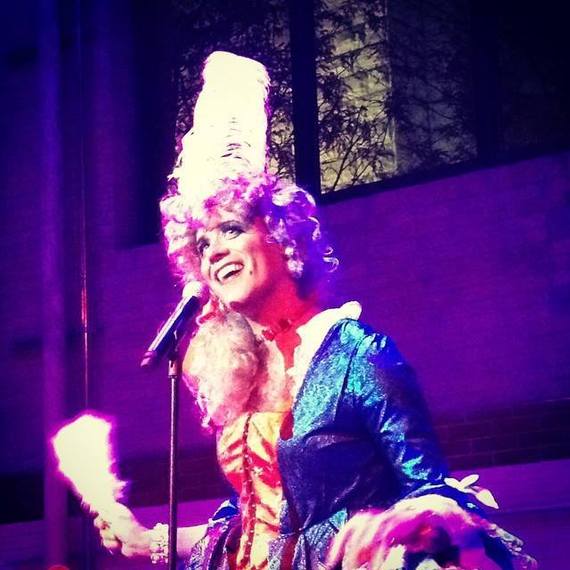 Martha at FringeArts (courtesy of DvR)
"It was a dream opportunity, and hopefully we're going to do it again," Dito assures. After the neo-classical set, Martha's own rock and blues band followed and Martha blew the roof off the new Fringe house.
For the last nine years MGC has built an avid following at L'Etage in Queens Village in Philly, not to mention his New York audiences who wouldn't miss his gigs at Joe's Pub. But as in demand as Martha is, van Reigersberg is also known as one of the areas most versatile dramatic actors. He is also one of the founding artistic directors of the award-winning Philadelphia troupe Pig Iron Theater, where he has played such diverse roles as poet Federico Garcia Lorca and Freddy Mercury, not to mention their rowdy versions of Shakespeare plays.
This fall, Van Reigersberg was cast as the mercurial, elegantly garbed Prince Conte in the Arden Theater's revival of David Hirson's "La Bete." Many nights after the curtain goes down at the Arden, Dito is dashing across town for his late night MGC cabaret performances at L'Etage.
Dito is at home in serious dramas, his first play at the Arden was in their 1997 production of Steinbeck's 'The Grapes of Wrath' as Tom Joad's brother Noah, who suffers mental disabilities. La Bete director Emmanuelle Delpech had van Reigersberg in mind for "La Bete" from the start. The play is set in 17th century ostensibly as a farce about a troupe of actors, it is not only a verse play, but things get intensely and unexpectedly dramatic.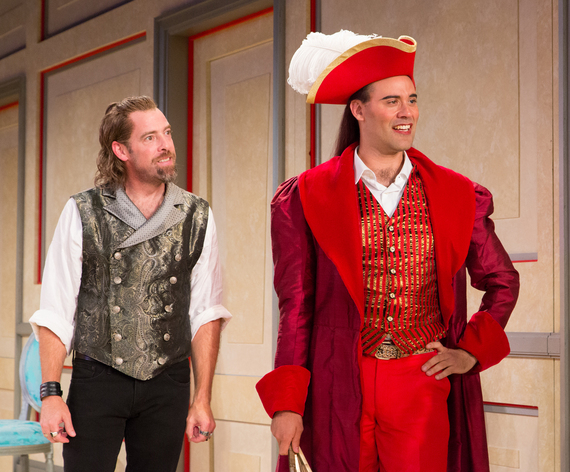 Ian Merrill Peakes as Elomire and Dito Van Reigersberg as Prince Conti in Arden Theatre Company's production of La Bête. Photo by Mark Garvin.
Between a matinee and evening performance of "La Bete" Van Reigersberg talked about switching from the Count to Martha on any given day. "Just last night I did "La Bete" and then ran over to L'Etage and I did the Martha show and actually, it was so much fun." Martha isn't just a "belter" as Dito terms her, she is very interactive with the audience and she knows how to work a room. "I find that getting dressed is the natural preparation of getting into character. Martha is very comfortable. Part of the charm of Martha is being confused, you see her hairy chest and perfect makeup."
In contrast, van Reigersberg describes the subtler dramatic gear shifts in playing the haughty Count, who has hired an unstable street performer to spice up the theater company who he funds and keeps in his palace. The head of the company is staunchly resisting this interference, but must abide if the Count's patronage is to continue.
"At first I had trouble knowing his pathway to get to the serious side, because the dialogue doesn't' seem to take you directly there. It's more subtle. At some point I realized that this part is a sphinx. He starts to speak almost metaphorically about what is being said around him. He's royalty, but he doesn't give a verdict about the merits of the troupe. That creates a tension."
There is nothing sphinx like though in Conte's palace couture. "When I saw the drawing of my character and I got so excited. Someone said I was more feminine in this costume than I am as Martha. There's definitely something drag queeny about what I'm doing with this character," MGC, meanwhile, has her own stage stylist Max Brown, "she's amazing, she is an African American PHD in archeology, her day job is at the VA, and she designs and makes all my clothes," he said.
This fall, van Reigersberg is headed for a theater festival in Poland as part of the cast of Pig Iron's Zero Cost House. At the request of the festival director, who saw Martha in New York, asked if Dito also perform Martha's cabaret after the play. The wigs are already packed. Next spring, Van Reigersberg will appear in Pig Iron Theater's new play based on the life and artistry of legendary New York gay writer-actor-director Charles Ludlum. In addition to her regular gigs, Martha will appear with the musicians from the Philadelphia Orchestra at L'Etage in November.
La Bete plays through Oct. 12| www.ardentheatre.org
Related
Popular in the Community