While a city burned its Stanley Cup dream in the flurry of flames, looting and bone-breaking that was the 2011 Vancouver riots, an altogether different sort of passion spilled, literally, into the streets.
At the moment, they're known only as the kissing couple.
But that won't last long.
When this unlikely snapshot of lovers entangled on a tear-gas filled street, with riot police in the fore and background emerged Thursday morning, you can bet the great media race was on.
It will, most certainly, be the picture that launched a thousand media inquiries. Who are they? What were they thinking? And who will get to them first?
"We're looking for the kissing couple in this photo," CBC News tweeted at 10am Thursday "Know them?"
Good start. After all, the Twitterverse, as usual, caught the image on the quick.
Looks like Gerrard Trojillo (gt23GOTHUNDER) was first on the mark, tweeting, "lol couple kissing during #canucksriot" at about 10 am on Thursday. He was referring to the Esquire blog that first published the photo.
Click over to our slideshow for more photos of the riots and take a peek at the kissing couple below: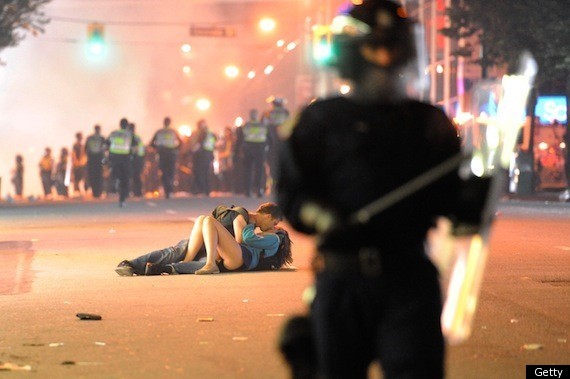 Popular in the Community