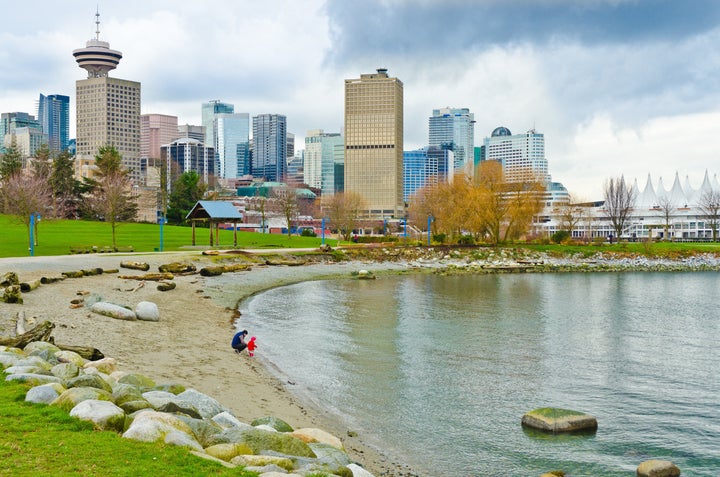 VANCOUVER, March 8 (Reuters) - With its mild temperatures, not too hot in summer or too cold in winter, and its location on Canada's Pacific Coast, Vancouver wins accolades annually as one of the world's most livable cities.
Reuters correspondents with local knowledge help visitors make the most of a short stay in the city, which is known for its natural beauty and culture.
6:30 p.m. - On arrival at the Vancouver International airport take a moment to look at the First Nations aboriginal art collection spread around the airport. It includes Canadian artist's Bill Reid's sculpture "The Jade Canoe".
Instead of taking a cab, try the Canada Line rapid transit rail link, which was built ahead of the 2010 Winter Olympics and will get you downtown in just 25 minutes.
8 p.m. - After settling into your hotel there are plenty of options for dinner in downtown Vancouver. For something upmarket try chef Jean-Georges Vongerichten's sleek and modern Market restaurant at the Shangri-La Hotel. For a more relaxed meal a good choice would be Chambar in the hip Gastown area. Chambar is known for its Belgian beer selection and mussels.
Grab a copy of the Georgia Straight newspaper to see what music acts are in town. Shows at the Commodore Ballroom are always fun, or stroll down Robson Street, a popular retail area in the central core.
9 a.m. - After breakfast at your hotel, head to the waterfront and the Olympic cauldron. The flame of the nearly 10-meter (30-foot) high structure next to the convention center is lit for special occasions, and is impressive with the water and North Shore mountains as a backdrop.
10 a.m. - Wander over to Stanley Park, one of the largest urban parks in North America. It has woodlands, gardens, totem poles and an aquarium. Walk or bike the 10 km (6.2 mile) seawall and circumnavigate the park while viewing Burrard Inlet. Give yourself three hours if you are going to walk all the way around.
Noon - Stop for lunch in the nearby West End neighborhood, or try the Teahouse restaurant in Stanley Park, which has spectacular views of English Bay. Another choice is the public food market at Granville Island, across the Burrard Bridge in the trendy suburb of Kitsilano.
1:30 - Spend a few hours browsing the many small galleries and marinas at Granville Island. The former industrial wasteland on Vancouver's False Creek has been turned into an urban playground. Head west just a bit to Vanier Park. During the summer it has a variety of events on the beach. To get back downtown, ride across the water on one of the small False Creek ferries.
4:00 p.m. - Time for some shopping. Walk up to 4th Avenue in the Kitsilano area, which is full of clothing boutiques, delis and coffee shops. Afterward catch a bus to one of Vancouver's public gardens, Queen Elizabeth Park or Van Dusen Botanical Gardens.
6:30 p.m. - Steamworks Brewing Co, the Alibi Room and the Irish Heather GastroPub and its Shebeen Whiskey House are possibilities for a pre-dinner beer. They are all near the Gastown area, which also has plenty of restaurants.
For anyone who still has some energy after dinner and a day of walking, slip into a lounge at one of the trendy hotels to see which celebrities are in town. Vancouver, a major film production center, is sometimes called "Hollywood North". Reflections Outdoor Restaurant and Lounge, an inner courtyard on the fourth floor of the Rosewood Hotel Georgia, is a popular spot with the hip and moneyed set.
8 a.m. - Get an early start and head to the mountain resort of Whistler. Alpine skiing and Nordic competitions took place there during the Olympics. It's about a two-hour drive from Vancouver on the scenic Sea to Sky Highway. In the summer, the mountains are a haven for mountain-biking aficionados.
9 a.m. - If you want to stay closer to Vancouver head to Cypress Mountain. It is about a 20-minute drive from downtown and one of three North Shore ski facilities with summer hiking options. The Capilano Suspension Bridge and Grouse Mountain Skyride, which are in the same area, are also popular. Visitors without a car can cross the harbor to the north shore on the SeaBus ferry.
Anyone planning to hike during the summer should keep an eye open for bears and stay on the trails. In the winter, snow in the out-of-bounds areas may look alluring but can be very dangerous.
12:30 p.m. - Vancouver has strong links to Asia and the downtown Chinatown market traces its roots to Vancouver's role as a railway hub in the late 1800s. It is also home to the Dr. Sun Yat-Sen Classical Chinese Garden.
2:30 p.m. - Archeological evidence indicates people have lived in the Vancouver area since 500 B.C. Visit the Museum of Anthropology at the University of British Columbia. For something more adventurous, take a 30-minute sightseeing trip over Vancouver by seaplane. Several operators run services from Vancouver's downtown float-plane terminal at Coal Harbour. (Editing by Patricia Reaney; and Peter Galloway)