Vanderbilt University will remove the word "Confederate" from the name of one of its buildings on campus, the school announced Monday.
Confederate Memorial Hall, a residence building on the Nashville campus, will be renamed Memorial Hall.  
To make the change, the university will have to return $1.2 million to the Tennessee Division of the United Daughters of the Confederacy, which in 1933 donated money to secure naming rights for the building. The $1.2 million is being financed by anonymous donors who gave money specifically for the purpose of removing "Confederate" from the building's name. 
"The residence hall bearing the inscription Confederate Memorial Hall has been a symbol of exclusion and a divisive contradiction of our hopes and dreams of being a truly great and inclusive university," Vanderbilt Chancellor Nicholas Zeppos said in a statement. "It spoke to a past of racial segregation, slavery, and the terrible conflict over the unrealized high ideals of our nation and our university, and looms over a present that continues to struggle to end the tragic effects of racial segregation and strife."
There had been debate on renaming Confederate Memorial Hall at Vanderbilt for about a decade, Zeppos told The Huffington Post in an interview Tuesday. That conversation continued in the last academic year through town halls as many other campuses engaged in similar debates. 
"As we all know, these questions of race and reunion are very constant in America as a source of conflict and reconciliation," he said.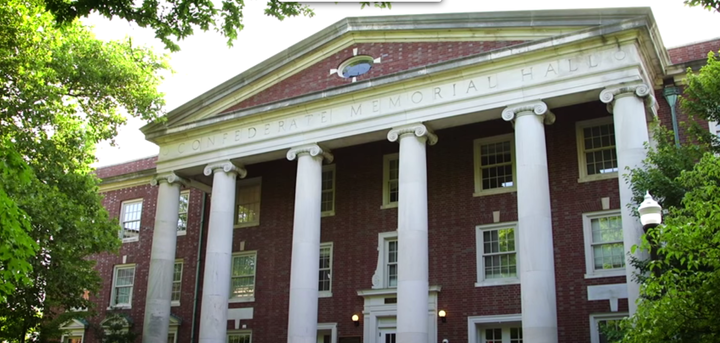 When UNC named the building Saunders Hall in 1920, the trustees cited William Saunders' role as "head of the Ku Klux Klan in North Carolina" as one of the reasons to give him the honor. That was an error on UNC's part, the trustees said in 2015, and it gave them the flexibility to rename it to Carolina Hall. 
"If we didn't change the name of Carolina Hall it would've been heartbreaking," Carol Folt, UNC-Chapel Hill chancellor, told HuffPost in an interview. 
The change was years in the making, and was accompanied by a decision to implement a 16-year freeze on naming other buildings at UNC. During that time, other educational initiatives, like installations on campus about North Carolina's history with segregation and racism, will take place at the university. 
Folt said she's traveled to places like China, Singapore and Germany, whose governments have had significant changes in the past century, and learned about how other countries have dealt with the ugly parts of their respective histories.
In Germany, for instance, Folt visited universities that showed her spots where they'd removed plaques honoring members of the Third Reich. At other universities, the names of those people remained but were accompanied by signage of some sort noting they were Nazis. Some institutions tried to respect the multi-faceted legacy such people left behind by showing their scientific accomplishments before they joined the Nazi party, Folt said. 
"What I did see was that almost every place there was something," Folt explained. "So what it told me was that over five decades of time, the country has continued to grapple with naming and history, and I'm sure if I was still there, there would be many people talking and saying we need to go further."
Both Folt and Zeppos predicted these conversations about America's history of racism will continue for decades, and universities will certainly play host to them. 
"This discussion of symbols and inclusion is occurring at every university ― north, south, east and west," Zeppos said. 
A college administrator might learn from what other universities have done, Zeppos said, "but I think you also have to see what is your own path forward."
REAL LIFE. REAL NEWS. REAL VOICES.
Help us tell more of the stories that matter from voices that too often remain unheard.