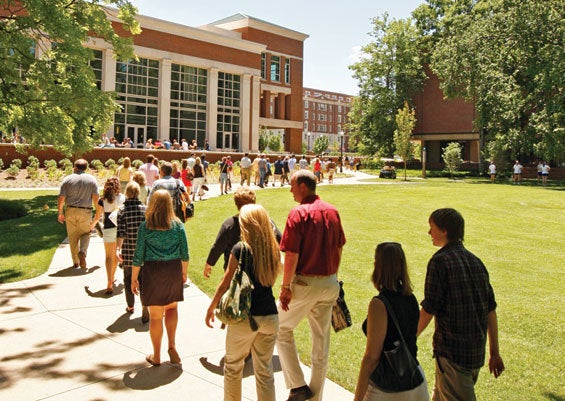 Vanderbilt University's Catholic student group is disaffiliating with the school due to a clash with the college's non-discrimination policy.
Vandy Catholic, a group with 500 members, disagrees that they must permit non-Catholic students to serve in leadership positions. While Vandy Catholic isn't forced to give non-Catholic students leadership positions within the group, they aren't permitted to disqualify somebody because of their differing beliefs either.
"Our policy requires that all students are presumed to be eligible for membership in registered student organizations and that all organization members in good standing are eligible to compete for leadership positions," Mark Bandas, Associate Provost and Dean of Students, said in a letter, "though it is up to each organization to select its own leaders."
By giving up their official student organization status, Vandy Catholic loses eligibility for university funding and cannot use Vanderbilt resources such as listserv access and website hosting.
"We are first and foremost a Catholic organization," PJ Jedlovec, president of Vandy Catholic, told Fox News. "We do, in fact, have qualifications -– faith-based qualifications for leadership. We require that our leaders be practicing Catholics. And the university's non-discrimination policy -- they have made it clear that there is no room in it for an organization that has these faith-based qualifications."
The university requires all student groups to register with the Dean of Students' office during the spring and sign that they agree to the non-discrimination policy.
"If they insist on implementing this policy, I will probably stop all relationships with Vanderbilt," Singleton told NPR. "Because I'm a Christian, and I feel like Christians have a right to express their views and to choose their leadership on this campus — and they seem to be the primary group that's singled out by this policy."
A 2010 Supreme Court decision supports Vanderbilt University's policy. The high court decision affirmed that institutions can legally refuse to recognize a religious organization unless it allows all students to join, as NPR reports. Nevertheless, plenty of people are upset with the school.
"Vanderbilt promises that students 'are entitled to exercise the rights of citizens,'" Robert Shibley, the senior vice president of FIRE, wrote in a column, "yet the university's decision now forbids them from doing so."
Rev. John Sims Baker, chaplain of Vanderbilt Catholic, said their hand was forced by the school's policy and so they will leave.
"Our purpose has always been to share the Gospel and proudly to proclaim our Catholic faith," Baker told The Tennessean. "What other reason could there be for a Catholic organization at Vanderbilt? How can we say it is not important that a Catholic lead a Catholic organization?"
Nicholas S. Zeppos, Vanderbilt's chancellor, said in a letter to students that "the university does not seek to limit anyone's freedom to practice his or her religion. We do, however, require all Vanderbilt registered student organizations to observe our non-discrimination policy."
Thom Thorton, director of the Vanderbilt Baptist Collegiate Fellowship, said their student group will apply for registered status and see how far they can go before they encounter a problem with the university's rules.
Popular in the Community