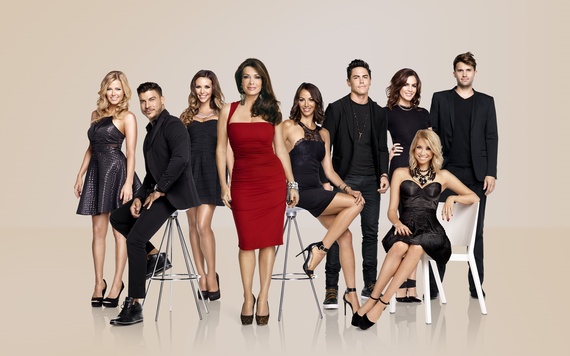 Facing time management issues in my life, I have been rationing reality shows like they're candies from the commissary. That's an Orange is the New Black reference for you, but alas, we're not here to discuss great drama of the scripted variety. While VH1 and MTV shows are things of my past, one guilty pleasure I refuse to eschew is Vanderpump Rules. Admittedly, it is a highly inappropriate program for a woman of my age. The show follows the lives and - dare I say it - the "trials and tribulations" (aka drama, drama, drama) of those born around the year that I graduated elementary school (1988).
That would include Stassi Schroeder, Queen Bee in the first two seasons, who is showing promise with a serious relationship when Season 3 begins (November 3rd) along with a no-nonsense outlook on social situations. Over the phone, Stassi tells me that she wanted to keep the man who she "adores" separate from her Vanderpump crew and so, we will not see him among the friends and frenemies. Vanderpump Rules also includes Kristen Doute, who is a hot mess on the rebound from Tom Sandoval as the new season starts. She and her new boyfriend are acting particularly meddlesome concerning the affairs of others (honing in on her ex, Sandoval, and his new squeeze Ariana Madix, in particular). Katie Maloney, another cast member of the same cohort, has remained best friends with Stassi while both have divorced themselves from Kristen and her self-destructive ways. Katie is committed as ever to her adorable long-term boyfriend Tom Schwartz (My favorite character because he strikes me as clever and possessing a sophisticated wit that is uncommon on "Vapid Rules." I mistakenly thought he might also be a member of my tribe. Alas, for the readers who asked: He's not Jewish. He's also not available), who acts and models when he's not doing the restaurant thing himself.
Katie is also known to lose her inhibitions and become vocal in the throes of vodka, not that she's happy to have earned that reputation as she states in the premiere episode of the new season. Then there's super-cool Ariana, looking happy with Sandoval despite rumors of what may or may not have happened (and not have stayed) in Vegas. Ariana's best friend is Scheana (Marie) who is planning her wedding to (Mike) Shay and wants to be friends with everyone - even troublemaking Kristen. We all know Scheana's honorable intentions will backfire. It is impossible within this dynamic to be friends with everyone, and she's sure to piss off a few among the crew. Now if I've completely lost you, you were probably born in or before 1974. Oh wait, that's when I was born. I am fresh out of excuses for "why I watch this show," but I guess I've gotten caught up in the drama and have to see how it all plays out.
While the girls I mentioned above are in their twenties, some of the male cast members are actually closer to my youngest brother's age (early 30s) and are of varying enough maturity levels to remind me of friends both past and present. I was fortunate enough to speak with two of these 30-something guys, Tom Schwartz (gush) and Jax (not as much). I also spoke with Stassi (who the others call "Princess Stassi" and who, Tom Schwartz jokes, makes "heads roll" when she's around). I am able to joke with Schwartz about the hashtag I created for Vanderpump Rules, #VapidRules. He possesses the sense of humor to acknowledge that the problems on the show are far from third world ones and would never be offended if, say, you changed the channel for an Ebola update.
As for the allure of the show, there is something about veteran Real Housewife Lisa Vanderpump, a confident and wealthy superior, bossing around a group of restaurant servers who have their own intra-boss to contend with. It is almost as if they are Lisa's minion of rebels in a sort of underworld that excludes diamond-adorned Real Housewives. In the past, everyone in Lisa's employ has had to answer to Stassi, the intra-boss, in different ways; She counseled girlfriends with guy problems, shunned those who proved disloyal, and put cheating boyfriend Jax in his place at various stages of their on-again-off again relationship. In fact, Stassi would never beat around the bush and was quick to put anyone who acted out of line in his or her place. She could outsmart the idiocies and call bullshit rather quickly, except on a few occasions when her closest friends with acting skills successfully duped her.
While she may have seemed domineering to some, she was quick to express her own vulnerabilities and let the hurt show on camera. Now, after declaring that she was done with these ridiculous people at last season's reunion (definitely done with impulsive, oft-lying Jax who tattooed her name to his body despite their now permanently "off" status), Stassi is no longer working with the dramatic and often volatile staff in a restaurant setting, but she maintains a major presence on the show. When I ask her why she decided to come back after saying she was devastated by her coworkers' shenanigans, she says she wanted to show how she herself had changed since viewers and the cast last saw her. She lived in New York for several months with her boyfriend before filming started. Then commitments called for him to be in LA. So, Stassi took the opportunity to make this her next chapter. We will have to watch to determine whether or not and how she has matured, and to quantify the substance that she can bring to "Vapid Rules."
My impression from watching the premiere episode is that the new season literally begins with a bang. There is a huge fight that will break out and a lot of angry feelings, particularly between Sandoval, his ex Kristen, and her new and notably younger boyfriend (even younger than the other cast members. Yikes!). He offers us a lovely English accent but way too much to say with it. His role as co-meddler to Kristen further highlights that he is Rebound Boy and he must know it. Anyhow, his conspiring role is what's behind the actual fist fight that breaks out in episode 1. But let's backtrack to the nice surprise of the season: impossibly handsome, charming, witty and decidedly unvapid Tom Schwartz has graced us with his presence as a full-fledged cast member, rather than the supporting one he's been in the past. We will get to see if Schwartz spices up the show or if he gets swallowed into the vortex of evil. Unfortunately, he tells me, Katie and his relationship will withstand the brutal test not uncommon to Vanderpump couples. Rumors will swirl that may or may not have something to do with Vegas and may or may not have something to do with Kristen stirring up trouble for all and sundry. For his part, Tom says, "you get to see more of Katie this season and why I am madly in love with this girl." Good, I think to myself, because viewers have not seen a lot of depth to Katie and like mother hens, we want the best for Tom who immediately made an impression on viewers. In fact, it was the viewers who requested more Tom time, and Bravo delivered. Tom Schwartz continues: "I admit that I have a commitment issue - I know it sounds cliché - but I'm not ready to be married yet and that's an issue for Katie and a theme that repeatedly presents itself in our story line."
Also in the premiere, Jax, who is dating two women simultaneously, sees a plastic surgeon about fixing a deviated septum and getting a nose job. He says "It started primarily with my breathing and sinuses being an issue my whole life. One of the 2 girls that you see me dating in the first episode recommended a doctor. Then you see a discussion." Based on how terribly nasal Jax sounds over the phone, and something about the way he adds "You'll see. It was a weird situation," I decide that he probably did not go through with the surgery. But yes, you read it right: Jax is dating two women and as Tom Schwartz told me "Jax is more Jax than ever this season." Did Jax's girls not watch previous seasons of this show?!! Jax answers that they basically did not. OK, that explains it. He does add that he redeems himself somewhat this season by really opening up and we get to see him in therapy highlighting the underlying issues that explain his past unseemly behaviors. Also, in Jax's defense, the publicist interrupts our interview to tell me that he is the hardest working of the crew. He has three businesses that he manages which include a sweater line, a brand of shoes and other accessories.
"Believe it or not," he says, addressing the subject of his questionable character, "I DO have a soul. I'm a caring, compassionate guy ... and you will see a lot throughout the season."
Stassi, with her sordid Jax history, may beg to differ, but she is entirely mum on the subject of Jax and we don't even broach the topic, not even a little. She is happy in her new relationship and with a new fashion website she is currently launching. We never bring up the "M" word that rhymes with Lean but it is clear that Stassi is determined to turn over a new leaf and overturn past impressions. This is something one can sense via discussion and I hope it will translate on screen. It is clear that fashion is her passion but, unlike other ingenues-turned-icons who I greatly admire, she is fixated on affordability.
So I decide to test out her skills. I send Stassi a picture of myself and ask how I can spruce up my very basic everyday style. I am flattered when she compliments me on the photos (the 17 year old me forever besotted with the Queen B). Explaining that I am a multitasking mom of 4 boys that works from home and jets off to carpool daily by 3, she advises that I pick a uniform, meaning certain staple pieces for my wardrobe, and then spice up the great pair of skinny jeans and the white t-shirt, for instance, with an eye-catching statement necklace or a cobalt bag. I know she is entirely on the right track because this is exactly what I currently try to do (not that I'm the fashion expert or anything). I possess great accessories (a colorful scarf of rich material that I bought in Israel stands out in my mind) and mostly plain t-shirts that will never go out of style and non-mom jeans that can be re-worn and reworked.
Stassi reminds me that she is a girl who doesn't come from the glamorously wealthy world of LA (she hails from Louisiana), who went to an all-girls high school (something we have in common) and has worked as a server to earn money while trying to break into the fashion world she now cohabits. Though she has always been somewhat of a social leader (her friends from home laugh at how little has changed in that regard), she wasn't born with a silver spoon in her mouth. Affordability has always been and remains of utmost importance to her when it comes to fashion and making recommendations to others.
Based on our talk alone, it seems that Stassi could be showing a softer side this season. Perhaps, we can speculate, we will see a Stassi who is on the marriage and maternal track? As I write this, negative reports are coming out that she came back to Vanderpump Rules to stir up trouble, an ingredient to the zest of really juicy (and admittedly, really juvenile) reality TV. Perhaps Tom Schwartz has also unwittingly signed up for trouble by leaving the supporting character role behind and stepping up to the plate. Perhaps Jax is too far gone for redemption... There are so many possibilities to consider and not enough time to take them all in. As I mentioned, this mom has to manage her time more wisely (while keeping the Vanderpump kids in the picture!). I will say that the three young'uns who I spoke with were lovely enough over the phone. Tom Schwartz was possibly one of the nicest people I ever interviewed and so obviously in love with his longtime girlfriend Katie - regardless of what viewers will see ahead. Stassi, despite my own self-imposed, transference-laden intimidation, was actually quite sweet. And while Jax initially sounded a bit stiff and seemed a tad defensive at the start of our interview, he definitely impressed upon me that he has a newly acquired humility and a sense of contrition for the past by the end of it. So that is my reality for now and the rest...is entertainment.

Choose your own Reality when Vanderpump Rules premiers on Bravo, November 3rd at 9/8 Central.
REAL LIFE. REAL NEWS. REAL VOICES.
Help us tell more of the stories that matter from voices that too often remain unheard.