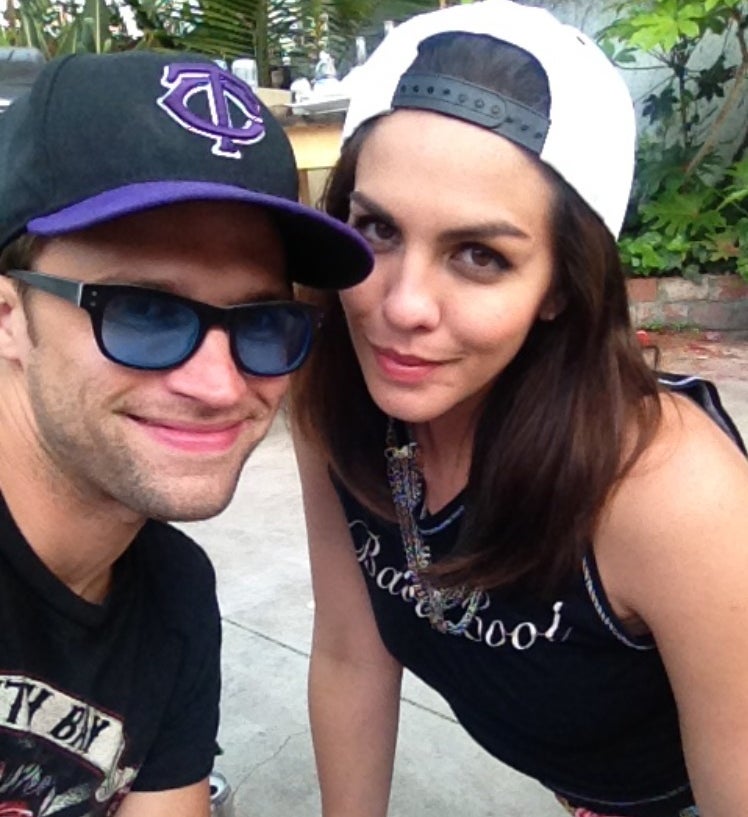 #VapidRules is back Monday night (11/7 at 9 EST on Bravo) and that hashtag is one I use jokingly and out of love for the show and its cast. I've written before about being riveted to Vanderpump Rules despite being a mom of 4 who gets tipsy off of tryptophan and hasn't been in bars since before the no-smoking ban (is that still in effect?). The characters are largely unrelatable to me: They are servers at Sur Restaurant and Lounge in West Hollywood who model on the side, or make films, act in B movies... or have their own podcast. Fabulously good looking and dripping with sex appeal, some even groomed with "preventative Botox," these 20 and 30somethings have the formula downpat, bringing continuous drama to the small screen. The oldest of this crew is the notoriously massive playboy and expert drink mixer Jax Taylor, 37. The boss is Lisa Vanderpump of Real Housewives of Beverly Hills and she reigns supreme over this crew like a matriarch-slash-dominatrix. She never fails to get the last word even when intimidating and beautiful Queen Bee Stassi is - perhaps - trying to threaten her.
Towards the end of last season, I started  to feel I might be aging out of the enjoyment bracket although I'm only 5 years older than Jax. That was when cast member James Kennedy's mom, in her 40s like me, showed up to visit her little sunshine. I had to squint because I was sure the total stunner was a former classmate of mine. I could have a kid James's age?! Theoretically, I could. I have a friend who has married off two children and she's a few months younger than I am. But no matter: In no time at all, I was following the drama of Kristen Doute, her acts of revenge-shagging James (sometimes to make ex Tom Sandoval jealous, sometimes to make James crazy. James is in his early 20s and probably needs his own The Hills-like #safespace to hide out) and the rest of the heightened plot lines.
Below, you can see a video with the coming attractions for Season 5. In an email interview, I asked my favorite cast member, the ever-charming Tom Schwartz (by the way, for those who asked, he is not Jewish) to weigh in. I essentially asked him this question: "At 42, will I STILL be interested in this show or will I be giving it up shortly?" While I definitely wanted more details than he was willing or able (due to publicists for the show) to elaborate on, I got the sense that he was really in the hot seat this season and that is something we'll need to tune in to see. Last season he was dealing with his commitment phobia before proposing to Katie.
"I have to say, I looked at your pics and you don't look a day over 30!" he wrote me. Now, I cannot divulge if there was or there was not any arm twisting involved prior to that statement, but I'm a #GarbagePerson who now fully endorses this show. Flattery definitely has its perks.
Here's my interview with Tom with my own comments in parenthesis: 
SW: Give me a one sentence pitch that will convince me this is a juicy season. I'll be watching anyway of course, but what can I look forward to? 
TS: You know it's a great season when you are dreading watching yourself. It was a beautiful disaster of a year. Obviously it has the happiest of endings (Tom gets married to longtime love Katie), but the path there...(it's never been easy between the two of them. See seasons 1-4). I can borderline guarantee you will laugh, cry, gasp, and cringe. So much heart this season. In terms of details: I'll just say that there's a real shocker of an accusation in episode 1!
SW: There's been some recent news about Scheana and Shay who have been married for a while now - it's never been smooth sailing, with him battling substance abuse issues. Reports claim he ran away and depleted her (their?) bank account?! Is this true? Will their marriage make it? What's happening?
TS: I cannot comment on that at the moment as I don't know what is transpiring between them. (In the trailer above, we do see that Scheana may have been ousted from the group for being "fake," and can wonder if Tom and Katie hang out with the pair these days beyond Vanderpump promotion.)
SW: What are you doing professionally these days? Your 'work' has never been clear to viewers. Do you still ever serve at any of Lisa's restaurants? And this one comes from a VPR fan in a Facebook group I'm in: Do you still get panic attacks that interfere with working?
TS: The show itself takes up a huge chunk of our year. Aside from VPR, I still do some modeling and also plan on getting into real estate down the road. I'm 'vaguely ambitious' per usual. I don't get panic attacks  on the regular. I've actually only had two in my life. You saw the aftermath of one - haha. That was deeper than just stress of working a job I didn't want to be working. It was more of a 'what the hell am I doing with my life' meltdown.
SW: Another fan wants to know WHY you are still friends with Jax! I want to add to that and ask you how Jax has changed or not changed, if he's still with Brittany Cartwright who he was - at least - portrayed as SERIOUSLY dating last season. Any chance we'll see a marked difference in him?
TS: Jax is the a-hole with a heart of gold. Although he's done a lot of shitty things in the past, he has grown a lot and we are seeing hints of domestication. He's also a great friend and very generous. If you hung out with him, I think you would be won over by the end of the night. (I don't think my husband would be up for that. Just a guess.)
SW: What are the dynamics between the girls like? I see that Stassi is back. How are she and Katie getting along? I'd love to see more of Rachel the comedian (we don't get to see her all that much in comedy mode, but I'm planning to reach out and interview her so she can opine humorously as a VPR friend).
TS: The girls are all growing and blossoming into these gorgeous mature women but also, their old antics are never far off. It's really interesting to see how their dynamic together constantly changes. 
SW: We're interested in seeing you get married to Katie this season. There sure seemed to be a lot of pressure on getting engaged and the idea of "commitment" was freaking you out. How has being a husband impacted you? How is your first year of marriage going? And fans want to know if you guys are having sex since we were alerted last season to your sexual droughts.
TS: Married life is terrific. I feel like a stud introducing Katie as my wife and having a ring on, it feels good too. I will say I was always cynical about the institution of marriage but in retrospect I'm so happy we went through with it. Again, the path to the happiest day to our lives was rocky,brutal at times and you will see that play out. Been basking in the post-wedding post-honeymoon bliss. I'm so happy to share the happiest day of my life with all of our awesome fans. We get a ton of love and really truly appreciate that. I mean, I feel like attention spans are shorter than ever (at least speaking for myself) and there are SO many great great shows on so the fact that they take an hour out of their busy life's to indulge in ours means the world to us. Get ready for a beautiful disaster of a season. Polarized for me as you will see me at my sloppiest and at my absolute best. Let's do this! (Did Tom just dodge the sex question? Paging Dr. Ruth!)
SW: One fan pointed out to me that you got married on a Wednesday and wondered why. Another asked if the show paid for the wedding?
TS: We paid for the wedding entirely ourselves and we got married on a Wednesday because that was the only date they had left in the time frame in which we wanted to get married. Also, it's more cost effective during the week.
Thank you to VPR fans Kara B., Liz G., Nikki Katerina, Anna B., Maggie K., Abby S. and Jim M. for the terrific inquiries and input.
Calling all HuffPost superfans!
Sign up for membership to become a founding member and help shape HuffPost's next chapter
This post was published on the now-closed HuffPost Contributor platform. Contributors control their own work and posted freely to our site. If you need to flag this entry as abusive,
send us an email
.