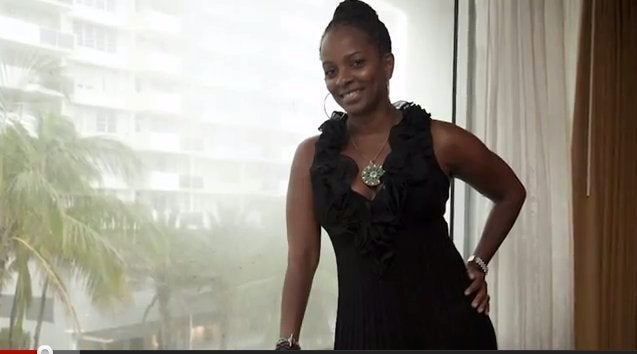 Since the age of six, I knew what I wanted to be. Fashion, beauty... you name it. I wanted to be in the midst of it all. I recall pulling pictures from magazines of Beverly Johnson, Iman, Brooke Shields, Cheryl Tiegs, and Lauren Hutton. To know and be able to identify your place in life at an early age is quite rewarding. The challenge is laying out the plan that will get you to your final destination. You must strategize your every move, so that your path is clear.
For people of color, it has never been an easy path. From the beginning, our roads have been paved with hardship, difficulty, and for some, ultimately success. So, when I meet a person of color that has been able to jump through the hurdles of life, and to come out with minor bruises, I applaud them. When I met Vanessa Bell Calloway, I wanted to give her a standing ovation. She is an extraordinary actress, dancer, philanthropist, motivator, mentor, wife, and mother.
Being an actor is not a mere job you obtain when you can't find anything else to do. It is also not something that you can easily make a living out of. The stakes are high, the sacrifices are great, and the competition is fierce. There are no real retirement plans or pensions. You have to generate considerable income and savings to be able to live out your last days comfortably. So, while you're young and resourceful, and have the passion, drive and dedication for this craft, you better make it count.
Vanessa Bell Calloway was born in Cleveland, Ohio on March 20, 1957. Ms. Calloway has been a recognized, working actress and dancer for decades; and happily, there seems to be no end in sight. She is well known for her roles in Biker Boyz, What's Love Got to Do With It, Coming to America, and Love Don't Cost a Thing. She counts Judith Jameson and Dihann Carroll as friends and colleagues, both legends in their fields.
Ms. Calloway's success is not by accident. She completed a Bachelor of Fine Arts degree from Ohio University, where she became a member of Alpha Kappa Alpha Sorority, Inc. And she studied dance with the masters--Alvin Ailey George Faison, and Otis Sallid.
Ms. Calloway starred in the original Broadway production of Dreamgirls. She has also been on the other side of the camera, having directed the music video Angel Man for soul singer Rhetta Hughes.
It's no wonder she is the recipient of the NAACP Image Award for Outstanding Actress in a Drama Series, and was nominated for two Image Awards for Outstanding Supporting Actress in a Drama Series for her work on the television shows, Boston Public and The District. She is one of the hardest working actresses in Hollywood.
When I spoke with Vanessa Bell Calloway, I got the distinct impression that she is very much in control of her path, and was the decision maker in all the happenings in her life.
I recall noticing how beautiful Ms. Calloway is, when she appeared in the comedy, Coming to America, as Eddie Murphy's subservient bride-to-be, hopping on one foot and barking . She later stole my heart beside Angela Bassett in What's love Got To Do With It, when Lawrence Fishburn, playing Ike Turner, slapped her in the face, in the middle of a restaraunt. That scene did it for me.
But, we all know in this life, beauty is not enough to guarantee success in any business. You must be able to hold your own and prove your talent. With a work history that has spanned 30+ years, Ms. Calloway is no fly by night talent. She is strictly business and has left nothing to chance.
In addition to the aforementioned greats, Ms. Calloway has shared the marquee with the likes of Denzel Washington, Gene Hackman, Samuel L. Jackson, and Isaiah Washington. She gives great accolades to the next generation of filmmakers and actors, such as Matthew Cherry, Lance Gross, and Nick Cannon.
Vanessa Bell Calloway has made many recent TV appearances including, Carol (the mother of Veronica) in John Well's new hour drama Shameless, which first aired on Showtime in 2011, scheduled to return this Fall. She has also starred on HawthoRNe, Dexter, Let's Stay Together, and House of Payne. Ms. Calloway's repertoire indicates that she has been able to cross color lines, and obtain roles within the "mainstream" market, and not just in "Black" productions.
She staunchly supports, and has great advice for people who want to enter this business. I got a chance to chat with her at the American Black Film Festival, (ABFF) this past June, in Miami. She is absolutely divine. Well spoken and poised, she is socially responsible and accountable for her own actions.
This seasoned actress picks her roles with the heart. "If I only relied on making money, I would have no resume," she says. "Some of the smaller things I did paid bigger later. So you have to understand that somethings come down the line. It may not come right away," she adds.
In support of independent filmmakers, Ms. Calloway has starred in The Last Fall, with Lance Gross, Nicole Behare, and Darrin DeWitt Henson. The movie delves into the life of an NFL player struggling to find himself, after being drafted and subsequently dropped. Struggling to make a living... living from pay check to pay check... Ms. Calloway admits that she learned a lot from playing this role; things she didn't know about these athletes. The film humanizes these athletes. Its trailer is absolutely moving -- the pain of our young black men, and the agony of defeat is palpable.
She also landed a role in Russ Parr's, The Undershepherd. Her role, Deaconess Carter is a force to be reckoned with. She stands toe to toe with the Pastor, played by Isaiah Washington, and holds her ground.
When Vanessa Bell Calloway speaks, you simply can't cut her off. She has so much wisdom to share. You keep the tape rolling, and bask in her greatness... Stay tuned for more of Vanessa Bell Calloway.
Calling all HuffPost superfans!
Sign up for membership to become a founding member and help shape HuffPost's next chapter