Vanessa Bryant honored late husband and NBA legend Kobe Bryant and their daughter Gianna during a special memorial ceremony hosted by the Los Angeles Lakers and the Mamba & Mambacita Sports Foundation on Monday.
She began her emotional eulogies for Gianna, aka Gigi, and Kobe by thanking everyone for being there, describing the "outpouring of love and support" as so "uplifting."
"I'd like to talk about both Kobe and Gigi but I'll start with my baby girl first," Vanessa began before breaking down in tears.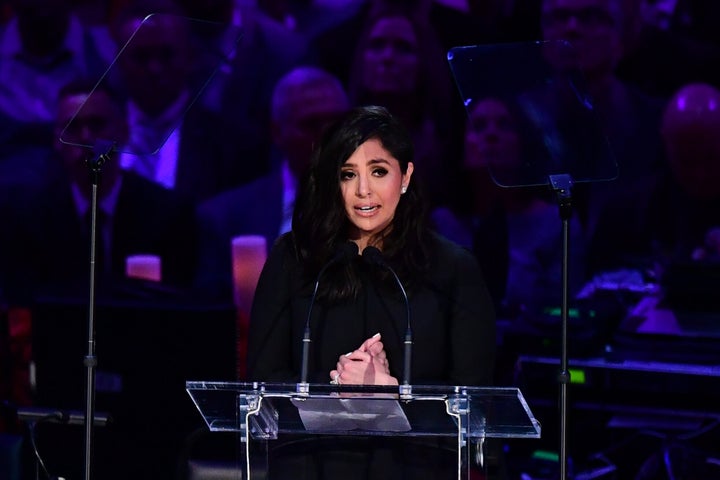 The 37-year-old mom described her daughter as "an amazingly sweet and gentle soul" who still kissed her goodnight and good morning.
"She was one of my very best friends," said Vanessa, who added that Gigi was known for her love of baking, making people smile and doing TikTok dances.
Gigi was "confident, but not in an arrogant way" and had been "looking forward to high school."
"We will not be able to see Gianna go to high school," said Vanessa through tears. "We didn't get the chance to teach her how to drive a car. I won't be able to tell her how gorgeous she looks on her wedding day."
Vanessa added that Gianna "would've been an amazing mommy" and an incredible addition to the WNBA, a comment that earned cheers from the crowd.
"I cannot imagine life without her. ... I miss you, all of you, every day. I love you," she said before moving on to honor her "soulmate," Kobe.
After acknowledging his career as a famous basketball player, she told the crowd that he was also her "sweet husband" and the father of their four daughters.
"He was the most amazing husband. Kobe loved me more than I could ever express or put into words. ... He would do anything for me," said Vanessa, before detailing how romantic he was.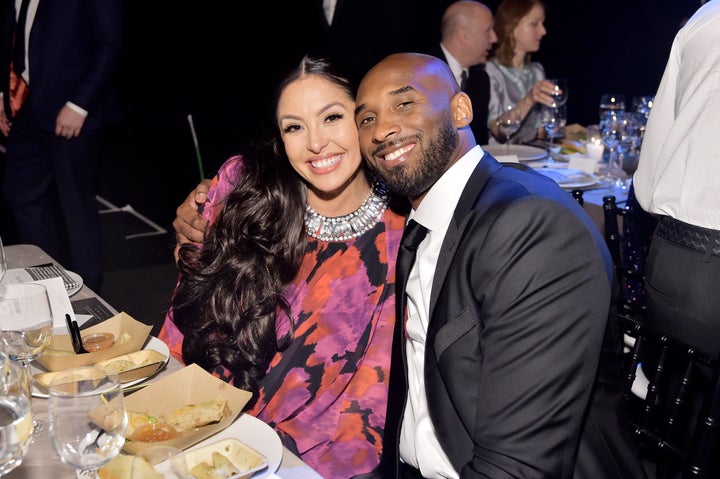 She said that he looked forward to Valentine's Day and special anniversary trips, even making some of her favorite gifts by hand. She said that Kobe gave her the blue dress (as well as the notebook) that Rachel McAdams wore in the 2004 film "The Notebook" because McAdams' character wore the dress in a scene when she came back to her love, Noah.
Vanessa shared some of the things that Kobe wanted to do ― renew their vows, see his daughter Natalia take over his company and travel the world together. She called him the "MVP of girl dads."
"He never left the toilet seat up. He always told the girls how beautiful and smart they are. He taught them how to be brave," she said.
Vanessa noted that Kobe would "worry about me if I wasn't in my seat at the start of each game" because "family came first to him."
"He isn't going to be here to drop Bianka or Capri at pre-K or kindergarten. ... He isn't going to be able to walk our girls down the aisle. ... But I want my daughters to know the amazing person he was," she said, before adding that both Kobe and Gigi "were so full of joy and adventure."
"God knew they couldn't be on this earth without each other. He had to bring them home to have them together. Babe, you take care of our Gigi. ... We love you," she concluded.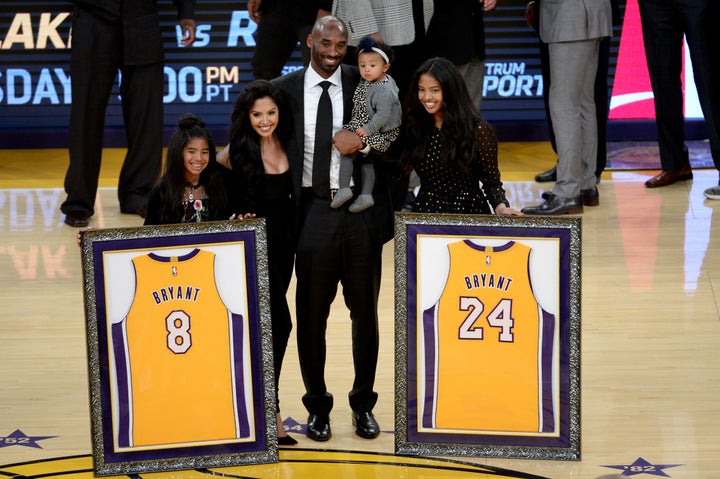 Kobe and his 13-year-old daughter Gianna died in a helicopter crash in Calabasas, California, last month along with seven other people: John, Keri and Alyssa Altobelli; Sarah and Payton Chester; Christina Mauser; and Ara Zobayan.
Monday's memorial was held at the Staples Center, which is aptly known as "the house that Kobe built," and there didn't seem to be a single empty seat. Feb. 24, 2020, was selected as the date for the memorial because it represents both Kobe and Gianna's basketball jersey numbers — 24 and 2 — as well as the 20 years Kobe spent both as a Laker and with Vanessa.
Earlier this month, a private funeral was held for Kobe and Gianna Bryant at Pacific View Memorial Park in Corona Del Mar, California.