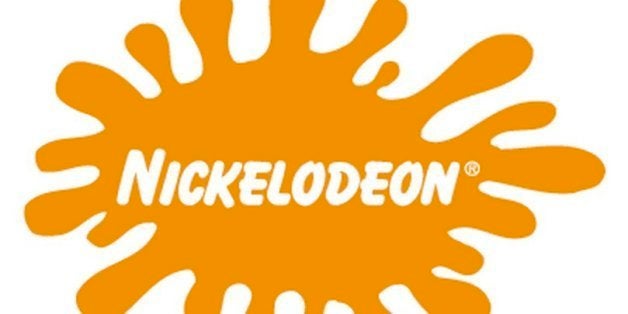 "It's not even what Nick needed. I felt like it's what kids needed."
It seemed like Nickelodeon didn't have any plans to start work on animation before Vanessa Coffey showed up in 1988. When she reached out to them for a job after nine years working in development at Marvel, and then Murakami-Wolf-Swenson, they asked Coffey why she wanted to visit the studio. "To talk about animation," she said.
There was almost no original animation in the late '80s. Everything was modeled after pre-existing comic strips or, far worse, essentially just a vessel for selling related products. "At that time animation was almost entirely commercials for toys," Coffey told HuffPost Entertainment. "After all the Hasbro shows including the 'Transformers' and 'G.I. Joe,' which is what we were doing at Marvel, I kind of just decided I didn't want to do that anymore. It just felt like I was working on commercials."
Tired of the lack of originality across the industry, Coffey left MWS, where she was helping to develop "Teenage Mutant Ninja Turtles," and moved to New York City. She thought she was done with animation. That is, until she realized what she needed to do: bring back original cartoons.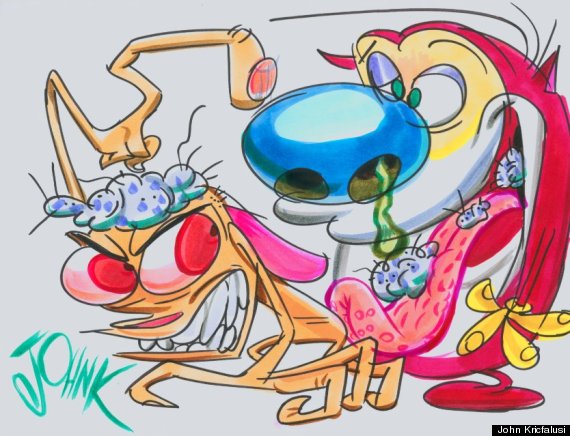 An early sketch of Ren and Stimpy, courtesy of John Kricfalusi.
Coffey began by producing a Thanksgiving special for Nick. At that point, the studio had only done animation once before, in the form of a Christmas special led by Ralph Bakshi. Soon, she started a dialogue with then-president Geraldine Laybourne and her team about recruiting original content.
Executives at the time were hesitant due to the fact that they didn't have the budget for bigger animation projects. Months of conversations and brainstorming later, Nick hired Vanessa as a consultant to look for original, creator-driven ideas. After testing pilots, they made Coffey vice president of animation, and assigned her to fill a 90-minute slot with three shows.
"What's really good for you would be 'Doug.' That's kind of the broccoli."
"It's not even what Nick needed. I felt like it's what kids needed," she said of the time she spent persuading Nick to create what started as a one-woman department. "I felt like kids were being sold toys on television, and there was no emotional depth to anything. It felt like there was no substance."
Once she got started, feeling something was the one criterion by which Coffey picked the three ideas she would sign as an independent producer. "Rugrats," "Ren & Stimpy" and "Doug" were each major successes, which can be fully credited with beginning Nick's golden age of cartoons. But not one of them came to her as a fully-formed idea.
Ren and Stimpy were two figures who Coffey was drawn to from a show John Kricfalusi pitched as "Your Gang" (the lead character's pets). "Doug" began as a children's book that Jim Jinkins had sketched out with no intention of creating a series. And "Rugrats" was just an idea for "a cartoon from a baby's perspective," with no designs or characters to go with it.
Coffey sensed something in the content each of the creators presented. The distinctness of the three shows satisfied her concept of creating what she calls "a balanced meal" for kids with that block of programming.
"You know, what's really good for you would be 'Doug,'" she explained. 'That's kind of the broccoli. That was going to be the emotional, psychological meal. And then I wanted to have a show that was spaghetti and meatballs. That's 'Rugrats.' It's really fun to eat and you get something out of it. But it's not like vegetables. It's spaghetti and meatballs. And then I wanted dessert. That's 'Ren & Stimpy,' which has no actual value and there's absolutely nothing good for you in it. It's just sugar."
In crafting that vision, Coffey had carte blanche -- a total freedom which only truly sank in when she put out an open call for pilot pitches. Once she heard about his doodles from Linda Schupack, who worked at Nick, Coffey sat down with Jinkins. He showed her his children's book called "Doug Gets a New Pair of Shoes," and she knew exactly what to expect from him, even though he had never produced an animated series.
As Coffey tells it: "I got up and ran down the hall and knocked on [one of the Nick executives] Debbie Beece's door, and said 'Debbie, I'm going to pilot this idea.' And she said, 'Then do it.'"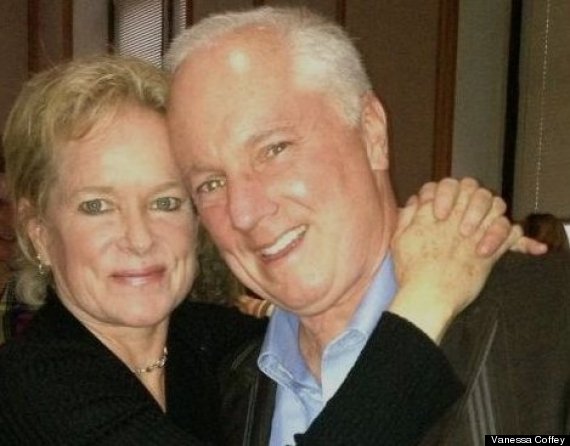 Vanessa Coffey with "Doug" creator Jim Jinkins.
Creating a show is not easy work. As Coffey put it, "It takes a village." There was an extremely awkward relationship between the ex-spouses Gabor Csupo and Arlene Klasky working on "Rugrats" and, later, dealing with one of the artists reacting to his wife's suicide. Yet, none of that workplace chaos came close to the difficulty Coffey had dealing with Kricfalusi.
"That was the most amazing time in my life working on 'Ren & Stimpy,'" Coffey said, "But the situation with John was the most painful situation of my career."
"He said this on the phone: 'I'm the star. I'm making your network. It's all me.'"
The first six months came with playful disagreements regarding notes. As Coffey recalls, it was only after "Ren & Stimpy" aired with great ratings and garnered a college audience that Kricfalusi became difficult. "He turned," she said. "He said this on the phone: 'I'm the star. I'm making your network. It's all me.'"
Back in August, Kricfalusi expressed his frustrations. "I told her to think of it as though she got to play Santa. You don't give the kids presents that you want for yourself, do you? Kids don't want socks and underwear, they want toys and silly stuff," he said. "I thought to myself, 'Have you ever met a kid?' Who doesn't know that kids think rude things are funny?"
Coffey insists she was just doing what needed to be done to get the show to air. "I wasn't being a big bad executive," she said. "It was my job."
According to Coffey, Laybourne expressed hesitation over "Ren & Stimpy." Coffey said Laybourne questioned her choice to produce the show with Kricfalusi and hesitated to sign on for an order of episodes even after the pilot was a success with test audiences. "We all thought he was brilliant ... [but] Gerry was very concerned about going forward with 'Ren & Stimpy,'" Coffey said.


An editing note from Nick executives and Kricfalusi's response.
Laybourne signed on for 13-episode packages of "Rugrats" and "Doug," insisting she couldn't do the same for Kricfalusi. "I got down on one knee and begged her," Coffey said. "She finally said, 'Okay, we'll do six, but I'm uncomfortable.'"
"When people meet me ... they say, 'That show helped me become the man I am today.'"
Coffey thought she knew what she was getting into from the second Kricfalusi wanted to kill off his main characters in the pilot, but she felt it was worth the struggle. She perpetually went to bat for him in meetings with Laybourne and other higher-ups, keeping what she could convince them was in line with the standards and practices that were required for all three shows. "Although," she admitted, "I pushed the boundaries of what were Nick's standards and practices at the time."
She fought until Kricfalusi's behavior spiraled out of the realm of her patience and the legal terms of his deal with Nick. "Frankly, John was out of control," she said. In September of 1992, he and Nickelodeon parted ways. Kricfalusi insists he was not fired, though Coffey says simply, "He was in breach of contract for not delivering on time, disturbing content and not [being] within the budget."
If there are polar opposites in terms of '90s cartoons, surely "Doug" is the foil to "Ren & Stimpy." Kricfalusi fought vehemently against what he saw as the overly moralistic agenda of executives. "You don't want to get morals in your televisions shows, movies and cartoons. Yet, everyone wants to give them to you. There are non-stop authority figures," he said. Of course, "Doug" was doing just that.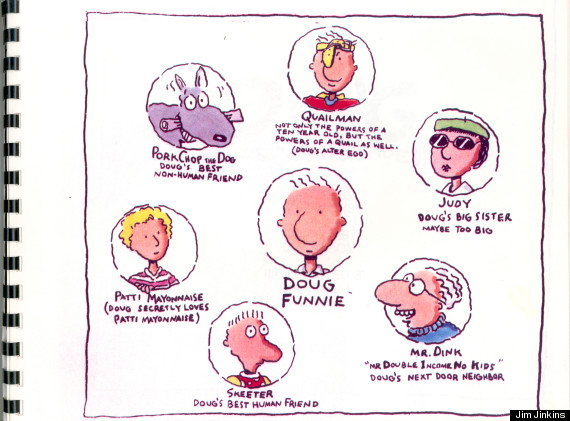 An early character map of the "Doug" universe, drawn before Jinkins began experimenting with color.
The process was similarly distinct. Everything Coffey was expecting with Jinkins, she got. And more than 20 years later, it is the show that she thinks has most impacted the kids she felt she was really working for. "When people meet me," Coffey said, "especially men, or boys who have become men, they say, 'That show helped me become the man I am today."
Jinkins also left Nickelodeon, when they decided not to pick up his final order of episodes. "The switch made up some of the most painful evolutions I've ever had to go through," he said.
It's almost eerie how closely his words echo Coffey's sentiments regarding her struggles with Kricfalusi. There was so much pain in their voices. Yet, all three of them, in some way or other, view that time as the brightest moment in their careers.
Coffey and Paul Germain of "Rugrats" fame recently went out to lunch and relived the making of the show -- the title of which was originally rejected because Nick was worried about a literally-rat-shaped toy called a "rug rat" for sale at the time.
"He was like, 'I don't really remember that happening with Rugrats,'" Coffey said. "And I said, 'You guys pitched me a line and that's how it happened.' And he said, 'We didn't have any designs?' And I said, 'No, you didn't have any designs yet.' And he said, 'Wow.'"
"I picked everything based on if it made me feel something. I don't think that you can do that anymore."
After Nick gave the green light for "Rugrats," much of what came later should be attributed to Germain, Csupo and Klasky, along with the rest of the "village" brought on to make all three shows work. The brilliance of Jinkins and Kricfalusi's work can't be ignored in looking back at that iconic hour-and-a-half of children's programming that Coffey made possible. Although, none of it could have happened without her.
There were so many elements that needed to align for that period at Nick to flourish the way it did. While the cartoon golden age continued well into the decade, it's interesting how things fell apart once Coffey left. Behind all the heartbreak lies the troubling impact of bureaucracy on the creative process.
Pondering the current state of cartoons, Coffey spoke about how things have changed since that magical moment at Nick in the early '90s. "I think in general it's more committee-based," she said, sounding an awful lot like the executive-hating Kricfalusi. "I didn't have to have 10 people sign off on what I was doing during pilots or even series. I did things based on my own gut, my own creative gut ... I picked everything based on if it made me feel something. I don't think that you can do that anymore."
Popular in the Community