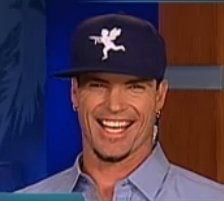 Stop, collaborate and listen, Ice is back with a brand new invention.
That "invention" appears to be that flipping houses is a great way to get rich right now.
Robert Van Winkle, better known as rapper Vanilla Ice, has a show on the DIY Network, "The Vanilla Ice Project," where he renovates houses for profit. Today, he guested on CNBC to share a few pointers and insights regarding success in the home-renovation industry.
Scroll Down To Watch Vanilla Ice On CNBC
His nuggets of wisdom include picking locations that are near "infulstructure," and adding extras like vaulted ceilings, eight-foot doors, lazy rivers and Tiki huts. As a reality TV host, Van Winkle seems to have a good handle on what gives a property aesthetic pizazz.
But while his enthusiasm certainly helps sell the idea that flipping is fun and easy, his attitude gives little credence to the challenges it can pose, especially now. Earlier this month, Reuters reported that analysts are anticipating a new wave of housing foreclosures this year that some experts say will be worse than the one in 2010.
"We are right back where we were two years ago. I would put money on 2012 being a bigger year for foreclosures than 2010," Mark Seifert, executive director of Empowering & Strengthening Ohio's People told Reuters.
For most Americans, it does not appear to be an opportune time to invest in fixing and reselling a house. But this doesn't seem to worry Van Winkle.
"A lot of these areas that got hit really hard during the housing downturn are some of the first areas to come back out of it, because they were desirable then, and they're desirable now," Van Winkle told CNBC. "They just got hit with the bomb there for a minute, and they're still desirable."
Van Winkle's reductive summation of the housing market comes off sounding eerily akin to the attitude that spurred the housing bust just a few years ago. His naive optimism seems predicated on the attitude that if you build it, they will come -- a convenient position for someone who has launched a real estate training course based on the success of his show.
"Learn the same strategies that [Van Winkle] uses on the show to flip homes for massive profits," the course's website, VanillaIceRealEstate.com, advertises.
Would you take Vanilla Ice's advice about real estate? Leave your thoughts in the comments section.
WATCH: Vanilla Ice Talks Flipping Houses On CNBC


Popular in the Community