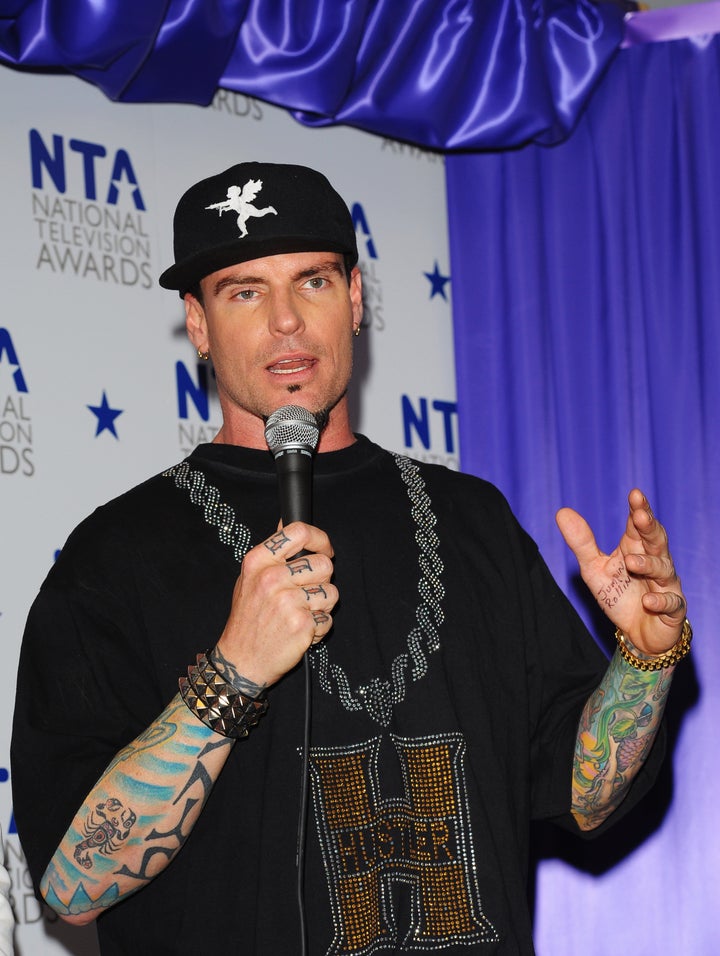 Perhaps even more than they embrace celebrities and idols, Americans triumphantly celebrate the downfall of their heroes. Whether rejoicing in lurid details of sex scandals and drug addictions, or mocking the inability to adjust to rapidly changing times, there is great self righteous glee that props up the Surreal Lives and the Dr. Drews of the world. But while Americans snicker at fallen icons, every once in a while, the punchline is behind the curtain laughing right alongside the audience.
Enter Vanilla Ice, the early 90's symbol of hip hop's mainstream acceptance, with his Billboard-topping single and worldwide fame confirming to tentative white people that yes, it's okay to like rap music. But with his fall from grace seeming to start as suddenly as his meteoric rise, the words "Ice Ice Baby" soon became something of a punchline for talking head pop culture shows and kids who were in diapers at the time of rap's first great white hope.
But if America is the land of second acts and second chances, the truth is that Vanilla Ice, real name Robert Van Winkle, never saw the curtain go down in the first place. And as the nation struggles in the doldrums of the economic recession, perhaps it's this once-16-year old rapping prodigy that can, in his own little way, lift American spirits once again.
"I've had a great success in real estate, that's how I've made my investments, how I've held on to my money, that's how I didn't end up like MC Hammer," Vanilla Ice told The Huffington Post. And it's true.
A long time carpenter and real estate investor, Vanilla Ice hosts a home renovation show, "The Vanilla Ice Project," on the DIY Network (and is hosting a contest, appropriately titled "Ice My House," to renovate a fan's room). Starting with a gigantic, gutted foreclosed home, Ice renovates a room in each episode, showing his audience how to work their tools and plan their dream homes in the process. And it's all real, he says; the passion started long ago, as he was shifting from rock star to actual human being.
Seeking to convert his 15000 square foot mansion, which was more bachelor pad/nightclub hybrid than actual home, Ice said that he decided to do it the old fashioned way, throwing out interior decorator designs for his own handiwork.
"Instead of hiring a bunch of decorators to come in, I just looked at a bunch of pictures and stuff and said, well hell, I'm just gonna do this myself," he told HuffPost. "So I did it myself, I stepped back at the end and I was really proud of it. I turned everything into earth tone colors; I made everything, instead of feeling like a nightclub, feel like a home, a nice warm cozy home, so when I came home I felt good."
He went ahead and sold a number of other mansions he had acquired and never used, and when he still made money off of them, he decided that real estate was his next venture. So he studied up, learning about demographics and infrastructure and even the relative value that southern exposures can add to a house. To hear him talk now, you'd think he was on CNBC, not destroying a set on MTV as he once did so famously.
"Now that the market has flipped upside down and the prices of homes have come down and everything, it's even better for investment," Vanilla Ice excitedly preaches, like he's so desperately trying to get the information out to a downtrodden public. "Most people know the common terms, short sells and foreclosures, but there's even better ways of buying homes that you can learn about, like tax liens, auctions, you can go in and if you know the process, really invest properly and get these houses for pennies on the dollar."
He can rattle off stats about how the areas hardest hit by foreclosures so often are the first to bounce back, with their ready infrastructure and schools and rock bottom prices. If he can capitalize off it, he seems to be saying, anyone can.
In fact, the pitchman voice suits him so well, he's making a real go of it, starting his own investment courses. Yes, in a housing market so depressed, he's been crushed with requests for investment advice and television appearances. Welcome to 21st century America. But, Vanilla Ice assures viewers and potential students, this is all real; he's largely kept his success private, sheltering his family and his investments and handiwork. Both the pitch for the show and investment courses emphasize that point.
"This is real. This is no reality show. This is real, it's got content, it's not just some celebrities acting like jackasses in a house, it's real, it's informative," he says (he should know, having spent a season on that disaster known as "The Surreal Life"). "It's entertaining and it's a good family, mainstream thing that also shows people that, you know what, there is hope out there. Look at this, it's not all bad news. You change the channel, it's all the housing market's dropped again, people aren't paying their mortgage, the economy's dropping, the US dollar is dropping, where is this going, nobody has any direction. Well let me show you something: here we are, still Americans and we can still do it like this. This gives people hope."
As if to prove his good intentions, Vanilla Ice and the DIY Network are asking viewers around the country to send in video of a room in their home that they want renovated for their "Ice My House" contest. Armed with $30,000, he and his crew will come in breathe new life into it -- and feature the results in a special season premiere of his show in 2012. It's open to entries until June 27th.
It's an amazing story for a man who still creates nu metal-hip hop hybrid music -- he's slated to drop a new album later in the year, which he promises will have no curses and a bit of a Lady Gaga-inspired techno dance sound -- and has permanent derma-evidence of what he calls his "weekend that lasted a few years," which included use of ecstasy, heroin and cocaine. But no matter, he says. He's clean now, and in truth, his voice is sober, focused and intensely excited about his next venture: saving the American housing crisis.
But can a nation seriously take investment advice from a man named Vanilla Ice? He's positive on this question, too, insisting that he embraces his name, so seared into the American public's psyche as it is. But he admits, he didn't always much enjoy it.
"I didn't even like the name Vanilla Ice. It was because I had a breakdancing crew and they labeled me that and I kept telling them stop calling me that! I don't like it. Why are you calling me that, because I'm the only white guy here? Well F you guy!" he remembers back with a laugh. "And then they were my friends, and when your friends see you don't like something, it sticks even more. So they were like 'Oh, he hates it,' so they were like 'Vanilla Vanilla Vanilla.'"
Eventually, he said, Vanilla got put together with the name of his dance move, the Ice, creating the name that stuck. And he's okay with that, okay with his legacy, optimistic about the future.
"So obviously now, I love it. It's been branded, it's been stuck in there, and I embrace it. We are who we are because of who we were."
Popular in the Community