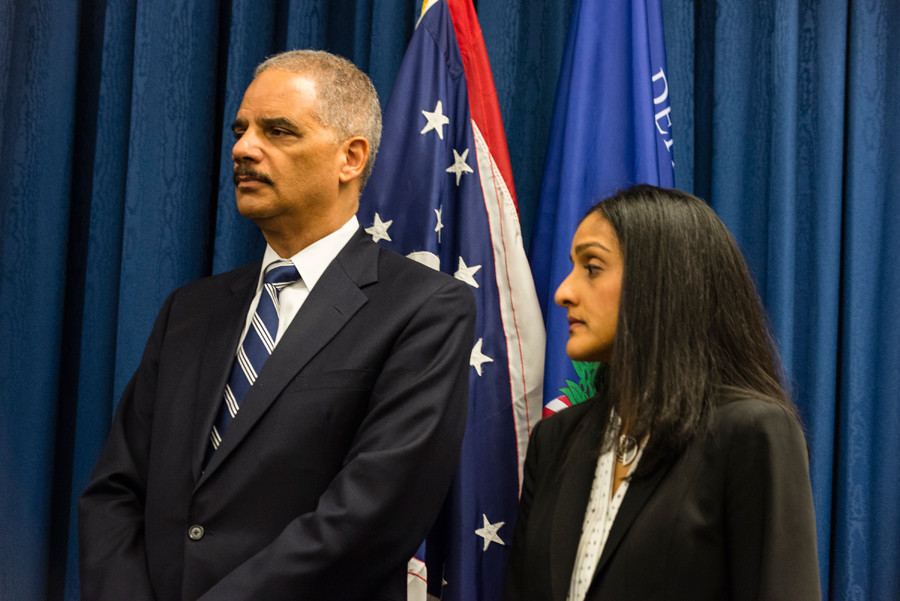 This article is part of a Huffington Post series, on the occasion of the site's 10th anniversary, looking at some of the people and issues that will shape the world in the next decade.
WASHINGTON -- In 2001, a 26-year-old, fresh out of law school, had just started at the NAACP Legal Defense Fund and was looking for a case. When she saw a short documentary about a troubling large-scale drug bust in a tiny Texas town, with facts she thought were "almost too outrageous to believe," as she later put it, Vanita Gupta decided to check things out for herself.
Tulia, Texas, a town of about 5,000 people, was the scene of a large drug bust in 1999 that rounded up more than 10 percent of the city's small black population. A total of 46 people -- mostly black, but a few of them white and in relationships with African-Americans -- were arrested on charges of trafficking cocaine. Local news coverage celebrated the arrests, with one newspaper proclaiming that Tulia's streets had been "cleared of garbage." The defendants were convicted and given extraordinarily lengthy sentences: 300 years. 90 years. 60 years.
The evidence against many of them? Uncorroborated testimony of a single man: a former rodeo cowboy who regularly used racial slurs, whom local police had hired to go undercover and target "street-level" dealers.
After a few days of meetings with family members and a local attorney, Gupta returned to her New York office with so many documents she had to buy an extra suitcase at Walmart. The case would soon grab still more attention. "60 Minutes" deemed the case one of the "worst miscarriages of justice in recent memory." The New York Times described it as a "national symbol of racial injustice." The agent on whose testimony the case rested, who had been named Texas Lawman of the Year in 1999 for his work in Tulia, was called "devious" by a Texas judge, who said he had committed "blatant perjury." The agent was later convicted on aggravated perjury charges. Gov. Rick Perry (R) pardoned most of the Tulia defendants, and Gupta helped the plaintiffs secure a $5 million settlement that required the federally funded drug task force responsible for the arrests to be disbanded.
But Tulia wasn't an isolated incident, Gupta said, it was just the tip of the iceberg. "There is a need for more systemic reform to prevent other Tulias from taking place," she said in a 2004 interview with NYU Law, her alma mater.
Since then, Gupta, who was unavailable for an interview, has been working to bring about that systemic reform. She has been highly critical of the war on drugs, the prison industry, mandatory minimums, police militarization and asset forfeiture. In 2006, she joined the American Civil Liberties Union, where she served as a staff attorney for the Racial Justice Program before being named the group's deputy legal director and director of its Center for Justice. She also directed the ACLU's Campaign to End Mass Incarceration. Now, as the new acting head of the Justice Department's Civil Rights Division, Gupta has a chance to push for change from the inside.
Gupta has had a busy few months in her new position. She oversaw the Justice Department report released in March on the practices of the Ferguson Police Department and court system, which found that some residents in black neighborhoods were viewed more as "potential offenders and sources of revenue" than as people to protect. Gupta said the report should serve as a signal to Ferguson's neighbors in St. Louis County, who share many of the same practices as Ferguson. And she was dispatched to Baltimore in the wake of the death of Freddie Gray and the subsequent riots and protests.
"She's had a baptism by fire," said Steve Shapiro, the legal director of the ACLU and her former colleague. "She was thrust into Ferguson, and now is in the middle of Baltimore. But I think she has been a very steady hand, handled those responsibilities remarkably well."
Shapiro and others in the civil rights community believe Gupta is the right person to carry on the work of the Civil Rights Division, which now-former Attorney General Eric Holder has described as the "crown jewel" of the Justice Department. During the Bush administration, several areas of the division's work were not seen as priorities, including voting rights and police oversight. Turnover in the division was extremely high, and the inspector general found officials had improperly considered political ideology when making hires. President Barack Obama's transition team said in a memo that the Civil Rights Division was "demoralized and damaged by oppressive political leadership." Samuel Bagenstos, the former number-two official in the division, would later remark that the first few months of the Obama administration "felt like grief counseling."
The Civil Rights Division has been without a confirmed chief since July 2013, when Tom Perez was confirmed as Labor Secretary. Civil rights groups have credited Perez and Holder with helping the division gets its mojo back. The Obama administration has pursued a record number of investigations of police departments and taken a more aggressive stance on enforcement of other civil rights laws. Gupta came into the job on an acting basis in October, after the nomination of Debo Adegbile was blocked in the Senate in March 2014. (Senators opposed his nomination on the grounds that he helped get a man who'd been convicted of murdering a police officer off of death row. Adegbile withdrew his nomination in September.)
With Attorney General Loretta Lynch now confirmed, it could soon be Gupta's turn to be nominated to lead the division officially for the remainder of the Obama administration. If nominated and confirmed, she would be the first woman, the first person of South Asian descent, and the youngest person to hold the job. Her background in criminal justice also puts her in the position to push for aggressive enforcement of civil rights laws, and to advocate for change throughout the Justice Department before the end of Obama's term.
Anthony Romero, executive director of the ACLU, previously told The Huffington Post that the work Holder did on criminal justice reform was at a "nascent stage," and that a lot of work remained to be done. "Vanita will continue the work started by Eric Holder and make sure she brings the ball across the finish line," he said in an interview.
Gupta has earned bipartisan praise for her ability to work with a wide range of organizations. Former National Rifle Association President David Keene, for example, thinks the work of the Civil Rights Division in recent years has been "awful," but in a prior interview with The Huffington Post he said that Gupta is "very different from what you would expect from the Obama administration."
Shapiro, Gupta's former colleague, said she "is somebody who is very gifted at finding common ground without sacrificing principle." He also called her a "precocious strategic thinker" who understands "the relationship between litigation and other forms of advocacy, and how to leverage both in order to achieve progressive social change."
Given the limited resources of the Civil Rights Division, strategic thinking could be essential. But Gupta's progressive past could make clearing the Republican-controlled Senate a major challenge. Gupta has endorsed marijuana legalization, which puts her on the same page as the majority of the American public, but which has raised obvious concerns with the National Sheriffs' Association. She's also a strong critic of civil asset forfeiture, which is supported by the law enforcement lobby.
Civil rights advocates are hopeful that Gupta's long history of reform and her sensitivity to issues of police abuse will make her an aggressive advocate for the American public.
"It's not an isolated problem," Gupta told The New York Times in 2003 of what she saw in Tulia. "The kinds of things at play in Tulia are at play all over the country; the racial bias that infects our criminal justice system."
Popular in the Community