What comes to your mind when you hear the term professional speaker? For me, it's either the image of a celebrity, a politician or an experienced speaker with years of learning behind his back. But Vanky Kenny Kataria, a 22 year old young boy hailing from a small town in India is breaking all misconceptions and creating waves in the International speaking arena.
Vanky received negative feedback for his presentation and was mocked at in front of hundreds of audience, but this didn't break his spirits or deviate him from his goal of becoming a World renowned speaker. He learnt from his mistakes and turned every adverse situation into an opportunity. I sat down with Vanky to learn more about his amazing achievements at such a young age and left truly inspired.
Briefly, tell us about yourself
I am a motivational cum scientific speaker and an educator. I have a lovely family comprising of my always inspiring mom, a fun loving younger brother and I lost my father three years ago. My family has worked so hard for me. They have been very supportive throughout which has led me to follow my passion and love for Public Speaking. Without their support, I won't be doing anything.
At what age did you start public speaking? Was it a conscious decision or did it just happen to you?
My Public Speaking story is something which I would definitely love to share with you.
When I started with Public Speaking, I lost all 6 of my first local level public speaking competitions. Then, I started working hard on my mistakes.
Everytime, I lost a competition in public speaking, I asked for feedback from the audience and the judges and started working on my mistakes.
Finally, I got an opportunity to represent India at the International level. However, the judges disliked my presentation and asked me to leave the stage. I was humiliated in front of hundreds of audience. I was obviously heart broken but didn't want to give up on my dream. So, I kept working hard.
Two years after that devastating loss, I won the runner-up award in South Asia for my presentation skills in the same competition that I was thrown out of.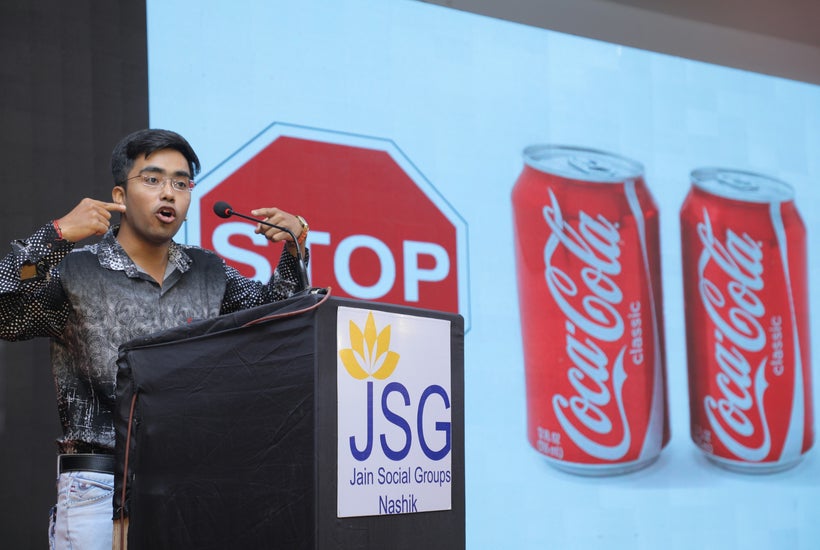 What was your AHA moment?
After my loss at the speaking platform, I was the laughing stock of the town. To avoid further embarassement to myself and my family, I decided to quit public speaking.
But then I had my AHA moment...
"I told myself that 20 years down the line when I would look back at my life, I don't want to see myself as a loser who gave up on his goals just due to one loss, I wanted to see myself as a fighter. At that moment I decided that I won't give up unless I achieve what I have to in Public Speaking."
How a typical day in your life looks like?
The first thing I do upon waking up is check my email and LinkedIn account.I am deeply in love with LinkedIn and spend about a couple of hours everyday on it.Morning time is reserved for meeting and making new connections or collaborations. In the afternoon, I am usually busy giving guest lectures at schools, colleges or busy presenting keynote talk at a conference. Evenings, I like to spend time with my mom and brother before going through my social media platforms.
How did you succeed after your initial failure? In other words how did you change your failure to success?
I wanted to prove myself that I am not a loser and that I can comeback strong and I wanted to strongly surprise everyone and make my loved one's proud of me. I made it a habit to receive feedback after every presentation and started incorporating the suggestions in my future talks. Constructive criticism has really help me to be successful.
How did you end up being a guest lecturer?
I love studies, I always did. I loved public speaking too. So,I wanted to figure out a way which could combine the two. Being a guest faculty gave me best of both worlds. I read, study and share my knowledge while speaking and delivering my message across to the masses.
How do people/your students perceive you when you lecture them?
That is such an interesting question.
Students perceive me as their friend. I like to keep it that way because it then allows them to share their problems with me with ease and allows me to be a better problem-solver.
What is your biggest fear?
I strongly believe that "Life is short" and anything can happen at anytime.This inspires me to work harder everyday and improve my performance, but, on the flip side,I am always fearful of something happening to my loved ones. Losing a loved one is my biggest fear since I lost my dad at a very young age.
What is your goal/vision?
My long term goal include impacting a million people through my talks and lectures. My short term goals include collaborating with like minded professionals to mutually help each other and amplify the impacts of our missions.
What advice do you have for young entrepreneurs who want to pursue a career in public speaking?
Whether you win or lose, you should go ahead and keep trying. Learn from your losses and make sure to improve upon the weaknesses and the shortcomings.
Turn your failure into a success story. Make it count!
Are you studying currently? If yes, what? What are your career goals?
I am a Mechanical Engineering and a professional public speaker. I call my aim- "Mission One Million People'-impact one million people and make their lives better.
What is your belief that keeps you going?
My family, blessings of my father whom I lost three years back, my friends and my mentor keep me going.
My mother who faced lots of hardships after my father's demise s my biggest inspiration and motivation.I want to make her and my father proud of the work I do.
Anything else you want to add?
'Life is not about having the right aptitude, but, it is about having the right attitude. No matter if no one believes in your dreams or ideas.If you believe in them and keep on hustling to achieve those goals,You would be rocking in whatever you do.."
Vanky is truly an inspirational young speaker making this World a better place through his work. He can be reached at vankykataria29@gmail.com or on LinkedIn https://www.linkedin.com/in/vankykataria.
Calling all HuffPost superfans!
Sign up for membership to become a founding member and help shape HuffPost's next chapter
This post was published on the now-closed HuffPost Contributor platform. Contributors control their own work and posted freely to our site. If you need to flag this entry as abusive,
send us an email
.