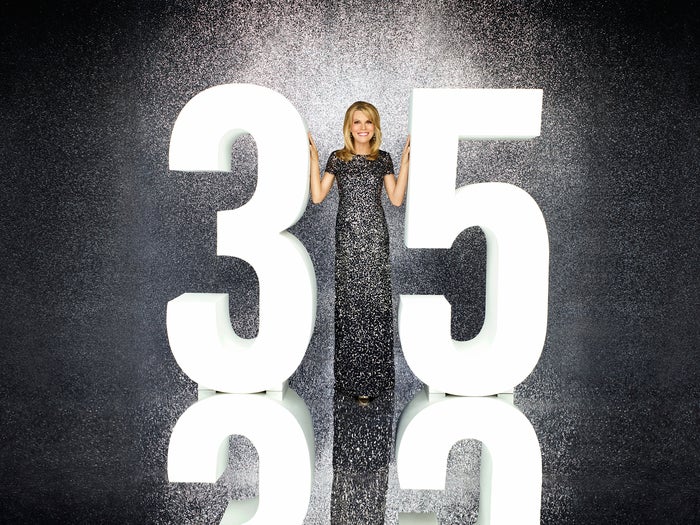 Vanna White reached TV icon status in one of the most unconventional ways. With a simple hand touch, White illuminates letters to spell words. She has been lighting up letters for over 6,500 episodes on the game show Wheel of Fortune. As one of America's enduring sweethearts, White has cheered on contestants as they've tried to solve puzzles to take home cash and prizes. Her enthusiasm for the game has earned her a place in the Guinness World Records as the Most Frequent Clapper. In just one episode, White claps about 600 times.
This September 11, a new season of Wheel of Fortune will premiere, and White will celebrate yet another milestone--her 35th anniversary with the show. With the undeniable chemistry White has with the show's host, Pat Sajak, and the fun the game provides, Wheel of Fortune has consistently been one of the highest-rated shows on television.
"It's a half hour of family togetherness. We don't have a lot of that anymore. Everyone is so busy in life. This is 30 minutes when the family can get together and play together. That never gets old," White says as she prepares to tape a new episode.
Even after 35 years, White continues to captivate and inspire. She says she recently received a message on Facebook from a little girl who said, "When I grow up I want to be the new Vanna White." White says the interactions she has with Wheel of Fortune's fans is what keeps the job fresh.
In an era before social media, White was a phenomena. The media even coined the phrase: Vannamania. Little girls named their dolls Vanna. Pets were named Vanna. Vanna Fan Club Bowling Leagues popped up. Her posters became best-sellers, and she graced the cover of every major magazine including Newsweek. Thinking back, what's the first thing that comes to mind to the woman at the center of the frenzy?
"Craziness," White says. "I thought, 'Wow, really?' It was cool. Growing up with an usual name, people always mispronounced it. It was like, 'Finally, everyone knows how to say my name correctly.'"
White grew up in North Myrtle Beach, S.C. She once described her childhood as something out of a Norman Rockwell painting. At 10 years old she was bit by the show business bug after seeing her uncle, actor Christopher George, on the television series Rat Patrol.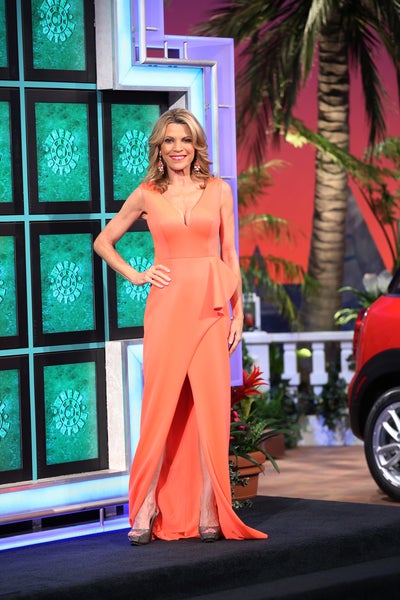 White began her career as a model, studying at The Atlanta School of Fashion and Design. In 1980 she headed to Los Angeles with nothing but a $1,000 and a suitcase filled with dreams.
Initially Hollywood proved to be a lot tougher than what White had anticipated. She grew insecure, depressed and put on weight. But, she never gave up. Eventually modeling jobs and small parts in films came her way.
In 1982, White, along with 200 other women, auditioned for Wheel of Fortune after the previous hostess, Susan Stafford, left the show. White says she was probably the most nervous of all the women. On the day before Thanksgiving, White received the call that she got the job. Wheel of Fortune's creator, the legendary Merv Griffin, often said he hired White because she turned the letters better than any of the other women who auditioned.
Today, at 60, White calls her life "simple." She's happy with her boyfriend, contractor John Donaldson, and her two children, Nicholas and Giovanna, are in college. White says she's adjusting to being an empty nester.
"I've tried to stay normal," White says. "I grew up in a small town, and I still think of myself as a girl in a small town even though I live in Los Angeles."
White has no immediate plans of retiring, but she is thinking of her next chapter. She says she'd like to do more charity work. A crochet connoisseur, White has her own retail yarn line, Vanna's Choice. She donates half of the yarn's proceeds to St. Jude Children's Research Hospital. To date the line has raised over $1.8 million.
On New Year's Day 1979, a year prior to moving to Los Angeles, White wrote in her diary: "My goal is to really do something big. I know it's probably a childish dream, but I'm going to try to make it come true."
White did just that. She helped define a decade and became one of the most recognizable faces of our time.
"Perhaps being on a game show isn't a big thing. It's not winning an Oscar, but to me it is big because I'm able to reach millions of people and hopefully give them a good feeling or be a good role model. To me that's what being big is about," White says.
Much has changed in the world since White turned her first letter―a "T"―35 years ago. No matter what happens in the future, two things will always remain constant. There are 26 letters that can possibly appear on Wheel of Fortune's puzzle board and there is only one Vanna White.
Popular in the Community